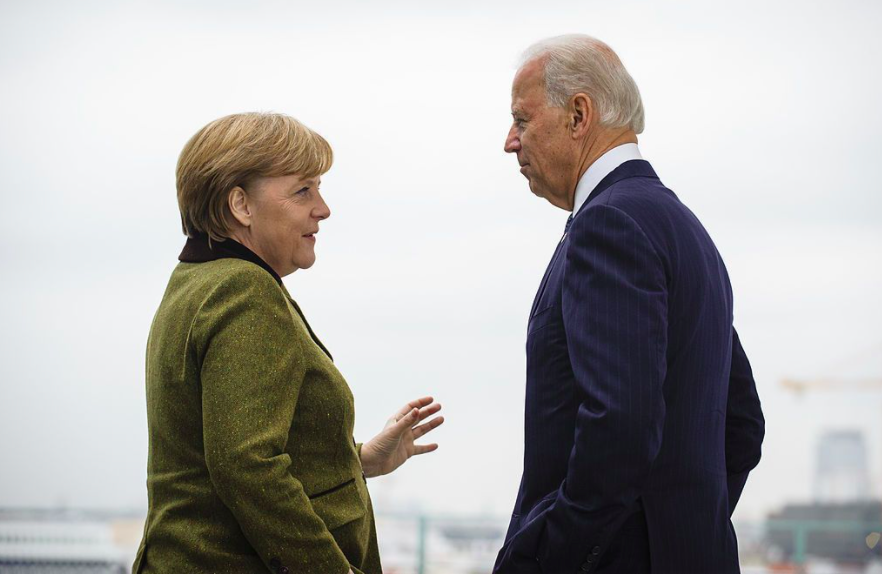 German and Biden Administration officials are discussing a package of measures that would allow the Russia-German gas line to open, but protect Ukraine's security concerns, according to a Financial Times story headlined: "Germany aims for new deal with Washington on Nord Stream 2." One proposal would empower Germany – or a German-American commission — to shut down the Nord Stream 2 pipeline if Russia stopped sending minimum gas flows across Ukraine, increasing risk of an all-out Russian military attack.
"As Berlin seeks solutions, early signs from Washington indicate that the Biden administration is seeking to defuse the Nord Stream 2 debate," the FT writes. "Two knowledgeable sources said [US Secretary of State Antony] Blinken has demonstrated a willingness to minimize sanctions." Bloomberg later posted a matching story yesterday, headlined: "Germany Seeks Deal With Biden on Controversial Pipeline." Bloomberg quotes Mark Helfrich, a Bundestag member from the ruling Christian Democratic Union, saying: "German, EU and U.S. officials are in talks about a package of measures which seeks to enhance Ukrainian stability and European energy sovereignty."
A cold weather spike in electricity consumption, a lack of coal, and power plant breakdowns are forcing Eastern Ukraine to import electricity from Belarus and Russia and Western Ukraine to import electricity from Slovakia, Romania and Hungary, reports Ukrenergo, the national power distribution company. As of Monday, 19 thermal power plants were offline, pulling 6,270 MW out of the system, Volodymyr Kudrytskyi, Ukrenergo's chairman told a forum in Kyiv yesterday.
Electricity consumption last week was 6.5% more than forecast. But coal reserves fell to one third of required minimums. Thanks to imports, Kudrytskyi does not predict immediate power shortages.
DTEK Group, Ukraine's largest private power producer, called on the government yesterday "to abolish price caps, which are an obstacle to the liberalization of the electricity market." The company cited the example of the EU, where the cost of electricity production during peak loads can increase significantly. DTEK said: "We call on the government to intervene in the situation and immediately hold an anti-crisis headquarters with the participation of the Prime Minister."
Ukraine's Energoatom will soon stop sending spent nuclear fuel to Russia for processing and storage, Petro Kotin, the company head, said yesterday. In July, the Centralized Spent Fuel Storage Facility will open, he said. At the same, time, Energoatom is completing a 43 km rail connector to the facility, built by Holtec, a US company, near Chornobyl. Nuclear supplies about half of Ukraine's electricity.
With demand strong for Ukrainian government bonds, the Finance Ministry depressed yields on all five hryvnia bonds sold at yesterday's auction, the Ministry reported. With yields dropping from six to 44 basis points, the final range was 9.15% for 3-month bonds to 12.05% for 3-year bonds. The government sold hryvnia bonds for the equivalent of $213 million. Also posting results on Facebook, the Ministry says it sold $42 million worth of 2-year dollar bonds at 3.9% and €70.5 million worth of 1-year euro bonds at 2.5%.
Looking beyond the bland public statements surrounding Ukraine's recent suspension of talks with the IMF, Anders Aslund, a veteran IMF observer, writes in an Atlantic Council blog: "No agreement was concluded between the IMF and the Ukrainian government recently because they fundamentally disagree about pretty much everything." Offering the only way forward, Aslund writes that President Zelenskiy "urgently needs to refocus on the anti-corruption messages that enabled him to win landslide election victories in the presidential and parliamentary votes of 2019." Without real actions, he writes, the IMF "has no compulsion to offer credits to the dishonest."
DiDi, China's giant online taxi service, plans to launch this year in Ukraine, reports AIN.ua news site. With 550 million users, tens of millions of users and billions of dollars in revenues, DiDi entered Russia last year, a first step in a plan to expand across Eastern Europe. Last week, DiDi posted on the GRC job search website that is looking for a manager to launch in Ukraine.
DiDi will compete with Bolt, Uber and Uklon for Ukraine's taxi market, estimated by Uklon at $800 million a year. Uber, the first mover in Ukraine, now operates in seven Ukrainian cities and claims that 4.3 million Ukrainians have downloaded its mobile app. Uklon operates in 19 cities and claims nearly 3 million users. Bolt operates in 10 cities and claims 3 million users.
Taxi services got a boost yesterday when the Rada overwhelmingly approved a bill raising the penalty for drunk driving to $608. For repeat offenders, the fine is doubled to $1,216, licenses are suspended for three years and vehicles can be seized. The Rada also tripled the fine – to $60 – for drivers caught breaking the national speed limit of 50km per hour in populated areas.
McDonald's Ukraine plans to expand a pilot program of restaurant waste recycling to all 96 restaurants in the country by the end of this year, the company announced yesterday. As part of a worldwide McDonald's drive to switch from plastics to paper by 2025, the restaurants in Ukraine switched last year to paper cups for drinks and paper boxes for salads.
Kyiv's 11th Regus office work space opens in Podil next month, reports the parent company, Luxembourg-based IWG Plc. Despite last year's economic recession, total occupancy of the 10 existing Regus work spaces in Kyiv is 78%, Yulia Lytvynenko, Ukraine director of IWG, tells Interfax-Ukraine. Predicting that several large leases will be signed in coming weeks, she predicts that the overall occupancy will rise "to 83% by March." The new Regus will occupy three floors of the new Volodymyrsky business center on Poshtova Square, near Poshtova Metro station and the Kyiv Funicular. Lytvynenko says: "The highlight, surely, will be beautiful views of the Dnipro River on the one hand and the [Volodymyrska Hill] park on the other."
Kyiv's Sikorsky Airport is to add 500 meters to its runway, allowing Wizz Air, its primary user, to use larger jets. By moving to Airbus 321 jets, Wizz Air says it can reduce frequencies and noise in the capital's Zhuliany neighborhood. Wizz Air has ordered 190 Airbus 321s, which carry 30% more passengers than the Airbus 320s, currently the workhorse of Wizz Air.
Mayor Klitschko signed an order last week for design work to start on a 5-year upgrade of the airport. By expanding the runway to 2,810 meters, upgrading lights and adding an instrument landing system, the airport is to be certified to land jets in bad weather, avoiding diversions to Boryspil. Ukraine's second busiest airport, after Boryspil, Sikorsky handled 2.6 million passengers in 2019. The City Council is mulling a second expansion: increasing the airport's territory by 5%, to 278 hectares.
Editor's Note: While the Zelenskiy government courts United Arab Emirates investors and investment, it  should take care of the foreign investors and managerial talent already here. In 2017-2018, Simon Cherniavsky, a British-American farm manager, turned around Mriya, an internationally notorious case of fraud. Due to his achievements, Cherniavsky was asked to turn around Ukraine's State Food and Grain Corporation, a state company notorious for corruption. For his pains, he writes in the Kyiv Post, he now faces "a baseless criminal case…[whose] main purpose is to discredit the initiatives taken by a few reform-oriented managers and politicians who want to see Ukraine's state-owned enterprises succeed." His essay is worth reading – and acting upon – by people who want Ukraine to move forward. With Best Regards Jim Brooke