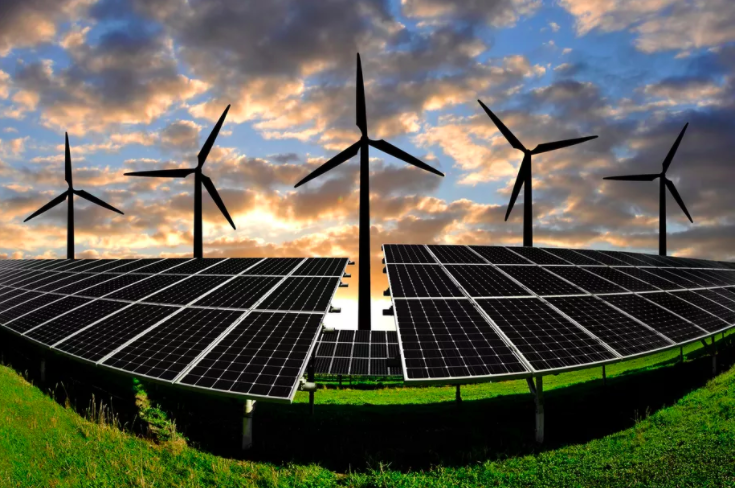 Ukraine's big debt to foreign investors in wind and solar energy threatens future foreign investment in other areas, the Ambassadors of 11 OECD countries warned Prime Minister Shmyhal in a letter Friday. Saying they represents companies and banks that invested more than €2 billion in renewables in Ukraine, the Ambassadors said the government now is "in breach" of the "voluntary" agreement reached last July with producers.
"To attract investors, and indeed to keep existing investors, Ukraine needs a stable and predictable business climate that builds confidence in Ukraine as an attractive investment destination," reads the one-page letter signed by the Ambassadors of Britain, Belgium, Canada, Denmark, France, Germany, the Netherlands, Norway, South Korea, Sweden, and Turkey. "The extent to which Ukraine honors its commitments…will be noted by investors far beyond the renewable energy sector."
With the overdue electricity bill estimated at $800 million, the Ambassadors said the government has not yet moved to use budget money to pay for 20% of the bill and to pay the rest through hryvnia bonds. Under pressure from bankers, about 50 renewable producers have sued to get their money from the Guaranteed Buyer State Enterprise, reports Censor.Net. On Nov. 4, the week after the local elections, the Rada approved on first reading a bill that would give state guarantees to Ukrenergo to allow it sell bonds.
Worldwide, production of electricity from renewable sources is to grow by 7% this year and capacity is to grow by 10% next year, International Energy Agency reports in its new forecast, "Renewables 2020." "Renewable energy will become the largest source of electricity generation in the world in 2025, ending the dominance of coal as the main source of electricity generation for five decades," says Fatih Birol, the Turkish economist who is executive director of the Agency.
In Ukraine, a surge of renewable projects pushed production of electricity from solar, wind, biomass up by 120% through August yoy, to 7.7 gigawatts, reports the Energy Ministry. Renewables share of national energy production increased to 8.1%, from 3.4% one year earlier. Electricity from nuclear power plants was unchanged – 53%. But electricity from coal-fired plans dropped to 32.4%, from 37% one year earlier.
Despite the overdue power bill and cuts in solar rates of 10-15%, new solar projects continue to be commissioned across Ukraine:
In Kyiv, DTEK Grids has connected its first industrial size solar plant atop an apartment building. Built by the Avrora Term Company the array atop a building in Troieshchyna has 1,200 solar panels and output of 330kW. Ivan Geliukh, DTEK Grids CEO, says that this year the company is connecting 75 industrial solar power plants for a total capacity of 566 MW.
In Izmail, on the Danube, UDP Renewables puts into operation this month two stages of Gudzovka-Solar, a €21 million, 24.4 MW investment. Mykola Tymoshchuk, CEO of UFuture, investor in UDP, says: "Despite the turbulent period in the industry and in the world at large, UFuture is systematically implementing its strategic plans and investments in Ukraine's renewable energy."
In Zhytomyr region, Naftogaz starts producing and selling electricity this month from its new 33.3 MW plant at Chudniv. Implemented by Naftogaz-Energoservice, the project is to be followed by more solar stations next year, says Serhiy Pereloma, first deputy board chairman of Naftogaz.
In Sumy region, Germany's Nord Areal Energy GmbH has started construction of a 6 MW solar plant in Trostyanets. About 100km to the northwest in Bilopillya, the same German company plans to build a major wind farm, reports Panorama, a Sumy region news site.
Germany is offering to €20 million to a new, international fund to convert six single industry Ukrainian coal mining towns to new uses, Peter Altmaier, Germany's minister for Economic Affairs and Energy, said last month after talks last month with Olha Buslavets, Ukraine's minister for Energy and Environmental Protection. Choosing one town in the West and another in the East, planners believe Velykomostivska in Lviv has potential as a tourism center and a Donetsk mine known as "5/6" has potential as a technological cluster.
Ukraine's economy rebounded in the third quarter, increasing by 8.5% compared to the disastrous second quarter, reports the State Statistics Service. In the second quarter, the economy plunged 11.4%, compared to the same period in 2019. But in July-August-September, the economy was down only 3.5% compared to the same period in 2019. Illustrating the vagaries of forecasts, the National Bank of Ukraine predicted last month that the economy was down by 6.2% in the third quarter.
Adoption of a transparently regulated taxi market in Ukraine would bring the business out of the shadows, allowing companies to help drivers buy or lease better cars, Georgy Sokolyansky, Uber's development director for Central and Eastern Europe told an online discussion on the taxi market yesterday. Estimating that 90-95% of drivers are in the 'shadows,' he said legalization would ultimately create "100,000 jobs in Ukraine."
Ukraine says Iran is dragging its feet on investigating the downing of the UIA passenger jet last January by not sharing information and not responding to requests for cooperation., Deputy Prosecutor General Gyunduz Mamedov tells Reuters. Iran has also rejected Kyiv's calls for life sentences for the Revolutionary Guards officers responsible for shooting down the plane, killing 176 people. In advance of talks on Dec. 3, a governing panel at the United Nations' aviation agency urges Iran to speed up its investigation.
About $110 million will be invested next year in 10 regional airports, largely for runway and navigational improvements, according to Kirill Khomyakov, head of Ukrinfraproekt, the State Agency for Infrastructure Projects. According to an Agency map posted by the Center for Transportation Strategies, the airports are: Kherson, Cherkassy, ​​Rivne, Vinnitsa, Uzhgorod, Ivano-Frankovsk, Chernivtsi, Poltava, Odessa and Dnipro. During the recent local election campaign, President Zelenskiy also promised to rebuild the runway at Sumy's airport.
Editor's Note:  For sophisticates who smirk at the sound of 'Sumy Airport,' faithful UBN reader Greg Perelman emails me a blast from Ukraine's aviation past: the summer 1976 schedule for flights to seven cities from Zvenihorodka, Cherkasy region. "The prices were similar to the cost of bus tickets to the same destinations," recalls Greg, now a Yale MBA living in the San Francisco Bay area. "I believe all of them were on An-2s – the same plane I flew from Korsun to Zhuliany in late '60s." The round, rugged An-2 biplane was nicknamed the 'kukuruznik' — corn cob. With Best Regards, Jim Brooke