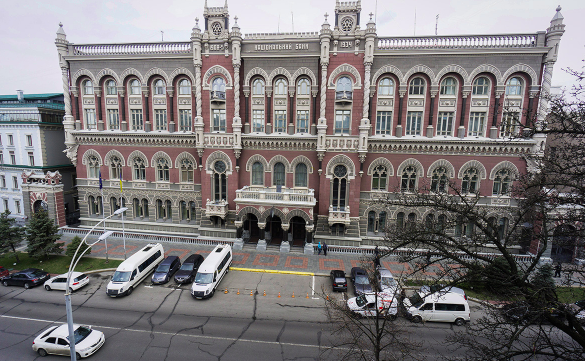 Fearing inflation, Ukraine's central bank hikes the prime rate to 6.5% today, the first increase in two years. The hike ends a post-Independence low of 6%, which reigned since June.
"We are responding to inflation beyond the target range of 5%," Kateryna Rozhkova, first deputy governor of the National Bank of Ukraine, wrote yesterday on Facebook. The bank predicts inflation will peak this summer at 8%.
More hikes could come this year, Yuriy Geletiy, a deputy governor of the central bank, told reporters yestrerday. "The National Bank is ready to raise the discount rate more decisively to limit the fundamental inflationary pressure and bring inflation to the target. Therefore, monetary policy will continue to focus on preventing the inflation spike."
In the first two months of this year, foreign holdings of Ukraine government bonds increased by $570 million, Geletiy told reporters yesterday. As of Monday, foreign holdings totaled $3.65 billion. He said: "In February, non-resident investors continued to grow their portfolio, with a slowdown in the second half of February."
Remittances from Ukrainians working abroad are expected to grow by 8%, to $13 billion this year, Geletiy said. For the last two years, remittance averaged $12 billion, or $1 billion a month. Labor is Ukraine's third largest export, after food and metals.
Ukrainians relentlessly move away from cash, indicates a National Bank of Ukraine report for card and contactless payments. Last year, the number of transactions with payment cards jumped 25% yoy, to 5.2 million, with the volume increasing by 23%, to $79 billion.
Highlights:
Cash transactions dropped by 12%
The number of Internet transactions jumped 31% yoy
Today 36.5% of card transactions are on the Internet; 50% at point-of-sale terminals
In December, 40.4 million different payment cards were used in Ukraine, more than one per adult
The number of businesses accepting payment cards jumped by 36% yoy, to 326,900.
The number of point-of-sale terminals grew last year by 12%, to 375,000. This is nearly double the level of five years ago.
In stores, almost 20% of transactions were with smartphones and other gadgets. The total was nearly $4 billion.
With new coronavirus cases doubling this week, Prime Minister Shmygal warned yesterday: "It's obvious that the third wave of the pandemic has started that Ukraine is facing." Yesterday morning, 10,057 new cases were registered, more than double Monday's level of 4,285. "If the situation worsens, if we see that medics are not coping, then we will probably have no choice but to impose strict quarantine like the one that we have already experienced."
The new cases are largely in Kyiv and to the West: Zhytomyr Oblast – 888; Kyiv City – 868; Vinnytsia Oblast – 827; Ivano-Frankivsk Oblast – 776; and Zakarpattia – 676. Ukraine's first two cases of the British coronavirus variant, were detected in Ivano-Frankivsk region, health officials said yesterday.
Ukraine plans to become a major producer of lithium batteries for Europe's electric cars, Prime Minister Shmygal told reporters yesterday, reviewing talks he had in Brussels last month. By 2030, Europe will need 18 times more lithium than now, by 2050, 60 times more, he said. "Ukraine has the largest lithium deposits on the European continent," he said. "Europe sees Ukraine as a partner, both in production and processing…We are interested in added value, production, processing, and the maximum creation of the finished product. Again, we do not want to be just a supplier of raw materials, as we have before."
Coal miners may become lithium miners under a pilot project to start closing two coal mines this year, one in Lviv and the other in Donetsk, the Prime Minister. With German and Polish advice and aid, Ukraine's "Fair Transformation of Coal Regions" project could involve employing some coal miners to work in new lithium mines, he said.
Turkey and Ukraine are on the final stretch for finalize a bilateral free trade agreement, Shmygal told reporters. Of the long-delayed agreement, he said: "Literally, last week and this week the free trade agreement with Turkey is being finalized."
In a new twist on the Motor Sich drama, David Arakhamia, the head of Servant of the People faction in the Rada, said yesterday he will submit a bill to nationalize the Zaporizhia-based aircraft engine manufacturer. On Jan. 29, President Zelenskiy barred Chinese investors from asserting control. "It is to settle the legal status of the company, that is a large constructor of helicopter engines," Arakhamia said. "Because the company is facing uncertainty, it is being sanctioned upon, and several tens of thousands of employees work at it."
Navigation will resume next week on the Dnipro River, two months after closing for ice, reports Port of Ukraine. All locks on the Dnipro cascade – from the Kyiv Sea to the Black Sea – are to re-open Wednesday.
Although last year's Dnipro shipping season was six weeks longer than usual, cargo dropped 5% yoy, to 11 million tons. "Results of cargo transportation were influenced by the reduction in grain transportation on navigable rivers," says Dmitry Kozachenko, executive director of the Rivers of Ukraine Association. Volumes on Ukraine's portion of the Danube were down 28%, to 4 million tons. On the Southern Bug, volumes were down 37.5%, to 500,000 tons. The big products moved down Ukraine's three largest navigable rivers are: grain, coal, metal products and ore, and building materials, such as sand, cement and gravel.
With traffic jams clogging Kyiv's Dnipro bridges, the City Council is studying restoring boat service across the river. According to Kiev Vlast, the River Port Administration calculates that 2,000 people a day would commute by ferry, following this route: Rusanivka, Bereznyaki, Dnipro Metro station, Podil River Port. Depending on the boat and the weather, the entire trip would take one hour. Tickets would cost UAH 30-60, $1-2.
In January-February, Ukrainians imported 53,000 used cars, 4.4 times the volume of the first two months of 2019. Used imports, a rarity four years ago, now account for 81% of car imports, reports Ukravtoprom, the vehicle industry association. In 2020, 353,400 used imports and 85,500 new imports were registered in Ukraine.
Editor's Note: I started big city journalism as the Mass Transportation Correspondent for The New York Times. Ok, that was for my parents. I really was the subway reporter. In normal (pre-covid) times, the island of Manhattan inhaled and exhaled as many as 3 million people every week day. They came and went through an ingenious system of bridges, tunnels, bicycle paths, electronic toll highways, commuter rail, subways, and, yes, ferries. In contrast, Kyiv residents think their city was born with bridges. But for the first 1,000 years of the city's existence, ferries crisscrossed the Dnipro. With the opening of the Nicholas Chain Bridge in 1853, Kyiv residents started to turn away from their river. Today, with traffic gridlock growing, maybe it is time to take a second look. With Best Regards Jim Brooke