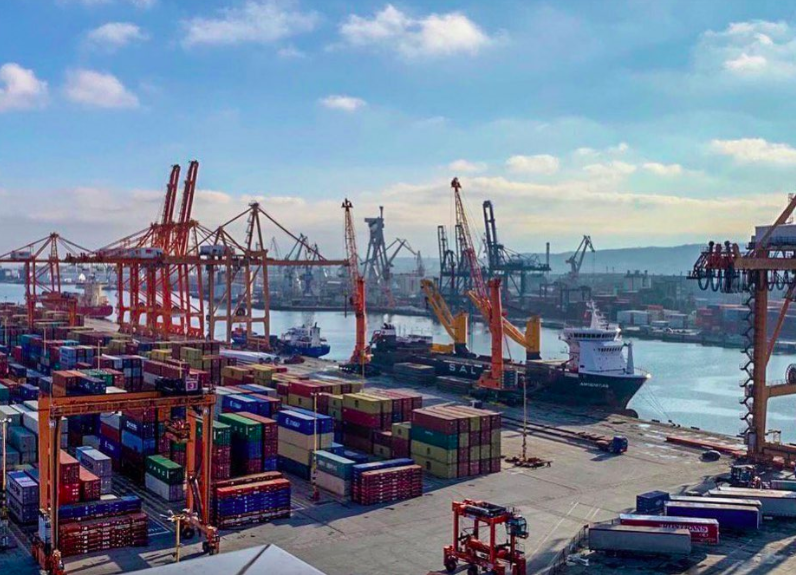 Wednesday, January 6
Ukraine's Sea Ports Buck World Recession, Retain Cargo Levels…EU Plans to Spend €100 Million to Open Five New Poland-Ukraine Border Crossings…Hryvnia Expected to Strengthen by 2% in H1…2020 Was Kyiv's Hottest Year Since Record Keeping Started in 1881
Despite the global recession, the volume of goods going through Ukraine's seaports was virtually unchanged in 2020 compared to 2019, according to Ukraine's Sea Ports Authority. Last year, Ukraine's ports handled 159 million tons of cargo, 0.7% less than in 2019. Grain exports were down 12%, to 48 million tons. Ore exports were up 18.5%, to 44 million tons. Overall exports ended the year up 1.5%, to 123 million tons.  Imports were down 8.6%, to 24 million tons. Transit was down 9%, to 10 million tons. Coastal was up 11%, to 2.4 million tons. And containers were up 4%, to 1 million.
The combination of dropping grain exports and expanded terminal capacity may force down costs in Ukraine's Black Sea ports, reported AgriCensus in a story headlined: "Ukraine's terminals compete as grain exports fall short." This year, poor harvests have contributed to a 15% drop in grain exports. Meanwhile, grain handling capacity has increased by 20% over the last three years in Ukraine's ports. The London-based news site wrote that this "could drive higher competition between terminals and slash transhipment costs in the Black Sea country, which is one of the world's biggest exporters of corn and feed wheat."
Despite Ukraine's recession, sales of new cars in Ukraine fell by only 3% yoy, to 85,500 in 2020, reports Ukrautoprom, the car industry association. In December was the year's record month, with Ukrainians buying 9,801 cars. With Ukraine's lowered import taxes and the EU's gradual phase out of diesel cars, first time registrations of used imports are about four times registrations of new cars. In 2020, Ukrainians registered about 350,000 imported used cars.
Cracking down on overloaded trucks, Highway Safety inspectors stopped 700,000 vehicles in 2020, fining 14,000 drivers nearly $5 million, reports Infrastructure Minister Vladyslav Krikliy. This year, Krikliy said, the government plans to continue to digitize the work of the Highway Safety agency "to eliminate the human factor" and to triple the number of Weight-in-Motion sensor devices, to almost 120.
The EU plans to invest €100 million in opening five new Ukraine-Poland border check points in Lviv region, according to Maksym Kozytsky, head of Lviv Regional State Administration. To be completed over the next five years, the crossings represent a 50% increase in the checkpoints between Poland and western Ukraine. "These additional checkpoints will link Ukraine with Europe," Kozytsky said, adding that Ukraine's government plans to spend $3.5 million on improving access roads.
Passenger traffic through Lviv Airport dropped by 60% yoy in 2020, to 878,000 passengers, Tetyana Romanovska, the airport director, tells Avianews. By promoting Lviv as an air cargo hub, the state-owned airport managed to turn a small profit and to keep all its staff, she said. By comparison, Lviv handled 2.2 million passengers in 2019, making it Ukraine's third busiest airport, after Kyiv Boryspil and Kyiv Sikorsky.
To revive aircraft production at Antonov, Ukreximbank is loaning $105 million to the state aircraft manufacturer to build three An-178 cargo jets for Ukraine's Army, Yevhen Metzger, chairman of the state bank, writes on Facebook. Airplane delivery is planned for 2023. Concurrently, Antonov is building an An-178 for Peru's National Police and is negotiating the sale of a second plane. Airplane building at Kyiv's Antonov largely stopped in 2014 as the company worked to make or source parts to replace parts from Russia. Company officials say this substitution process is largely complete.
Ukraine's hryvnia is likely to strengthen in the first half of 2021, thanks to foreign-currency inflows from exports and renewed interest by foreign investors in Ukrainian local bonds, a Reuters monthly poll of 13 analysts indicated yesterday. Last year, foreign investors cut their bond portfolio by almost $2 billion, or 42%.  In the second half of December, foreign investors reversed, buying $368 million worth of bonds. This year, forecasts of continued strong prices for metals and grains coupled with resumed IMF lending make for a median June exchange rate forecast of UAH 27.60/$1, about 2% stronger than the current level. Last year, the hryvnia lost 17% of its value, largely in March.
The analysts also forecast Ukraine's economy will grow 4% in 2021, after an expected decline by 4.8% in 2020. Inflation will be 6.1%, compared to 5% expected in 2020.
To ease the impact of the coronavirus recession, the government last year loaned $615 million under its program, Affordable loans 5-7-9%". Of the 7,575 loans, 62% of the money went to refinance existing loans at lower rates.
With reported Covid cases well below the numbers of November, the government is considering softening the lockdown which starts on Friday, reported Strana.ua. Citing 'a source in the President's Office,' The lockdown could be postponed, shortened or simply liberalized. An announcement is expected today.
Ukraine's average annual air temperature in 2020 exceeded the average long-term level by 2.2 degrees Celsius, or 3.6 F, reaching a record high of 10.7 degrees C, or 51.3 F, Ukraine's state-run weather forecasting body said yesterday. Average annual rainfall across Ukraine was 8% lower than the norm. The lowest levels were registered in eastern Donetsk, Luhansk and Mykolayiv regions. With harvests dependent on the weather, Ukraine accounted for about 16% of global grain exports in the 2019/20 marketing season.
Last year was Kyiv's hottest since weather recording keeping started in 1881, reports the Borys Sreznevsky Central Geophysical Observatory. In 2020, the average temperature in Kyiv rose to 10.9°C, or 51.6 F, the hottest on record. Eleven months of the year had average temperatures higher than the climatic norm. Only May was colder.
Half of Ukrainians are optimistic about 2021, according to a nationwide poll completed Monday by Kyiv's Rating Sociological Group. Of 2,500 people interviewed, 52% expect the new year will be better than 2020, 27% do not expect changes and 18% say it will be worse. Young people, women, residents of Kyiv and of western Ukraine were the biggest optimists.
Tomorrow, Orthodox Christmas, is the favorite winter holiday for Ukrainians, the new Rating poll indicates.  Of the 2,500 people interviewed, 77% said they celebrate Christmas on Jan. 7 and 15% say they celebrate twice, including 'Catholic Christmas' on Dec. 25. 5% do not celebrate Christmas at all.
Editor's Note: Tomorrow and Friday will be banking holidays in Ukraine. With EU, UK and US offices running normally, the Ukraine Business News will appear in email boxes as usual tomorrow and Friday mornings. To our friends in Ukraine, Merry Christmas! With Best Regards, Jim Brooke