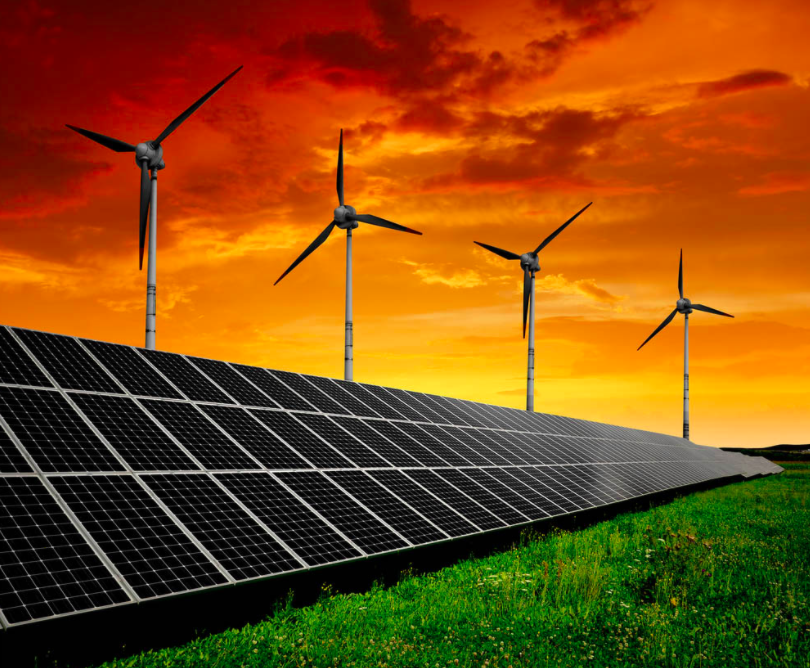 Friday, November 13
Wind, Solar Investors Are Up Against the Wall...China's Sinohydro Pushes Back on Highway Contract...IMF In No Rush to Resume Aid to Ukraine...Covid Paralyzes Rogue Court...Antonov Starts Building Planes Again...Warm Weather Stretches Dnipro Shipping Season
Wind and solar investments account for one quarter of the €49 billion of foreign direct investment in Ukraine since Independence in 1991. However, €660 million in unpaid electricity bills is forcing foreign investors to renegotiate bank loans, mull bankruptcy and to pursue international litigation against Ukraine, participants told an Energy Talk webinar organized last week by the European Business Association.
Carl Sturen, the Swedish managing director of wind power developer Vindkraft, said: "We are lagging behind on our payments and we definitely can't wait." Sergii Shakalov, CEO of Kness Group, a solar panel production plant launched in 2019 in Vinnytsia, says he has already lost $10 million due to non-payments. "One of the biggest problems of Ukraine is that it doesn't comprehend that agreements should be fulfilled in any situation," complained Shakalov, reports the Kyiv Post, a co-sponsor of the webinar.
The Government's Guaranteed Buyer says it has paid all for renewable energy generated in August and for 93% of power produced in September. The press service of the Ministry of Energy reports that the green tariff reductions negotiated with renewable companies in July has saved consumers $53 million.
China's Sinohydro Corporation Limited intends to file an international arbitration claim for Ukravtodor's termination two weeks ago of its contract for construction of a bypass highway around Zhytomyr. Sinohydro was five months overdue on the project, delays the company blamed Covid disruptions and the tardy transfer of a key land plot by Ukraine's state highway agency. The Chinese say that in September, a Dispute Resolution Council give them an extra three months to complete work by the end of this year. Sinohydro says Ukravtodor ignored a Dispute Council Nov. 2 back to work order. Instead, they say, Ukravtodor took possession of €8.5 million worth of bank guarantees and transferred the construction site to the regional highway authority.
Coming as Ukraine seeks public-private partnerships with foreign road construction companies, Sinohydro says its treatment should serve as a warning. "It is difficult for the company to understand why, over and over again, Ukravtodor similarly terminates agreements with contractors, including with other foreign companies," the Chinese company said yesterday. "Sinohydro believes such actions of Ukravtodor will significantly weaken the desire of foreign contractors to participate in the construction projects of the state agency."
The recent decision by Ukraine's Constitutional Court to dismantle anti-corruption legislation is the biggest impediment to a restoration of IMF loans flows to Ukraine, Kyrylo Shevchenko, governor of the National Bank of Ukraine, told Voice of America in Washington after meeting with the IMF and World Bank. Other issues are: the mounting budget deficit and the work of the central bank after the summer changeover of leadership.
Concorde Capital's Alexander Paraschiy reads between the lines of this "sobering statement" and concludes: "No IMF tranche in 2020, meaning IMF-related financing of Ukraine's 2020 budget deficit (from the Fund, the EU and the World Bank) for a total amount of up to $2.5 billion won't arrive this year. Therefore, the only viable way for Ukraine to try to fill its budget gap without such money is a massive issue of international Eurobonds. As soon as it becomes apparent to the government that no IMF-related money will come soon, it will be high time for Ukraine to prepare for the new bond issue."
In London, Timothy Ash polled his Twitter followers about Ukraine's IMF prospects. He posted on @tashecon this breakdown of the 260 replies: IMF money this year – 15%; IMF money in Q1 – 27%; IMF money in Q2 – 15%; unclear as major problems – 43%.
Covid accomplishes what Zelenskiy cannot. Covid has paralyzed the Constitutional Court, with the majority of the 15-member court "either sick or awaiting test results because they have symptoms of coronavirus," a 'source' tells Interfax-Ukraine. One judge, Ihor Slidenko, tells the news agency: "I am reliably aware of two cases of COVID-19 among judges of the Constitutional Court."
Zelenskiy and his chief of staff, Andriy Yermak, are being treated for Covid at Feofania Clinic, the southern Kyiv hospital reserved for high level officials. Two ministers reported this week that they also have Covid: Finance Minister Serhiy Marchenko and Defense Minister Andriy Taran. Three presidential aides reportedly have recovered from Covid: Yulia Kovaliva, Roman Mashovets, and Serhiy Shefir.
With the nationwide 'weekend lockdown' starting after midnight tonight, there is scattered resistance. The leaders of Lviv, Rivne and Sloviansk say they will not follow the rules. Epicenter, one of the nation's largest retailers, announced it is declaring a 72-hour Friday. Yesterday, Health Minister Maksym Stepanov announced a new peak of 11,057 new Covid cases – double the daily average of one month ago. Stepanov told reporters that Covid is spreading in Ukraine at a "hurricane rate."
Upside of global warming: the shipping season on the Dnipro will be extended by two weeks this year, to Dec. 1, reports the State Maritime and River Transport Service. The four northernmost locks — Kyiv, Kaniv, Kremenchuk and Kamianske – had been scheduled to start closing Sunday. Closing the river involves pulling out hundreds of buoys in a north-south sequence. But Kyiv is not forecast to see prolonged cold weather until mid-December. Last winter, serious ice only formed in January. Infrastructure Minister Vladyslav Krikliy said last week: "Our plans are to navigate the Dnipro throughout the year, if weather conditions are favorable."
Ukraine will invest $70 million next year to revive regular production of aircraft at Antonov and to "master the full production of helicopters," Prime Minister Shmyhal told the Cabinet Tuesday. The money is to be part of a decade long, $1.4 billion investment to revive the portions of Ukraine's aircraft industry seen as most profitable. Emerging from an import substitution phase prompted by the 2014 break with Russia, Antonov now is building an An-178 military cargo jet for Peru's National Police. It also is negotiating a joint production venture with Turkey. Last week, Sergiy Bychkov took over as acting general director of Antonov, succeeding Oleksandr Los, who resigned after four months in the post.
Russia has decided to its close trade missions in two of its Western neighbors, Ukraine and Lithuania, and to open a mission in Syria. Russia-Ukraine trade steadily dropped after 2014, the year Russia annexed Crimea and moved troops into Ukraine's Donbass. Last year, China displaced Russia as Ukraine's largest single nation trading partner. Through October, Ukraine's trade with the EU this year was three times its trade with the Moscow-led Commonwealth of Independent States, according to figure released Tuesday by the State Customs Service.
Russia's last trade office in the Baltics was in Lithuania. Trade during the first half of this year dropped by almost one third, compared to the first half of 2019. An official note accompanying the decree by Russian Prime Minister Mikhail Mishustin complains: "The foreign economic policy pursued by the leadership of the Republic of Lithuania does not contribute to building up trade relations with Russia."
Editor's Note: Walking down Kyiv's Volodomyrska Street yesterday, I spotted the Iranian Ambassador's car parked on the sidewalk. Then the smiling Iranian Ambassador slipped inside the opened door of the Armenian Embassy. Diplomats are digesting what some US analysts are calling a "Russian victory."  Victory? The Russians were late, their client lost the war and the land, and Russia now has 2,000 peacekeeping troops tied up for five years patrolling a desolate piece of real estate. (I have driven that mountain road from Armenia proper to Nagorno-Karabakh). "Russia's influence in the post-Soviet space has suffered a blow," Leonid Bershidsky writes from Berlin for Bloomberg. "Georgians, Ukrainians and Moldovans may also decide that returning territory ripped from their countries by now-frozen conflicts is merely a matter of waiting for an opportune moment."  In Nagorno-Karabakh, Turkey egged on the Azeris and supplied the drones that turned the tide on the battlefield. Once again, it is clear that Erdogan is willing to use military might to confront Russia in the region. With Turkey increasingly flexing its muscles, the fast-growing Turkey-Ukraine military alliance may soon alter Black Sea geopolitical realities. With Best Regards, Jim Brooke