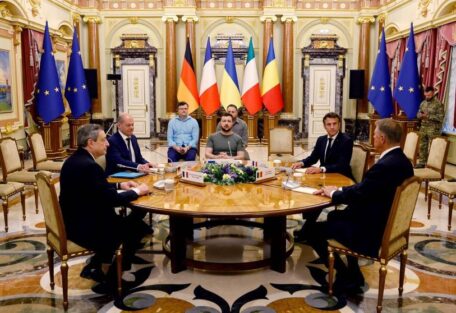 Friday, June 17, 2022
Zelenskyy meets with the leaders of France, Romania, Germany, and Italy.
 President Volodymyr Zelenskyy discussed with French President Emmanuel Macron, German Chancellor Olaf Scholz, Italian Prime Minister Mario Draghi, and Romanian President Klaus Iohannis steps to strengthen Ukraine's defense, European integration, sanctions against Russia, and food security. According to the office of the President, the leaders also spoke about coordinating their approaches to Ukraine's economic support and post-war reconstruction. In addition, the President said that during the meeting, they analyzed joint opportunities to counter the food crisis that has been brought about by Russia. "We must do everything possible to prevent the realization of Russia's plan to utilize hunger and political chaos in Africa and Asia, which were left without food supplies from Ukraine," Zelenskyy said.