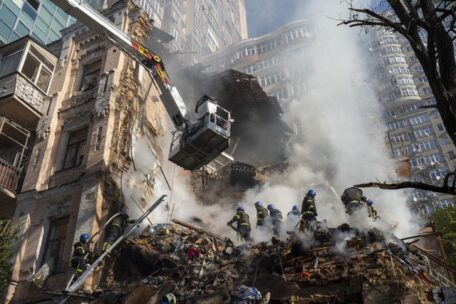 Tuesday, October 18, 2022
The capital of Ukraine was attacked by kamikaze drones on Monday, killing four people.
 In Kyiv, blasts were heard as early as 6:45 a.m. local time, including one in the city's Shevchenkivskyi district. Kyiv was hit five times; one of the strikes hit close to Kyiv's central train station, Prime Minister Shmyhal said. One of the Iranian-made drones hit a residential building, killing four citizens. "The bodies of three dead civilians were recovered during search and rescue operations in a residential building in the city center that was hit by a Russian drone.  Among them is a young couple, a husband and wife, who were expecting a child. The woman was six months pregnant," said the mayor of Kyiv, Vitalii Klitschko. The strikes on Kyiv appear to be part of a broader assault involving drones and cruise missiles aimed at critical infrastructure, especially power sources.