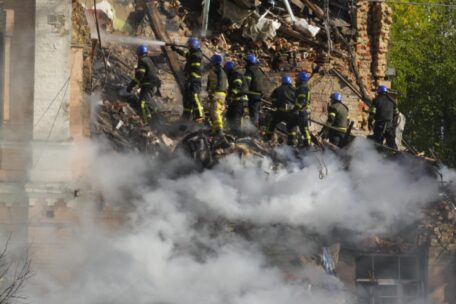 Tuesday, October 18, 2022
On Monday, Moscow launched 9 missiles and 39 air strikes on Ukraine.
On October 17, the Russian occupiers launched 9 missiles and 39 air strikes on Ukrainian territory and carried out approximately 30 attacks using rocket salvo systems, the General Staff of the Armed Forces reported. Areas in more than 25 settlements were hit. Among them are Kyiv, Zaporizhzhia, settlements in Kharkiv Oblast, Donetsk Oblast, Kherson Oblast, Vinnytsia, Dnipropetrovsk, Mykolaiv, and Sumy Oblasts. The General Staff notes that the enemy is shelling Ukrainian troop positions along the entire contact line, violating the norms of international humanitarian law and the laws and customs of warfare by striking critical infrastructure and civilian homes. In its attacks the enemy has used cruise, aviation, and anti-aircraft guided missiles. In addition, the enemy continues to use Iranian-made Shahed-136 unmanned aerial vehicles.