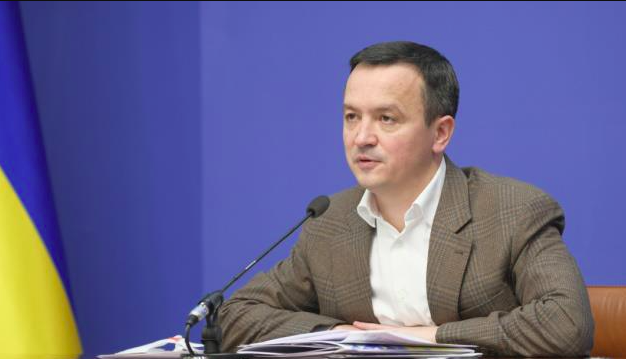 Ukraine's economic activity in the fourth quarter of last year was only down 1% yoy, far better than the forecast drop of 3%, Economy Minister Ihor Petrashko told reporters Tuesday at the Ukraine 30 Coronavirus: Challenges and Responses Forum in Kyiv. "Currently, the conditions for economic recovery, in principle, are quite favorable," he said. "Our forecast for 2021 – an increase of 4.6% – we retain unchanged and [see as] quite likely."
Ukraine's steel production could increase by as much as 6% this year, to 21.8 million tons, according to a study prepared by the GMK Center, a metals industry analytical and consulting group: "Forecast of Steel Production in Ukraine in 2021." By reorienting exports to China, Turkey and Southeast Asia, Ukraine's steel sector ended 2020 recording a 1% drop in production, but rising from 13th to 11th place in the ranks of world steel producers. "Ukrainian steelmakers begin 2021 with the best conditions in the markets over the past 12 years," the report says. "Demand for steel in the EU and MENA region has already fully recovered, while China will maintain low export volumes."
Ukraine's full bore coronavirus vaccination campaign may be delayed from March to April because of government paper work delays in China and Ukraine, reports Reuters. Last week, Ukraine's Lekhim asked Ukrainian authorities' permission to delay to April imports from China of the first shipments of 1.9 million Sinovac vaccines, according to a letter seen by a Reuters reporter in Kyiv.
Vaccinations are scheduled to start Monday, drawing on an expected shipment of 117,000 Pfizer vaccines. President Zelenskiy talked on the phone Monday afternoon with Albert Bourla, CEO of Pfizer Pharmaceutical Corporation, based in New York. "Ensuring vaccination of the population of Ukraine with a safe certified vaccine is one of our priorities," Zelensky said. The President's website reported: "The Board Chairman of Pfizer promised to do everything possible to ensure that Ukraine receives the first batches of vaccine under contract as soon as possible."
All Ukrainians should have access to vaccines by the end of this year, Health Minister Maksym Stepanov told ICTV's Freedom of Speech program. He vowed: "We want to ensure that 100% of the population have access to a COVID-19 vaccine by the end of 2021." Separately, President Zelenskiy addressed popular skepticism of the vaccines, saying Monday: "We all need to show vaccination live on TV. There's no other choice than to lead by example."
Ukraine's turn last month to Britain's Crown Agents to buy coronavirus vaccines illustrates the difficulty in breaking ingrained traditions of drug profiteering at the Health Ministry, Pavlo Kovtoniuk, Head of the Health Economics Center at the Kyiv School of Economics, writes in an Atlantic Council piece: "Ukraine signs vaccine deal, but delays highlight urgent need for healthcare reform." Noting that Crown Agents temporarily procured drugs for Ukraine 2016-2018, Kovtoniuk, who was Deputy Health Minister at the time,  wrote "For the second time in just over five years, the involvement of international partners was necessary to rescue Ukraine's medical procurement processes from corruption."
The vaccination of 10 million Ukrainians at risk – about one third of all adults – is a condition for Ukraine receiving a $30 million World Bank loan this spring under its Covid-19 Emergency Response and Vaccination in Ukraine project, the Finance Ministry reported Tuesday. The money is to be part of a $90 million World Bank loan for Covid testing and vaccinations. Deputy Finance Minister Roman Yermolychev said: "We must understand that these are loans, and therefore their disposal must be reasonable and rational. to fulfill all obligations as much as possible in order to improve the investment microclimate in Ukraine."
US support to Ukraine for combatting the pandemic totals $48 million over the last year, Kristina A. Kvien, US Chargé d'Affaires, told the Coronavirus Forum on Monday. She said the money has gone to bolstering Ukraine's health system, supporting small businesses, and countering "COVID-related disinformation that threatens our collective ability to get this pandemic under control."
Germany is proving Ukraine with a €13.1 million medical care grant that includes supplying equipment for outpatient diagnosis and treatment of coronavirus. This grant, and a second one for €23.5 million are largely focused on Ukraine's war affected southeast where the money is to go for upgrading hospitals and building housing for internal refugees.
Talks with IMF will be delayed to the spring, making a staff level agreement in May the optimistic scenario, Liga.net reported in a lengthy story, citing unnamed Rada members and Central Bank officials.
Dragon writes: "The government has sufficient liquidity buffers to proceed without IMF financing until end-May (assuming full rollover of domestic debt), but faces an increase in fiscal funding needs in 2H21, especially in September, the peak of external debt redemptions ($2.2bn), and December, due to seasonal expansion of the budget deficit (at least half of $8.4bn full-year gap). Thus, authorities would need to secure IMF financing by August at the latest in order to facilitate funding from other sources (IFIs, Eurobond market, foreign inflows into UAH bonds)."
The Finance Ministry increased 2.5-fold its sale of bonds yesterday, but kept yields largely unchanged at the weekly auction, according to results posted on Facebook. Of the total $467 million in dollars and hryvnia equivalent sold, the 16-month hryvnia bond was the big seller, accounting for 31% of all sales and going for a weighted average of 11.15%. Of the six bonds sold, interest rates ranged from 9.89% for 6-month bonds to 12.5% for 6-year bonds. In addition, the Ministry raised $207 million through the sale of 14-month dollar bonds for 3.9%.
With snow and sub-freezing temperatures forecast through Friday, restrictions on trucks entering Kyiv are expected to continue off and on. At a peak, 3,000 trucks were stopped outside the capital, with their drivers waiting for roads to clear. At eight entry points to the city, the State Emergency Service pitched warming tents, offering hot tea and biscuits. Last night, after rush hour traffic jams subsided, trucks were allowed into the city, alleviating fears of shortages in supermarkets.
Due to the cold temperatures, coal reserves at thermal power plants fell sharply during the first week in February, hitting 57% of minimum, required volumes, Ukrenergo reported yesterday. To fill the gap, hydro plants on the Dnipro cascade increased output by 27% during the first week. Energoatom is advancing by several days the scheduled relaunching of reactor No. 2 at Khmelnitskiy Nuclear Power Plant.
DTEK Energy has announced a tentative agreement with bond and bank debt holders to restructure much of its $2 billion bond and bank debt. After 10 months of negotiations, the deal's center piece is exchanging guarantees from DTEK Oil & Gas Receivables for $425 million of new DTEK Oil & Gas notes. Listed on the Irish Stock Exchange, these bonds would pay 6.75% cash interest semiannually and mature Dec. 31, 2026. As part of the deal, DTEK Energy will appoint an independent supervisory board member, from a list of three candidates offered by creditors, who will have a veto right on M&A and excess capital expenditures.
Analysts generally welcomed the proposed exit from a default that rattled investors last March:
Adamant Capital wrote: "The updated terms look significantly better than those disclosed at the end of November…We confirm our 'Buy' recommendation."
Concorde Capital wrote: "The updated DTEK's offer provides more clarity about minimum payments to bondholders…the updated restructuring terms look balanced."
Dragon Capital wrote: "The updated restructuring terms mark a significant improvement over the previous version…The new proposed DTEK Energy bond structure is also simpler than the previous variant and likely to have its own dedicated Bloomberg calculator, facilitating bond trading and improving its overall liquidity."
Editor's Note: The DTEK Energy default of last March was always a bit of a mystery. Sure, energy prices were low. But the default came days after Rinat Akhmetov, DTEK's owner and Ukraine's richest man, paid €200 million for a Riviera mansion built for King Leopold II, owner of the Congo. In late March, as the coronavirus pandemic brewed, an Akhmetov aide confidently predicted to me that a lot of big Ukrainian companies would default. None did. But there was a ruboff effect on other companies in the SCM family — higher bond yields. With the one-year anniversary coming up, it is positive that the 'auto-default' will soon recede in investors' rear view mirrors and memories. With Best Regards Jim Brooke