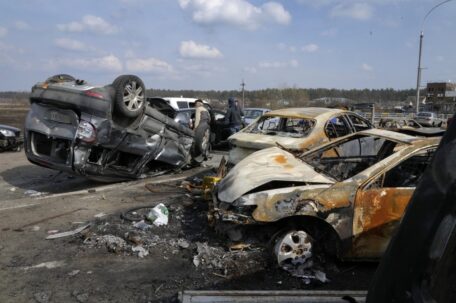 Thursday, May 5, 2022
Russian occupiers have damaged cars worth $1.3B, $92B in infrastructure, and enterprise assets totaling $10B.
 Since the start of the full-scale war, Ukrainians have lost at least 90,000 cars, valued at a total of $1.3B, according to the analysis of the Russia Will Pay project. As of May 2, the total amount of direct documented infrastructure damage is almost $92B. Over the past week, Ukraine's direct losses due to the destruction and damage of civilian and military infrastructure have increased by nearly $4.5B. According to joint estimates from the Ministry of Economy and KSE, the total losses of the Ukrainian economy due to the war, including direct and indirect losses (GDP decline, investment cessation, labor outflows, defense, and social support expenditures), range from $564B to $600B. At the same time, enterprise direct losses (assets, warehouses) already amount to approximately $10B.