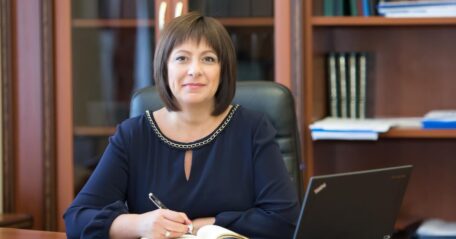 Monday, May 9, 2022
Former Ukrainian finance minister Jaresko says the cost to rebuild Ukraine "could be up to $1 trillion" (by Mike Buryk)
NORTH CALDWELL, N.J. – The former minister of finance of Ukraine, Natalie Jaresko, said she believes the cost to rebuild Ukraine after the war ends "could be up to $1 trillion," adding that "this is going to be probably the largest single rebuilding plan in history."
In an exclusive interview conducted for The Ukrainian Weekly's "Krynytsya" podcast, Ms. Jaresko said the damage done to Ukraine's infrastructure is one massive concern. But the country's economy has also suffered immensely.
"It is an economy being strangled, being suffocated by Russia. And it begins with obviously the incredible destruction that is occurring all over the country. Don't be fooled. It's not only in the east. And it is the blocking of the ports. So, our ability to export has been completely decimated," said Ms. Jaresko, who served as Ukraine's minister of finance from December 2014-Arpil 2016.
"The economy is hanging on through the patriotism and the incredible strength of Ukrainian businesses who continue to try to do business in those regions that are not under constant attack," Ms. Jaresko said.
And those attacks have decimated entire cities, such as Mariupol, and destroyed much of the infrastructure that provides citizens with the very basic requirements needed to live in Ukraine.
"So, when I think of rebuilding starting already, I mean the most basic essential services, which people need to live, again, water, electricity, heat and some very basic [needs]. … Bridges, for example, the bridges and so on that were blown up, in that case, by our own armed forces," Ms. Jaresko said, adding that "the cost is hard to estimate because the damage increases every single day."
"What I would say is we are talking about hundreds and hundreds of billions of dollars depending on how long this lasts. This could be up to $1 trillion and this is going to be probably the largest single rebuilding plan in history," said Ms. Jaresko, a first-generation Ukrainian American who had lived in Ukraine for 25 years.
Ms. Jaresko, born in 1965 in Chicago, first came to Ukraine in 1992 to serve as the chief of the economics section of the newly opened U.S. Embassy in Kyiv. She later co-founded and was the chief executive officer of the fund-management firm Horizon Capital.
Asked about fNatalie Jareskounding to pay for the massive project of rebuilding Ukraine, Ms. Jaresko said that some of the money will come from Russian frozen assets.
The effort to rebuild Ukraine "will also require, to a large extent, that Russian frozen assets be at the very core of the funding. There are at least $300 billion in Central Bank of Russia reserves that have been frozen.  And of course, there have been assets that have been frozen across the globe from different oligarchs and different other sanctioned entities," said Ms. Jaresko, adding "that we need to look to reparations on an ongoing basis from Russia to rebuild what it has destroyed."
Asked for her prognosis of much effort it will take for Ukraine to utilize Russian assets that have been frozen and seized, Ms. Jaresko said, "Well, it's going to be difficult. We're going to need legislation in every environment. Legislation that we haven't seen yet."
Interviewed by Mike Buryk