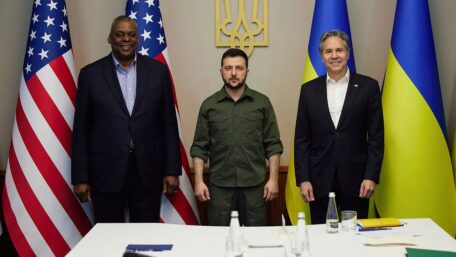 Tuesday, April 26, 2022
Blinken and Austin travel to Kyiv to meet Zelenskyy.
US Secretary of Defense Lloyd Austin and Secretary of State Antony Blinken announced a total of $713M in foreign military financing for Ukraine and 15 allied and partner countries; some $322M is earmarked for Kyiv. The remainder will be split among NATO members and other nations that have provided Ukraine with critical military supplies since the war with Russia began, officials said. The top officials from Washington told Ukrainian President Volodymyr Zelenskyy and his advisers that the US alone would provide more than $300M in foreign military financing and had already approved a $165M sale of ammunition. Such funding differs from previous US military assistance to Ukraine. Moreover, this is not a donation from the US Department of Defense but cash that countries can use to buy supplies they may need. Blinken and Austin also met with Foreign Minister Dmytro Kuleba, Defense Minister Oleksiy Reznikov, and Interior Minister Denis Monastyrsky.