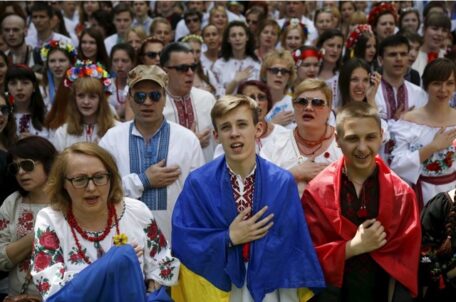 Tuesday, October 25, 2022
Ukrainians are ready to live under the threat of missile strikes and fight the Russian aggressor.
According to a survey by the Kyiv International Institute of Sociology the vast majority of Ukrainians, 86%, are prepared to continue the country's armed struggle and resist Russian aggression, even if the occupiers continue to strike at Ukraine's civilian infrastructure. 71% of respondents completely agree with this opinion and another 16% somewhat agree. Only 10% of respondents answered that it is necessary to engage in negotiations to stop the shelling as soon as possible, even if it is necessary to make concessions to Russia. Even in the east, the Kharkiv and Donetsk regions, 69% hold this opinion  despite being under constant rocket and artillery fire, the researchers specified. However, 29% of the surveyed residents of the east are inclined to seek a negotiated end to the war. In the West, 88% of respondents favor continuing the struggle, and 8% prefer making concessions to end the war as soon as possible. In general, in all regions, most of the population is ready to continue armed resistance.