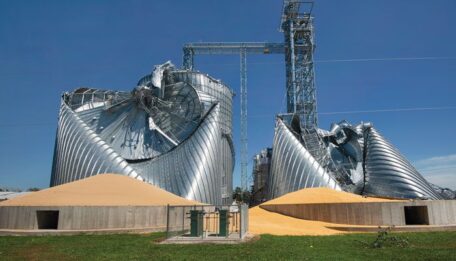 Wednesday, May 4, 2022
Ukraine will have a shortage of grain storage tanks this season.
Current carry-over stocks of grains and oilseeds may amount to 25.1 million tons in Ukraine for 2021/22 MY, up 4.2 times from the previous season. This will not allow the freeing of a significant amount of storage capacity for new-harvest crops. If the grain is stocked at ports and in silos in regions under constant hostilities and the grain in damaged storage is included, the carry-over stocks will total 21.3 million tons. Ukraine's overall storage capacity is 75 million tons. Ukraine will only have access to 60.9 million tons of storage capacity, however, as some facilities are in regions with ongoing hostilities. Thus, carry-over stocks will fill 35% of Ukraine's total holding capacity. Forecasted production of grains and oilseeds is 55.9 million tons in Ukraine will lead to a storage deficit for new harvest crops of about 16.3 million tons, reported APK-inform.