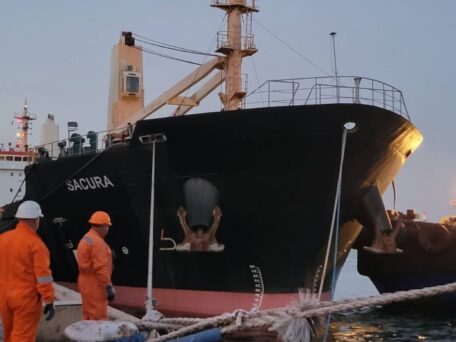 Tuesday, August 9, 2022
The Yuzhny Ukrainian port has resumed operation.
On the morning of August 8 the bulk carrier SACURA, loaded with Ukrainian products, was the first ship to leave the Yuznhy port and then headed on its way to Italy. The vessel joined a caravan with the bulk carrier ARIZONA, which left the port of Chornomorsk for the Netherlands, also on August 8. Both ships are carrying about 60,000 tons of agricultural products. According to the Turkish Ministry of Defense, the SACURA carries 11,000 tons of soybeans, and the ARIZONA carries 48,000 tons, and will initially travel to Iskenderun, Turkey in compliance with the established grain corridor protocol. According to the Minister of Infrastructure, Oleksandr Kubrakov, all Odesa ports are currently engaged in exporting agricultural products. Within two weeks, Ukraine plans to reach a transshipment volume of three to five vessels per day, the minister added.