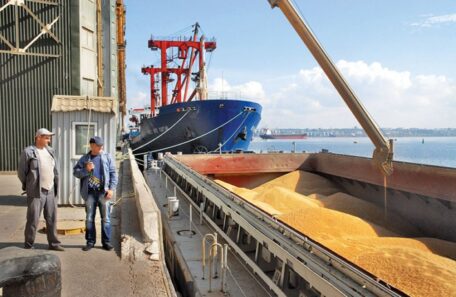 Monday, September 5, 2022
The volume of Ukraine's grain exports has fallen byhalf due to the war.
In August, 4.5 million tons of grains, legumes, oilseeds, and their processed products were exported from Ukraine, 1150% more than in July. The six-month volume of shipped agricultural products is 12.5 million tons, roughly 50% less than in the same period last year (26.4 million tons), the Ministry of Agrarian Policy reported. In August, the volume of exports was as follows: 40.56% was corn, 19.27% ​​- wheat, 3.37% – sunflower seeds, 8.56% – sunflower oil, 6.27% – meal, barley – 4, 53%, soybeans – 2.81%, soybean oil – 0.49%. August's export of agricultural products in terms of transportation was as follows: 2.9 million tons were sent through ports, 959 thousand tons by railway, 625 thousand tons by cars, and 42 thousand tons by ferry.