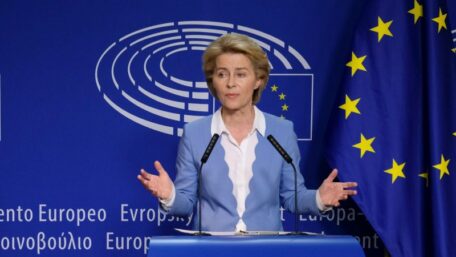 Thursday, May 5, 2022
The European Parliament presents the sixth package of sanctions.
The President of the European Commission presented the details of the sixth package of sanctions against Russia for its aggression against Ukraine:
We add to the sanctions list high-ranking military personnel and other officials who committed war crimes in Bucha and those responsible for the inhumane siege of Mariupol.
Secondly, we are finally 'de-SWIFTing' Sberbank. Sberbank is Russia's largest bank, holding about 37% of the banking sector, and we are also disconnecting the other two major banks in Russia from the SWIFT system.
The third element of the new package is sanctions against Russia's three major broadcasters, who will no longer be able to distribute their content in any form in the EU.
The EU commission is proposing to ban Russian oil. It will be a total ban on all imports of Russian oil, offshore, pipeline, crude, and refined. It has to be a gradual and orderly cessation of Russian oil supplies so that we and our partners can identify alternative supply routes and minimize the impact on world markets.