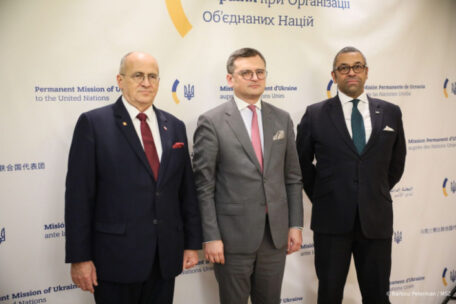 Friday, September 23, 2022
The alliance of Ukraine, Poland, and Great Britain has discussed countering Russian aggression.
A meeting of the heads of the Foreign Affairs of Ukraine, Dmytro Kuleba, Poland, Zbigniew Rau, and Great Britain, James Cleverley, was held in New York, the Ministry of Foreign Affairs of Ukraine reported. According to the meeting's results, the ministers agreed to continue their unwavering support of Ukraine in countering Russian aggression until Ukraine achieves victory. In addition, they decided to develop proposals for long-term support for Ukraine to help it prevent and repel future attacks. The heads of foreign policy departments also agreed to create tripartite cooperation, to strengthen the defense capabilities of the three countries and NATO's eastern flank. The ministers condemned the further mobilization of forces in Russia, which rejects the possibility of establishing peace.