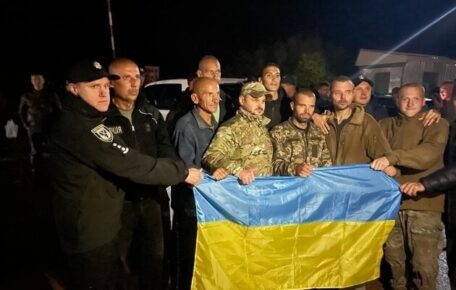 Friday, September 23, 2022
Russia has released 215 Ukrainian prisoners, including the Azovstal defenders.
 In exchange, Ukraine released 55 people, as well as Viktor Medvedchuk, a pro-Russian Ukrainian politician and oligarch whose daughter is the goddaughter of Vladimir Putin. Among the 215 people released by Russia were the 188 heroes of Azovstal and Mariupol, President Volodymyr Zelenskyy said. The exchange of pro-Russian politician Medvedchuk has played an important role in returning the Mariupol heroes. The Ukrainian government has been negotiating for several months with the Russians to exchange him for the Azovstal heroes that have been threatened with execution. Zelenskyy also said that 200 Ukrainian prisoners had returned home in exchange for Medvedchuk. This is the largest single release of fighters from Mariupol. According to the released Ukrainian defenders, during imprisonment, they were brutally tortured by the Russian special forces.