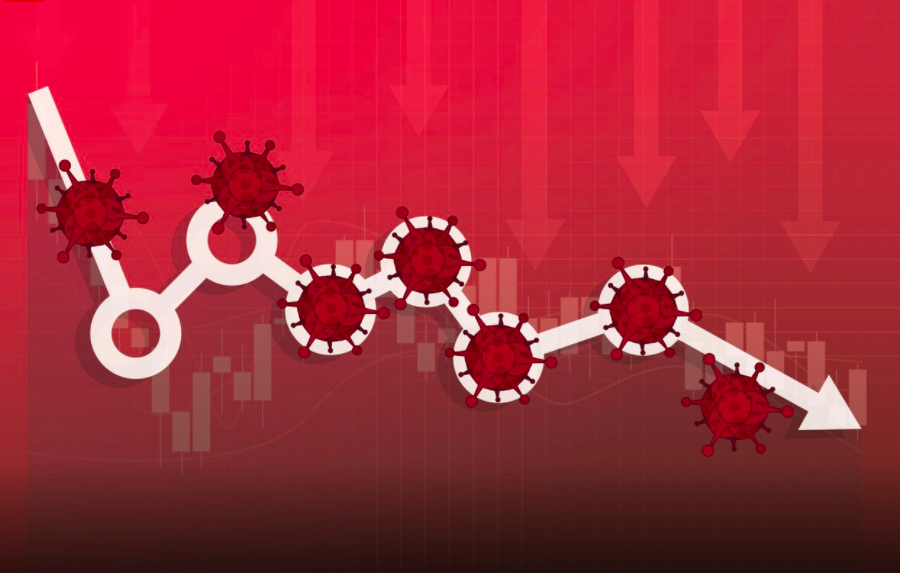 Ukraine's economy will rebound sharply to 10% growth yoy in the second quarter of 2021, breaking five successive quarters of decline, according to a Reuters poll of 12 Ukrainian analysts. The median forecast of analysts has the GDP shrinking by 0.5% yoy in January-March, but then growing by 10.2% in April-June. The sharp rebound comes from a low base: in the second quarter of last year, strict coronavirus controls forced the economy to shrink by 11.4%. If the government does not impose more lockdowns, the analysts' median forecast is 4% GDP growth for this year.
Ukraine aims to vaccinate against Covid-19 the most vulnerable half of its population over the next year, President Zelenskiy told a forum in Kyiv yesterday, "Ukraine 30. Coronavirus: Challenges and Responses." "We have agreed to supply vaccines to Ukraine from Pfizer, Sinovac, AstraZeneca and Novavax companies," the President said.  "The first stage of vaccination will begin this month," he said, adding that one million vaccines are to arrive from Pfizer in coming days.
The European Investment Bank is loaning €50 million to Ukraine to help pay for vaccines, refrigeration equipment and logistics, Ihor Ivaschenko, Deputy Health Minister, told reporters at the forum. Zelenskiy said the number of new infections reported daily has dropped by two thirds in recent weeks.
People who are vaccinated or who have recovered from Covid will be exempt from quarantine restrictions, Zelenskiy said, without elaborating.  "Lack of faith in vaccination, refusal to vaccinate by a significant part of the population" is "very serious issue," Zelenskiy said. He said he would lead by example by taking the jab on TV.
China-Europe freight trains were up 66% yoy in January, to 1,165, reported China State Railway Corporation. The number of containers grew 75%, to 109,000 for the month. At this pace, one 94-container Chinese train passes into the EU every 40 minutes. With the overwhelming majority of this rail traffic passing through Belarus to Poland, Ukraine seeks to get more traffic, providing a path to southern and central Europe markets through rail hubs in Slovakia and Hungary.
A second private company has won permission to run freight trains on the tracks of Ukrzaliznytsia, the state railroad. Promvagontrans LLC was won permission to run freight trains on four routes in central Ukraine. The owner of 400 grain hopper cars, Promvagontrans is a unit of Ukrainian Agrarian Holding. In December, the first agreement was signed with Ukrainian Locomotive Company, a Lviv company. It can haul freight on 10 routes largely in Western Ukraine. This pilot program is expected to run for two years.
Riding the e-commerce boom, Nova Poshta has launched a €14 million sorting center in Kyiv that can sort up to 50,000 packages an hour. Captured in a video, the sorting center is a maze of belts, chutes and conveyors. The machinery was supplied by Vanderlande, a Dutch logistics automation company.
Postal operators – Nova Poshta, Ukrposhta and Meest Express – account for almost half of the 364,000 square meters of warehouse and logistics space to be commissioned this year, according to a study by Alterra Group.  In terms of geography, 55% of the new space – or 200,000 square meters — is to open in Lviv. This includes four projects of about 40,000 square meters: expansion of the Protec warehouse in Zymova Voda; Lvivsilmash; Galileo Logistic and Port Lviv Logistic Center. New supply in Kyiv will be 71,400 square meters, largely projects delayed from 2020, reported Alterra, a commercial real estate development and consulting company.
With the warehouse market tightening, Dragon Capital Group sold Omega-2, a 32,731 square meter logistics complex in Brovary's industrial zone, facing the city's bypass road. "This is our first closing of a commercial real estate sale deal after we made a bet on this segment in 2016, and it demonstrates that there are opportunities in this market not only for profitable investments, but also for exits," said Volodymyr Tymochko, Dragon's managing director for Private Equity.
Dragon plans to return this year to its pre-pandemic levels of investment, Dragon Capital CEO, said last week at the Global Outlook meeting hosted by the European Business Association. "In the first half of the year, we plan to close five deals together with co-investors and Western funds for about $200 million," said Fiala, who is also President of the EBA. "We hope to close them in the first half of the year, so we will return to the rates of investments that were before coronavirus."
Public works construction pulled the sector ahead last year for an overall increase of 4%, to $7.1 billion, the State Statistics Service reports. Road construction was up 142% in nominal terms, making up for a 53% drop in renewable energy facilities. Overall engineering structures was up 15% in real terms. Residential work was down 18.5%. Commercial was down 3%. By contrast, construction grew by 24% in 2019 over 2018. Last year, construction in Kyiv City was down 2%. But the capital remained far and away the nation's leader, with $1.5 billion in construction work.
Starting March 1, the State Mortgage Institution will start to offer home mortgages at 7%, Prime Minister Shmyhal announced last week. For reference, Ukraine's prime rate has been 6% since June 2020.
Ukrgazbank, a state-owned bank, reports that since July it has made $16 million worth of low interest mortgages to 548 people. Half of the mortgages are for under 10%. For dachas, or secondary homes, the bank offers 20-year loans under these conditions: fixed for the first two years at 9.9%, then fixed for the next 18 years at 12.99%.
Despite tight border controls imposed during last spring's coronavirus lockdown, remittances from Ukrainians working outside the country increased by 2% last year, to $12.1 billion, according to data from the National Bank of Ukraine. Transfers through banks increased by 24%, to $4.7 billion. Another $2.7 billion came in through international payment systems. Informal channels – through relatives, friends and bus drivers – decreased, probably due to difficulties crossing borders.
Worker migration remains strong to Poland, a country that suffered one of the EU's smallest GDP drops in 2020 — an estimated 2.7%. During 2020, the number of foreigners officially working in Poland increased by 8%, to 725,000, according to Poland's Social Insurance Institution, or ZUS. Of these, Ukrainians account for 73%. In an international appeal Monday, Poland's Education Ministry listed the five most needed professions: roofer, locksmith, road worker, software engineer and automation specialist. An article on the appeal by TSN.ua news site got 6,882 visits within 12 hours of posting.
Editor's Note: After a year of doom and gloom, Ukraine escaped 2020 in pretty good shape. The economy shrank by 4%, better than most of Europe and far better than the Ukraine forecasts of minus 7%. Despite travel controls, Ukrainian workers sent home more money than ever. Because of travel controls, Ukrainian tourists spent their money inside the country, boosting retail sales. The prices of Ukraine's major commodity exports – corn, wheat, iron – strengthened. China's frenetic railroad and bridge building pushed up iron prices. Ukraine's own road building program saved construction and made the country a nicer place to live. With luck, economic recovery will continue in 2021 — and we will be spared a repeat of the roller coaster drama of 2020. With Best Regards Jim Brooke