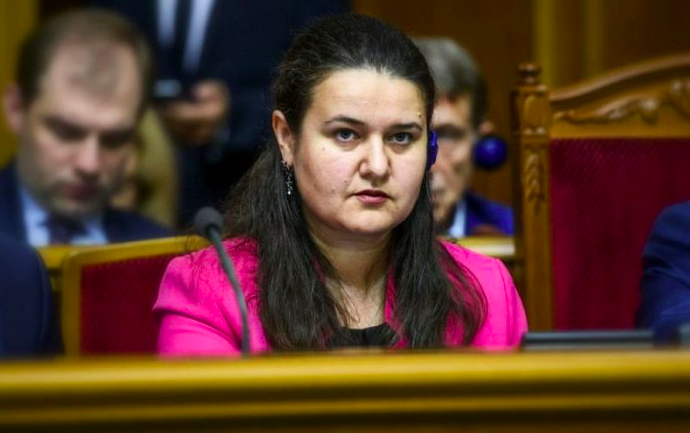 With clouds hanging over Ukraine's deal with the IMF, President Zelenskiy is bringing back into his government two US-trained economists he let go last March – his former Finance Minister and his former Economy Minister.
Oksana Markarova, the former Finance Minister, has been nominated to serve as Ukraine's next Ambassador to the United States. Trained in public finance at Indiana University, Markarova worked in the Finance Ministry for five years until she was let go in the mass cabinet shakeup of March 4. As Finance Minister for two years, she saw interest rates on foreign currency bonds fall to record lows for Ukraine — 2.22% in euros and 3.4% in dollars. Last January, Ukraine borrowed €1.25 billion for 10 years with a 4.73% interest rate, once again a record low rate.
A fluent English speaker, Markarova has participated in numerous negotiations with the IMF, World Bank and other foreign financial institutions. Foreign Minister Dmytro Kuleba reacted to press speculation that she was chosen to go to Washington to deal with the IMF, writing on Facebook: "The idea that Markarova is sent only to extort money from the IMF is a delusion."
Tymofiy Mylovanov, the former Economy Minister, has been appointed as a "non-staff" adviser to Andriy Yermak, Zelensky's chief of staff. After resigning from the Cabinet in March, Mylovanov has served as president of the Kyiv School of Economics and a Professor at the University of Pittsburgh.
Mylovanov, a University of Wisconsin-Madison graduate, is known for advocating forceful, generally free market policies. Two weeks ago on the Svoboda Slova program he advocated a hard lockdown to slow down coronavirus epidemic, saying: "We should close businesses and provide them with financing. But we don't have enough funding now. So in essence, we need to print money." Yermak, who is recovering from coronavirus, is seen as behind the purge of pro-Western reformers since March.
In another personnel change, the Cabinet fired on Friday Olha Buslavets, the acting Energy Minister, replacing her with Yuriy Boyko, her deputy at the Ministry. Buslavets had served as acting minister for the last seven months as the government did not have the votes to win parliamentary approval. Some media outlets and some Rada members accused her of acting in favor of Rinat Akhmetov, owner of several coal mines and electricity generation companies. Boyko, a longterm state employee previously was deputy director of Energorynok, the state-owned company that intermediated between energy producers and energy distributing companies, or oblenergos.
In a black eye for Ukraine's investment image, a pioneer Canadian renewables investor is accusing Igor Kolomoisky and his business partners of trying steal a 10.5 MW solar plant. Built by Calgary's TIU Canada, the plant was inaugurated in January 2018  and hailed as the first investment under the new Canada Ukraine Free Trade Agreement. Built largely to feed Kolomoisky's Nikopol Ferroalloy Plant, the solar plant's substation is on the Ferroalloy plant grounds. The Ferroalloy plant controls road access to the solar plant.
In the summer of 2019, Kolomoisky stopped paying the green tariff for solar and wind electricity nationwide. On March 1st, the Ferroalloy plant cut off TIU Canada from the substation. Later, in face to face talks with TIU Canada, Kolomoisky offered to buy the plant he had closed.  CEO Michael Yurkovich says in a press release sent Thursday's to Canada's financial press: "This is a clear case of oligarchs pressuring a foreign investor and trying to steal assets." Noting that the cutoff has cost his company €1.5 million since March, he said: "We are mustering our resources and will fight this case in Ukraine, Canada, or any jurisdiction needed to win."
The TIU Canada plant in Nikopol is one of several completed solar plants around Ukraine that are not functioning because of problems connecting with power grids, Artem Semenyshyn, Executive Director of the Solar Energy Association of Ukraine, told Interfax Ukraine Friday. He said: "It is very bad when we lose the already built "green" generation facilities, which are now idle and do not increase the share of clean electricity." If the government does not work to hook up these completed plants, the portion of solar power in the nation's energy mix could start to fall, he warned.
TIU Canada's Vita Solar is one of several dozen small renewable companies that are suing for nearly $18 million from the Guaranteed Buyer, the state company that is obliged to buy power from renewable developers. By the end of next year, the Guaranteed Buyer is to pay almost $1 billion in overdue electricity bills. Two weeks ago the Rada passed at first reading a bill to extend state guarantees to 'green bonds' that the government would launch to cover the debt.
President-elect Biden will be well-positioned to help President Zelenskiy fight against corruption in Ukraine, The Washington Post wrote last week in an editorial titled: "Ukraine's anti-corruption push is stalled. Biden can help get it going again." "Mr. Biden…has been one of Ukraine's best American friends, visiting the country five times while Vice President and strongly supporting its battles against Russian aggression and domestic corruption," writes the Post. "A Biden Justice Department could also renew efforts to pursue criminal corruption cases against key Ukrainian oligarchs, including Dmytro Firtash and Ihor Kolomoisky, who have been instrumental in blocking reforms and in promoting Russian interests in Ukraine."
Ukraine averaged 14,500 new coronavirus infections on Friday and Saturday – double the level of one month earlier. Starting Saturday, police have the right to fine people not wearing masks in public places – mass transit, underground passageways, stores, and public buildings. The fines range from $6 to $9. On sidewalks, masks are encouraged, but not obligatory.
Under the current regime of weekend quarantines, 17,000 to 33,000 people could die of coronavirus in Ukraine over the next five weeks, according to a forecast by the Kyiv School of Economics. As of yesterday morning, 10,951 deaths in Ukraine are attributed to coronavirus this year.
Nationwide Ukraine, an average of 27% of PCR tests for Covid are showing positive results. "Uncontrolled outbreak" is how Pavlo Kovtonyuk, head of the School's Center for Health Economics, described the situation in Kyiv City and nine regions: Zaporizhia, Sumy, Kyiv, Volyn, Rivne, Ivano-Frankivsk, Zhytomyr, Khmelnytsky, and Chernivtsi. In, Kyiv Mayor Klitschko reported a record 1,213 new cases on Saturday morning.
Editor's Note: In farming countries, like Brazil and Argentina, they say economies grow at night –because crops grow while politicians sleep. If you want to connect with the real producers in Ukraine, turn in this afternoon to the Ukrainian Agribusiness Webinar: "Adapting market strategies to uncertainty." Presented by the Strategy Council and moderated by Larysa Bondarieva of Credit Agricole, the webinar will feature such agro experts as: Alex Lissitsa, CEO, IMC; Kateryna Rybachenko, CEO, Agro Region; Olena Vorona, CFO, Agrotrade; Volodymyr Bondarenko, CFO, CYGNET Agrocompany; Taras Vysotskyi, Deputy Minister of Economic Development, Trade & Agriculture; and Vladyslava Magaletska, head of the State Service for Food Safety & Consumer Protection. Register here for the 4 pm Kyiv time start. With Best Regards, Jim Brooke