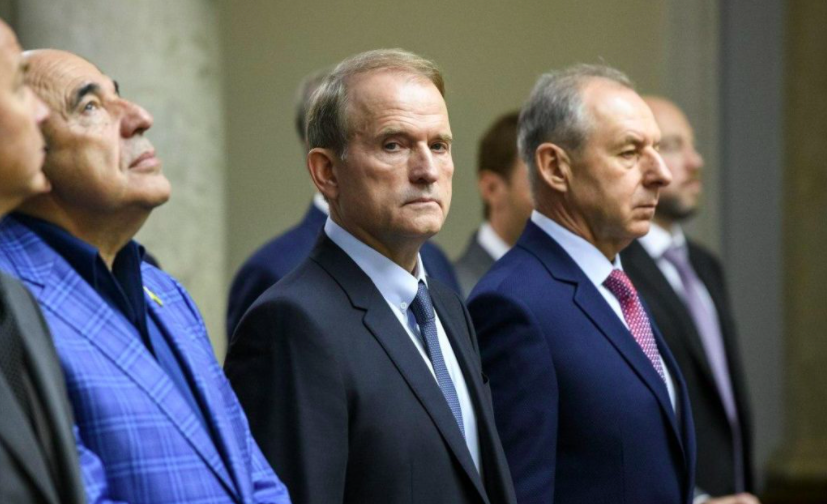 Monday, February 22
Ze Bans Pro-Russia Oligarch Doing Business for 3 Years…Ukraine's Trade with Russia, CIS Dwindles…EU Bank to Funnel €700 million in SME Loans…Dnipro Builds Much of Antares Rocket for NASA…Banks Move Toward Internet…Ukraine's 20,000 km Priority Road Network to be Rebuilt by 2023
President Zelenskiy signed a decree Saturday freezing the assets of Ukrainian politician and businessman Viktor Medvedchuk and banning him from doing business in Ukraine for three years. The decree also applies to Medvedchuk's wife, Oksana Marchenko, and to his business partner Taras Kozak, another Rada member who was the titular owner of three pro-Russian TV stations closed in Kyiv two weeks ago. Overall, the bans apply to eight people – three Ukrainians and five Russians – and to 19 companies.
Zelenskiy also moved to nationalize PrykarpatZapadtrans, a Medvechuk-owned company that runs the Ukraine section of a 1,433 km Russia-Belarus-Hungary diesel pipeline. On independence in 1991, this pipeline from was taken over by Russia's Transneft. In 2016, the Ukraine section was sold to Medvedchuk. Ukraine's government says both moves were illegal.
Ukraine's National Security and Defense Council accused Medvedchuk of "financial terrorism." In a Friday night briefing to reporters, security council spokesman Alexei Danilov said Medvechuk and three of the sanctioned individuals own an oil refinery in Russia that delivers fuel to Russia-controlled Donbas.
The Security Council also charged that illegal shipments of coal from occupied Donbas helped fund the three TV channels Kozak owned. In 2016, the Ukrainska Pravda published an investigation alleging that Kozak sold to Ukraine coal from occupied Donbas, passing it off as South African coal. Ukraine stopped trade with Russia-controlled Donbas in March 2017.
Ukraine's government also put on a seizure list five corporate jets used in the past for flights between Kyiv and Moscow. Scheduled commercial air service between Ukraine and Russia stopped in October 2015.
Medvechuk said Saturday that the measures will not "scare me and prompt me to flee." In the Rada, he heads the largest opposition group – the Opposition Platform — For Life party. This pro-Russia coalition has 44 seats out of a total of 424 in the parliament. The party denounced the sanctions Friday, saying: "Ukraine today is one step closer to dictatorship." On Saturday, the Kremlin called the sanctions "very alarming."
The US Embassy in Kyiv tweeted Saturday afternoon: "We support Ukraine's efforts to protect its sovereignty and territorial integrity through sanctions. Medvedchuk has been under U.S. sanctions since 2014 for undermining Ukraine's security, territorial integrity, and democratic institutions. https://treasury.gov/press-center/press-releases/Pages/jl2326.aspx."
The EU is Ukraine's largest trading partner, accounting for 41% of all foreign trade last year, Trade Representative Taras Kachka reports on Facebook. Russia and CIS countries play a diminishing role. Thanks to a near doubling of Ukraine's exports to China last year, Ukraine now trades more with China than with the CIS countries. Ukraine's imports from Russia fell by 35% last year, causing Russia to cede to Poland the position of Ukraine's third largest trading partner, after China and Germany.
Prime Minister Shmygal, fresh from a 2-day trip to Brussels, told the Rada Friday: "Already more than 14,000 small and large Ukrainian companies are exporters of our products to the EU. This list will only grow."
To develop Ukraine's small and medium-sized enterprises, the European Investment Bank is ready to allocate €700 million in loans, Prime Minister Shmyhal told the Rada Friday. "Loans with a zero rate — 0.12% per annum — to support small and medium enterprises in Ukraine," he said during Question Hour. Separately, Jean-Erik de Zagon, the EU bank's representative in Ukraine, told the UBN Friday, that €800 million had been allocated to Ukraine 2015, but only €100 million had been disbursed. Now, there will be push to extend small business loans, in hryvnias, through half a dozen banks here.
Turkey-Ukraine trade held to pre-pandemic levels last year, finishing around $5 billion. If a Turkey-Ukraine free trade agreement is signed, "we will reach $10 billion very quickly," Ukraine's Ambassador to Turkey Andrii Sybiha told the Ukrainian-Turkish Chamber of Commerce and Industry last week. Despite the pandemic restrictions, about 1 million Ukrainians visited Turkey last year, compared to 1.5 million in 2019. Turkey accounted for almost 5% of Ukraine's overall foreign trade last year.
Carrying a 3,700 kg payload, an unmanned Cygnus cargo spacecraft is to dock this morning with the International Space Station. Ukrainian design and equipment largely built the first – or lower – stage of the Antares rocket that successfully launched Saturday from Wallops Island Space Flight Center, Virginia, Pivdenne Design Bureau reports from Dnipro. The 14th Antares launch with Ukrainian participation, the latest rocket had a first stage designed by Pivdenne and manufactured by Pivdenne Machine-Building Plant, in cooperation with: Hartron-ARKOS, of Kharkiv; Kyivprilad, of Kyiv; Hartron-YUKOM, of Zaporizhia; and CHEZARA and RAPID, of Chernihiv. The payload includes a SBC-2 supercomputer, developed by Hewlett Packard and NASA, and a number of cube and nanosatellites for launching into orbit.
As Ukrainians move toward cashless transactions and internet banking, banks closed 11% of bank branches last year, to 7,100, the National Bank of Ukraine reports in its banking sector review. The closing of 868 branches contributed to banking layoffs of 5,000 employees. The number of ATM machines dropped last year by 3%, to 34,800. At the same time, point of sale card terminals increased by 10.6%, to 386,500. In the fourth quarter alone, PrivatBank and other state banks added 11,000.
Over the next three years, Ukraine's entire 20,000 km network of roads of 'national importance' is to be repaired or rebuilt, Infrastructure Minister Vladyslav Krikliy, said yesterday on the 'Healthy Policy' TV program. "The goal is to restore 20,000 km by the end of 2023," he said.  Of Ukraine's 164,100 km of paved roads, 20,688 km are classified as of 'national importance." This year, Ukravtodor, the state highway agency, is to upgrade one third, or 6,800 km, plus 150 bridges.
Six months after opening, the Orlivka, Ukraine – Isaccea, Romania ferry across the Danube yesterday carried its first bus, on the Odesa-Varna, Bulgaria route. With coronavirus controls easing, the ferry started taking taking cars and buses one week ago. The ferry cuts out a 1-hour, 100 km detour to the nearest cross-Danube bridge, at Giurgiulești, Moldova.
Disrupting many families' winter break vacation plans, restaurants, cafes and entertainment venues close today through Sunday in Chernivtsi, Ivano-Frankivsk, and Zakarpattia regions. Due to an upsurge in coronavirus cases, Ivano-Frankivsk Oblast is shutting non-essential businesses and banning mass events. Bukovel ski area is allowed to operate this week with 'social distancing.' With coronavirus hospital wards 70% full, Ivano-Frankivsk region is operating 16 road checkpoints to check travelers entering and leaving the region. Ukraine is to start vaccinating against coronavirus next month.
Editor's Note: Foreign leaders follow US election results very closely. In Cambodia, I briefly ran The Cambodia Daily in 2014. This largely US-funded newspaper had irritated the Prime Minister Hun Sen since it opened, in 1993. Then, in 2017, shortly after Donald Trump's inauguration, Hun Sen started accusing the Daily of 'fake news." Emboldened by Washington's muted response, Hun Sen shut the newspaper down in September 2017. Similarly, in Ukraine, Viktor Medvedchuk has stood out as an oddity since 2014. Although,  Russia and Ukraine were in an undeclared state of war, Medvedchuk flew regularly from Kyiv to Moscow for meetings with Putin. Back home in Kyiv, the meetings got prominent play on his three TV channels. Now, all of a sudden, in the first month since Joe Biden's inauguration, the TV channels are closed and Medvedchuk is banned from business for the rest of Zelenskiy presidency. With Best Regards Jim Brooke