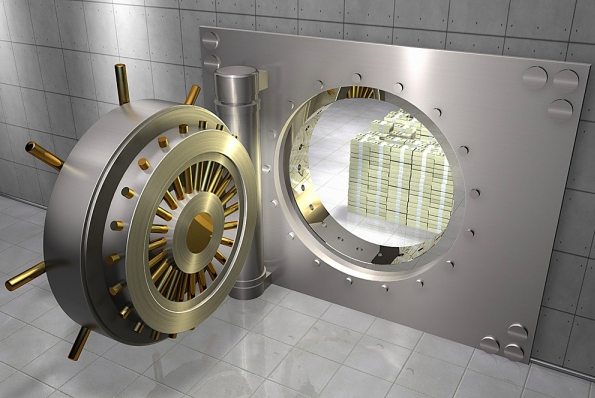 Thursday, January 7
Reserves Hit Highest Level in Eight Years…Corona Lockdown Starts Tomorrow – Two Cities Opt Out…France's Macron and More European Leaders Expected in Kyiv in 2021…Pivdennyi Displaces Odesa as Pearl of the Black Sea…Road Paving Projects Will Make Driving the Carpathians Fun
Ukraine ended the year with $29.1 billion in reserves, a 15% yoy increase, the National Bank of Ukraine reported yesterday. The highest level in eight years, today's reserves are enough to cover five months of imports, an ample cushion over the three-month level seen as adequate.
Alfa-Bank Ukraine's Oleksiy Blinov wrote: "This strong increase was delivered via massive FX debt placements by the Ministry of Finance. Overall, MinFin borrowed a net of $2.6 billion in December."
In the first government bond auction of the new year, the Finance Ministry raised the equivalent of $308 million — 37% of the amount raised the week before. Choosing among four hryvnia bonds – 3-months, 1-year, 2-year and 3-years – 90% of buyers opted for 3 months at 10%. Yields were virtually unchanged from last week.
Concorde Capital's Evgeniya Akhtyrko writes: "The drop in auction receipts after the record-high results of December is not surprising. Nonetheless, UAH 9 billion in receipts is quite a strong result for a 'typical' auction. The market's skew towards bonds with the lowest term of maturity continues to reflect the perception of high risk among bond buyers."
Dragon Capital writes: "With the 2021 budget's deficit target set at 5.5% of GDP, government borrowing needs will remain high this year, keeping it reliant on cooperation with the IMF."
Ukraine's 16-day lockdown of restaurants and shopping malls starts tomorrow. Confirmed new coronavirus cases totaled 6,911 yesterday morning – one half the daily average of one month ago. In light of the drop, Ternopil City Mayor Serhiy Nadal said yesterday his city of 223,000 people will ignore the lockdown. Anatoliy Bondarenko, mayor of Cherkasy, a slightly larger city, says he will recommend to his City Council to ignore the lockdown. Nationwide, shopping centers will lose $60 million in rent and their stores will lose $400 million in revenue, Maksym Havriushyn, head of the national Council of Shopping Centers, told Interfax-Ukraine.
In face of business pressure to soften or shorten the lockdown, Health Minister Maksym Stepanov told reporters yesterday: "The Health Ministry is against the postponement of the quarantine, against its cancellation." He said of the 23,000 people hospitalized for Covid, 10% are seriously ill and "about 200 people die from the disease every day." Stepanov denounced as "political PR" a move by Biolik, a Kharkiv pharmaceutical firm, to register in Ukraine Sputnik V, the Russian vaccine. Stepanov told Reuters: "It would be very mild to say that we are not sure about the Russian vaccine. We do not know how the research was carried out."
In 2020, 20 Ukrainian films backed by the State Film Agency are now screening in cinemas, and 92 new film projects were launched, Oleksandr Tkachenko, Culture and Information Policy Minister, told reporters last week in an online press conference. All theaters are to close from tomorrow through Jan. 24. During the second half of last year, many cinemas stayed open, selling a maximum of half of tickets in each hall. Attendance was down sharply compared to 2019.
French President Emmanuel Macron is one of a string of Western leaders expected to visit Ukraine this year. Next Tuesday, Moldova's new, pro-EU President Maia Sandu will visit Kyiv, the first such visit by a Moldovan president in four years. Later this month, Sweden's Foreign Minister, Ann Linde, visit Ukraine in her new capacity as chair of the OSCE. Macron is expected in the first half of this year, reports DN.ua, citing Ihor Zhovka, Zelenskiy's deputy chief of staff. Zhovka also said that Italian Prime Minister Giuseppe Conte is expected to visit Kyiv this year.
Odesa region's Pivdennyi port consolidated its position as Ukraine's premier sea port last year, increasing cargo by 14.5% yoy, and accounting for 39% for all of Ukraine's waterborne trade. Ukraine's five largest ports accounted for 92% of its 159 million tons of water borne cargo, reports the Sea Port Authority. But growth was only at Pivdennyi (formerly Yuzhny), where cargo grew to 62 million tons, and at Mariupol, on the Azov, where cargo was up 8% yoy, to 7 million tons. At Mykolaiv, cargo was down 10%, to 30 million tons. At Odesa region's two other big ports, cargo was down by 9% at Chornomorsk, to 24 million tons; and by 8% at Odesa, to 23 million tons.
To boost cargo on the Dnipro River, the Infrastructure Ministry plans to introduce a liberalized regime where captains of foreign flag vessels have to simply email an application for a port call to the Maritime Administration within three working days of the intended visit. This will replace the current system of applying for one-time permits, a cumbersome and often costly system that effectively closes the Dnipro to most foreign flag cargo ships.
President Zelenskiy last week signed the law "On Inland Water Transport," legislation that opens the Dnipro to foreign flag vessels and allows for the creation of a dedicated fund to rebuild the locks and docks. Artem Kovalev, the Rada member who pushed for the law, has warned: "The river infrastructure is 75% worn out." With the changes, he predicts, river cargo will triple to 30 million tons a year in 2024, the end of the Zelenskiy presidency. He said this cargo level would generation $500 million in taxes, $625 million in economic activity and 10,000 new jobs.
Provided Covid-19 vaccines are distributed extensively, the world economy will rebound this year by 4%, nearly recovering from its 4.3% fall last year, predicts the World Bank's Global Economic Prospects forecast. According to the World Bank, growth rates in 2021 will be: US – 3.5%; Eurozone – 3.6%; Ukraine – 3%; Japan – 2.5; and China by 7.9%.
Ukrzaliznytsia increased its freight traffic in December by 7.4% yoy, transporting 26.7 million tons of cargo, reports the state railroad's press service. By another measure, freight turnover was up 4.4% yoy, to 14.4 billion tonnes. A key indicator of economic activity, UZ moves half of Ukraine's cargo.
As part of the 'Small Carpathian Circle,' a mountain driving circuit through Lviv, Ivano-Frankivsk and Zakarpattia regions, Lviv region plans to rebuild 75 km of mountain roads this year, including upgrading 37 bridges over mountain rivers. Lviv is spending $7 million on this project, the same amount as last year. Oleh Bereza, head of Lviv Region's Road Service, cites the tourism impact, saying: "Thanks to the Small Carpathian Circle project, we will not only connect the three regions of the Western region of Ukraine with good roads, it will also allow us to revive the central part of the Ukrainian Carpathians." The total project will cost $100 million, estimates Ukravtodor, the national highway agency.
Editor's Note: For Ukrainians worried that this morning's TV images from Washington look like RT's reporting on the Rada, here is my long view. In my wannabe commie days – spring 1971 — I rode a long distance bus from New Hampshire to join the 1 million strong May Day protest in Washington. On the bus, we were instructed to run through lines of traffic on the bridges, pop the backs of VW bugs, yank off distributor caps and throw them into the Potomac. We used the Mall as our toilet, smoked dope where we could, and generally horrified the good matrons of Georgetown. The establishment media refused to talk to us, calling us 'treasonous' and 'insurrectionists.' We didn't care. We were fighting for a worthy cause: supporting the democratic popular liberation forces of Vietnam, Laos and Cambodia. Oh, well, 16-year-olds can't get everything right. Looking ahead, the American republic will survive this one — and probably emerge strengthened. Newsrooms might even break down and hire one — carefully vetted — right winger to talk to today's angry young men in red. Merry Christmas! With Best Regards, Jim Brooke