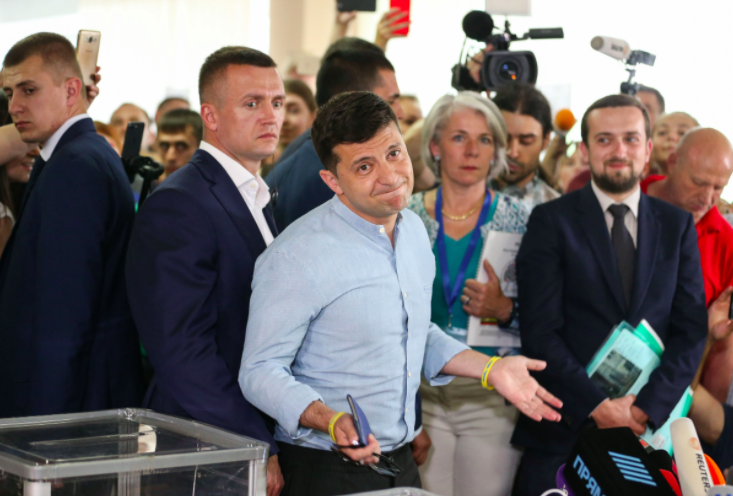 Tuesday, October 27
Poor Election Showing Could Prompt Zelenskiy to Fire Economic Ministers...Government Predicts IMF Mission Will Come After US Vote...China-Ukraine Sign 5-Year Deal on Space Research...More Chinese Trains Roll to EU...Kyiv Metro Has Not Recovered from Covid Shutdown
Exit polls indicate that President Zelenskiy's ruling Servant of the People Party did not win mayoral races Sunday in any of Ukraine's 10 most populous cities, including Zelenskiy's home town, Kryvyi Rih. Although no national party did well in a day dominated by local politicians, Sunday's election spells hard times ahead for the neophyte president who was overwhelmingly elected 18 months ago.
"Less than a year and a half since his inauguration, the Zelenskiy presidency appears to be in grave trouble…Zelenskiy's Servant of the People party looks to be in terminal decline," Anders Åslund, the Swedish economist, writes in an Atlantic Council blog.  "These local election results appear to have confirmed that Ukraine no longer has the basis for a functioning parliamentary majority. Indeed, in the months ahead, it may even prove problematic to form coalitions of convenience for specific pieces of legislation."
With a budget debate looming next week in the Rada, Zelenskiy may reshuffle the cabinet again, writes Timothy Ash. "Zelenskiy probably won't be able to help himself, but will likely respond with a far reaching cabinet reshuffle," he writes from London. "Likely we will see the minister of economy changed again, and likely also the minister of finance."
Dragon Capital emailed clients yesterday that the weak showing "could precipitate potentially significant changes on the central government level, such as a reconfiguration of the parliamentary majority and/or a cabinet shuffle."
The low turnout – 37% — and the failure of national parties to dominate regional strongholds means that no national political leader of party can claim victory. However, the poor showing of the Servant of the People party is expected to erode its once solid majority.
Voters were skeptical of the only economic proposal on Zelenskiy's nonbinding referendum of five questions. Asked about a free trade zone for Kyiv-controlled Donbas, only 45% supported the idea, well below the 70% favoring legalizing cannabis for medical purposes. Final vote results are expected by the end of this year.
Ukraine expects an IMF review mission to come to Kyiv in mid-November, Yulia Kovaliv, Zelenskiy's deputy chief of staff, tells Bloomberg. Approval by the team would lead to the release of a $700 million tranche, a move that would trigger the release of an additional $1 billion in EU and World Bank aid, says Kovaliv, who is in charge of cooperation with foreign donors. After Naftogaz pulled its $500 million Eurobond placement last week, Kovaliv said Ukraine will only return to the Eurobond market with an IMF program on track.
Two issues cloud a resumption of IMF disbursements for Ukraine: the budget deficit and central bank independence.
Through September, Ukraine's budget deficit is $2.9 billion – four times greater that it was for the first nine months of last year, according to the State Treasure Service.  About 80% of the deficit stems from the creation last April of a special fund to fight Covid. About half of this money ended up being spent on road construction.
Central bank independence returned yesterday to the headlines with angry public statements by two Board members who were reprimanded two weeks ago. Both members, Kateryna Rozhkova and Dmitro Sologub, are the only holdovers from the National Bank of Ukraine Board that carried out the massive bank cleanup of 2015-2017.
Rather than leave quietly, Rozhkova, first deputy governor, posted a blast on her Facebook page yesterday. "Such a decision destroys collegiality and poses threats to the National Bank's truly impartial decisions," she said, reacting to last week's decision to strip her of almost all her power inside the central bank. "This does not comply with the principles of independence that were laid in the basis of the transformation of the National Bank in 2014-2015. I will remind you that this transformation was carried out with the IMF requirements."
Sologub, also a deputy governor, tweeted that the attempted purge "was done in a murky and non-transparent way."
China and Ukraine have signed a 5-year space research cooperation deal that encompasses 69 projects. The work is valued at "over 70 million," reports Ukraine's signatory, the State Space Agency. SpaceWatch.Global, a news site based in Bern, Switzerland, writes of Thursday's deal for new information exchanges: "China has been pushing into countries like Ukraine for some time. Ukraine has a lot of technological knowhow that could (presumably) be acquired at relatively low prices, and with relatively less political resistance." In 2016, an analysis by Kyiv's Institute of World Policy totaled 21 China-Ukraine space contracts, worth $67 million.
Nippon Express, one of the top five global logistics services providers, plans to double its China-Europe container trains to 5,000 a year, reports RailFreight.com. Due to Covid restrictions, air freight is now 10 times the cost of rail. Before Covid, it was four times as expensive. With the rail gauge break in Belarus struggling to cope with the surge in traffic, Ukraine hopes to win more and more Chinese freight destined for Central Europe and the Balkans. At Kazakhstan's main rail crossing point, Dostyk, expansion is underway to handle 1 million containers a year.
More Turkey-Ukraine military joint ventures are under discussion and negotiation. These include: joint production of mobile anti-tank missile systems, joint production of drone and helicopter engines in Turkey, and participation in a possible Turkish advanced combat aircraft. Oleh Urusky, deputy Prime Minister for Strategic Industries, told reporters in Kyiv on Friday that Ukraine's Defense Ministry also is interested in Turkish corvettes, for production first in Turkey, then in Ukraine.
Five months after the Kyiv metro reopened after the strict coronavirus shutdown, its ridership is only 40% of capacity, Natalia Makogon, deputy head of the underground rail system told an online conference Monday. At peak periods last year, the system carried 90% of its capacity of 2 million daily riders. Last year, the system carried 495 million riders, or 1.35 million a day.
In time for the fall foliage season, the Zhitomir Cardboard Factory, has produced its first paper – 1.5 tons – from fallen tree leaves. "We are currently preparing to convert the paper batch into paper bags, paper dishes and cardboard," Valentyn Frechka, the inventor, writes on his Facebook page. He posts a video of this new industrial process.
Editor's Note: The leaders of Ukraine – and every other nation in the world — are handicapping the odds of a Biden presidency and what it would mean for them. In Kyiv, a dangerous line of thinking would be to assume that the Democrats in their eagerness to take a whack at Putin will turn a blind eye to Ukraine backsliding on creating EU-standard institutions. Ukraine should embrace the EU choice with actions over words. If there is to be a post-Trump America next spring, it will be an America with a new caution about spending on foreign aid and foreign military adventures. With Best Regards, Jim Brooke.