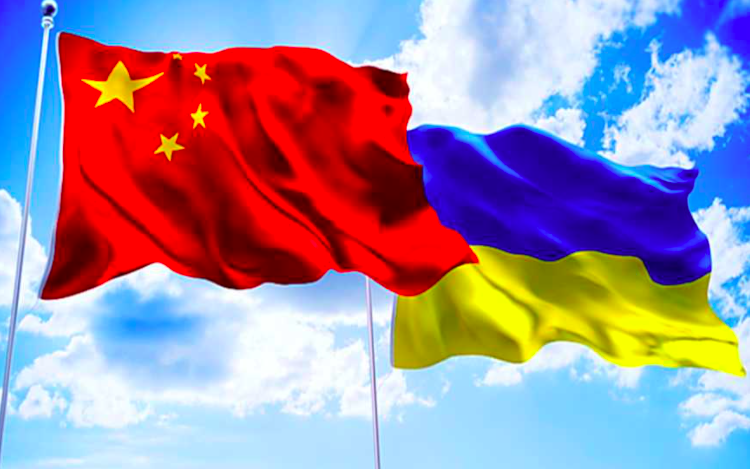 Wednesday, January 13
China Outstrips Russia as Ukraine's Top Trading Partner…Betting on Chinese Trains Crossing Ukraine, a Big Container Hub Goes up Near Hungary-Ukraine Border…Chinese Covid Vaccines Rise to 5 million…Metro and Air Traffic Down Drastically in 2020…
China far outstripped Russia last year as Ukraine's largest single nation trading partner, racking up $15.4 billion in two-way trade, more than double's Russia's $7.3 billion. Globally, Ukraine's exports of goods were down only 1.7% yoy, to $9.2 billion, reports the State Customs Service. Ukraine's imports of good were down 10.3%, to $54.2 billion. Two-way trade in good totaled $103.4 billion, a drop of 6%. Trade in services is not included.
In a bold bid for China's container trade, private investors have started building a €61 million road and rail terminal in Fényeslitke, Hungary, 25 km south of Ukraine's border crossing in Chop, Zakarpattia. Scheduled to open this time next year, the 125-hectare intermodal terminal will have its own 5G network and will be capable of handling 1 million TEU containers a year. Called East-West Gate, the terminal will use massive, computerized cranes to shift containers to trucks or EU gauge trains from the broad-gauge trains that carry Chinese cargo across the former Soviet Union. The site is 50 km north of Hungary's new M3 motorway to Budapest and 14 km south of a junction of two dual gauge rail lines, from Mukachevo and Uzhgorod.
Promoted as "the Western gateway of the New Silk Road," the terminal will depend on Chinese cargo rolling across Ukraine and will compete directly with the booming northern route – through Belarus to Poland. Last year, the number of Chinese containers crossing from Belarus to Poland jumped by 60%, to 555,000, reports Belarusian Railway. With freight trains delayed at Brest by the need to shift wheels from broad gauge to EU gauge, the Belarus Railway is investing in two new border crossings with Poland, at Bruzgi and Svislač. Ukrzaliznytsia is promoting Ukraine as alternate corridor for Chinese goods to the EU.
Kharkiv drug manufacturer Lekhim will supply Ukraine with 5 million doses of the Chinese COVID-19 vaccine, more than double the 1.9 million announced earlier, the company said in a press release. This would be enough to vaccinated 2.5 million people. Covax has promised to give 8 million doses to Ukraine, enough to vaccinated 4 million people. Health Minister Maksym Stepanov says Ukraine must vaccinate at least 10 million people – or one quarter of the population — to develop herd immunity.
Patients of Ukraine, a clean government organization, accuses Minister Stepanov of handpicking Lekhim to distribute the Chinese vaccine, bypassing competitive procedures established by the state procurement agency, Medical Purchases of Ukraine. Other producers are "being blocked personally by Minister Stepanov," Patients of Ukraine tells life.pravda.com.ua news site. Valeriy Pechayev, head of the Lekhim's supervisory board, is a "close ally" of Raisa Bohatyriova, a former health minister, under former president Viktor Yanukovych, reports babel.ua news site.
Concord Capital's Zenon Zawada writes: "It was inevitable under the Zelenskiy administration that well-connected people would earn business from the COVID-19 disease, particular those with ties to the Yanukovych administration."
President Zelenskiy asked the EU yesterday for more help in procuring coronavirus vaccines after his government rejected Russian offers of help, reported Reuters. "For all countries of the Eastern Partnership initiative, in particular Ukraine and Moldova, the issue of obtaining vaccines is important," Zelenskiy said while hosting Moldovan President Maia Sandu in Kyiv. The Eastern Partnership is an EU initiative to work with six post-Soviet states: Ukraine, Armenia, Azerbaijan, Belarus, Georgia and Moldova. "The countries of the Eastern Partnership should be given increased attention by the EU states in matters of joint procurement procedures and accelerating the supply of vaccines."
To ease Moldova-Ukraine interchanges, the drive time between Kyiv and Chisinau is to be cut to five hours, from six hours today, according to a memorandum signed yesterday in Kyiv by Moldova's new President Maia Sandu and President Zelenskiy. About two thirds of this road improvements will be provided by the internationally funded rebuilding of the Kyiv-Odesa highway, the M-05. Chisinau is only 150 km west of this highway. The two leaders also agreed to advance a longstanding plan to build the second road bridge over the Dnestr, linking Yampil, Vinnytsia region and Cosăuți, northern Moldova. Currently, the two cities are linked by a ferry.
Last weekend, the first weekend of the 'enhanced lockdown,' restaurant revenues were down 58%, compared to the same Jan. 8-10 period in 2020. By contrast, coffee shops suffered only a 12% drop in revenue, Poster reports on Telegram. Businesses focused only on takeout and delivery one year ago, reported that their sales last weekend were up 5% yoy. Poster surveyed about 2,000 establishments.
Ukraine's car production fell by one third in 2020, to 4,202 cars, reported Ukrautoprom. This is 1% of Ukraine's peak production, of 424,000 cars in 2008, and 1% of the 438,900 cars imported last year. In the Soviet era, Ukraine was the second largest car producing republic, after Russia. Two years ago, efforts to attract a major German car manufacturer failed after the sudden shift to electric car production turned the industry upside down.
Ridership on the Kyiv metro fell last year by 44%, to 279.5 million passengers, Viktor Braginsky, head of the subway system reported yesterday. The loss of 215.8 million passengers means a loss of $61 million in fares. As usual, the busiest line was the east-west Red line, which carried almost 114 million people. The Blue line came in second with 98 million riders. The Green line came in third with 68 million riders.
Rail passengers can now use multilingual chat bots in Viber and Telegram to buy tickets and meals on the high speed Intercity+ trains. The bots, which speak English, Ukrainian and Russian, also allow passenger to check timetables, fare, availability, and, in the case of Kyiv, platform number. The system was announced yesterday by Ukrzaliznytsia in partnership with Visa payment system and Middleware Inc, an American IT company. In 2019, Ukrainians bought 57% of their rail tickets – 30 million – online.
Kyiv Boryspil ended 2020 with passenger traffic down by two thirds, compared to 2019. Last year Ukraine's largest airport, handled 5.1 million passengers, down from 15.3 million in 2019. And traffic did not improve in December, normally a busy travel month. Passengers on charter flights were down 53%, passengers on scheduled flights were down 74%, and transit passengers were down by 91%.
UkSATSE, the air traffic control agency, handled last year only 42% of the 2019 volume of planes flying through Ukrainian air space. The drop was brutal. In February flights were up 10%. In April and May, flights were down 90%. The agency is funded largely through overflight fees.
Editor's Note – Chinese trade, Chinese trains, Chinese vaccines. It is crystal clear who will be a big player for Ukraine in the 2020s. Judging by what I saw in Central Asia in the 2010s, China will not offer much geopolitical relief to Ukraine. In the five former Soviet republics, Russia provides security and China provides the goods. About 150 years after Czarist Russia's conquest of Central Asia, modern Russia plays the role of mall cop for a big Chinese shopping mall. With Best Regards, Jim Brooke