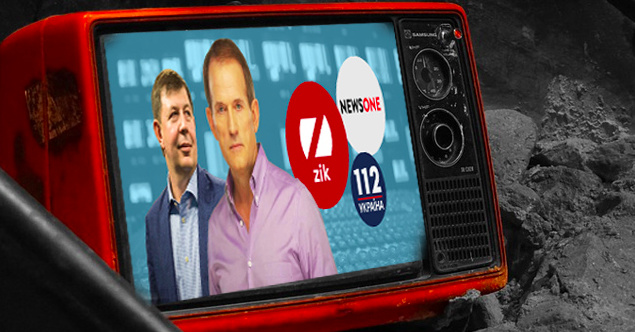 Thursday, February 4
Zelenskiy Closes 3 Pro-Russia TV Stations, Clips Wings of Their Owners…Moves Ally Zelenskiy With Biden…EIB Increased New Investment in Ukraine by 50% to €1 Billion…Govt Real Estate, Surplus Prisons to Go to Business…UIA Refunds Passengers $26 Million For Covid Cancellations
In a decisive move to ally firmly with the new Biden Administration, President Zelenskiy closed three pro-Russian TV stations yesterday, imposing 5-year sanctions on the stations and their legal owner, Rada MP Taras Kozak. Ukraine's National Security and Defense Council alleged that Kozak funded the stations through sales of coal from Russia-controlled Donbas, an act the Council classified as 'funding terrorism.'
Media reports allege the three stations lose $1.5 million a month and the real source of funds is the Kremlin. Most TV stations lose money in Ukraine and are subsidized to promote the political groups, of major businessmen, or oligarchs.  The stations — 112 Ukraine, NewsOne and ZIK – had a total audience share of only 5%. But their news stations had higher ratings. Yesterday afternoon, after the stations continued streaming through YouTube, Oleksandr Tkachenko, Minister of Culture and Information Policy, asked YouTube to cut them off.
Regional TV stations will be vetted for pro-Russian content and possible closures, Oleksiy Danilov, secretary of the Defense Council, warned yesterday at a briefing aired by Ukraine 24 TV. "The state will be tough because we're in an extremely difficult situation today," he said. "We're at war. Everyone needs to realize and understand this."
Also sanctioned are the two private jet companies used by Kozak and Victor Medvedchuk, leader of the pro-Russia Opposition Platform For Life, in their flights from Ukraine to Moscow and Russia-controlled Crimea. Medvedchuk, a friend of Russian President Vladimir Putin, is widely seen as the real owner of the three TV stations. Yesterday, the 44-member, Opposition Platform accused Zelenskiy of censorship, called him a 'fascist devil,' and voted to impeach him. In the 424-seat chamber, that move is expected to go nowhere.
The US Embassy applauded the move yesterday, saying: "The United States supports Ukraine's efforts yesterday to counter Russia's malign influence, in line with Ukrainian law, in defense of its sovereignty and territorial integrity. We must all work together to prevent disinformation from being deployed as a weapon in an information war against sovereign states."
The EU was more cautious, with the office of foreign policy chief Josep Borrell, saying: "This should not come at the expense of freedom of media and must be done in full respect of fundamental rights and freedoms and following international standards."
Timothy Ash writes from London: "It was notable over the past 24 hours that President Zelenskiy went after Russian interests in Ukraine…Don't think that Zelenskiy did this off the hoof. This was clearly in coordination, perhaps at the behest of the US. Zelenskiy is simply not strong enough to take on these interests without US backing."
The European Investment Bank increased its new investments in Ukraine last year by 50% yoy, to more than €1 billion, bringing total EIB investment in Ukraine to €7.5 billion, Jean-Erik de Zagon, the bank's resident representative for Ukraine, told reporters yesterday. Bank Vice-President Teresa Czerwińska said Ukraine now receives 60% of EIB money destined for the Eastern Neighborhood, a group of 16 countries to the east and the south of the EU. She said: "We delivered record investment of over €1 billion in Ukraine in 2020, focusing our operations on support for conflict-affected regions of eastern Ukraine, sustainable and green infrastructure, digitalization, innovation and business recovery after COVID-19."
Loan highlights:
€340 million to eastern Ukraine to improve water supplies and to rehabilitate kindergartens, schools, hospitals, office buildings
€100 million to repair and rebuild 183 km roads in Kyiv-controlled Luhansk
€300 million to improve the energy efficiency of 1,000 public buildings
€200 million to buy trams, trolleybuses, and electric buses in 20 cities
€50 million to build a 4-building, 70,000 square meter Ukrainian Innovation Campus at Kyiv's UNIT.City.
€30 million euros to digitalize Ukrposhta, building new sorting hubs and depots for the national postal operator.
Loans to 75 small and medium sized companies hit by the corona pandemic, helping to save an estimated 18,500 jobs.
For this year, the EIB has agreed to repurpose €50 million from an existing facility to finance buying corona vaccines for Ukraine. Yesterday, the Cabinet of Ministers approved taking a €270 million loan for Boryspil International Airport. The money is to go to replacing the 40-year-old main runway, and adding new lights, de-icing facilities and an emergency rescue station. The EIB also is discussing with the government a major loan to improve rural drinking water across the country, reported the government portal.
Last month, a record 14 Chinese container trains rolled across Ukraine, reports Ukrzaliznytsia. The top destinations were: Poland – 7; Hungary – 6; Slovakia – 1. Two container trains from China finished their 2-week trip at UZ's logistics center in Liski, on the left bank of Kyiv.
Kyiv's tourism tax collections nearly dropped in half last year, falling to $1.2 million, according to the State Tax Service. Never a major source of revenue, the tax is a good barometer of tourism activity.
In a potential boon for Ukrainian IT startups, unused university real estate may be privatized three years of abandonment, according to a bill that has won preliminary approval of the Rada. In the US, several IT hubs, including California's Silicon Valley and Boston's Route 128 'Technology Corridor', grew up around universities strong in science and engineering.
Leases to rent more than 2 million square meters of vacant government real estate across Ukraine will come up for online auction, the State Property Fund reports. In the first year of online auctions, 991 leases were sold and rents averaged 54% higher, says Leonid Antonenko, first deputy chair of the Fund. In coming weeks, 621 more leases will come up for auction. As leases expire, terms on about 10,000 more will be decided through public auctions.
The sale of prisons will start this month, Justice Minister Denis Malyuska tells Ukrainian Radio. This year, four abandoned prisons are to be sold through ProZorro.Sale, the online auction house. Over the last decade, Ukraine's prison population had gradually reduced to 50,000 today. Reasons include: a declining population of young men, government policies to promote releases on parole, and a reluctance to incarcerate white collar criminals.
During the first 10 months of Covid controls, UIA has paid passengers back $26.5 million for flights affected by the pandemic. During this April-January period, "the airline has considered more than 101,000 passenger appeals," UIA said yesterday in a press statement. The airline said Covid controls cut its 2020 passenger volume to 15% the level of 2019. Short staffed, the airline has augmented its online 'Manage my Booking' service. Details for refunds or credits for future travel can be found here.
Editor's Note:  Connect the dots and the dates. On Jan. 20, Joe Biden is inaugurated US President. On Jan. 23, President Zelenskiy gives a lengthy TV interview in Kyiv with Axios, a Washington-media outlet managed until last May by Evan Ryan, wife of Antony Blinken. On Jan. 28, Ukraine launches a criminal investigation into attempts by Ukrainians to hinder the Biden candidacy in the 2020 U.S. presidential election. On Jan. 29, Zelenskiy sanctions Chinese companies trying to take over control of Motor Sich, banning them from Ukraine for three years. On February 1, Zelenskiy's Servant of the People party expels Rada MP Oleksandr Dubinsky. Three weeks earlier, the US Treasury Department placed sanctions on Dubinsky as part of a "Russia-linked foreign influence network." Also on Monday, Secretary of State Blinken and Foreign Minister Dmytro Kuleba talk on the telephone, the first public contact between the two administrations. The Ukrainian side says Blinken guarantees supply of lethal weapons to Ukraine, the first US Administration to make that policy. The next day, Zelenskiy closes down the three pro-Russia TV stations. After 18 months of fence sitting, Zelenskiy took sides this week in the faceoff between the West and Russia. With Best Regards Jim Brooke