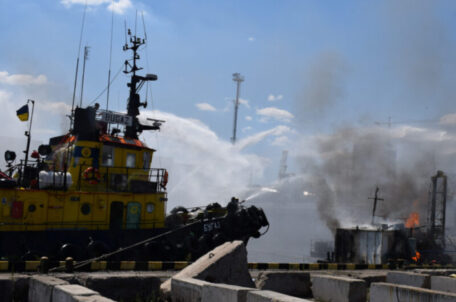 Monday, July 25, 2022
Russia fired missiles at the port of Odesa a day after the grain agreement was signed.
On July 23, Russian troops attacked the Odesa seaport. This happened the day after the signing of an agreement in Turkey on unblocking Ukrainian ports for grain export. As a result of the missile strike, a fire broke out in the pumping station. However, the grain storage was not hit. The Ministry of Foreign Affairs of Ukraine emphasized that in this way, Russia "put into question the agreements and promises it gave to the UN and Turkey in the signed document." The Ministry of Foreign Affairs added that Ukraine emphasizes the need for strict implementation of the agreements on restoring the safe export of Ukrainian agricultural goods through the Black Sea from the three ports designated in the agreement.