Volodymyr Zelenskyy meets with Prime Minister of Bulgaria Kirill Petkov.
Friday, April 29, 2022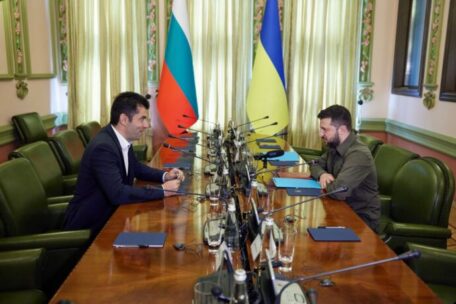 The Prime Minister of Bulgaria had a briefing with the President of Ukraine, Volodymyr Zelenskyy, in Kyiv, discussing possible areas of cooperation between the countries. Bulgaria plans to promote the export of Ukrainian electricity to the Balkan Peninsula, offers the port of Varna as a logistics hub for Ukrainian grain, and will be happy to join the country's reconstruction. Earlier, Bulgaria condemned Russia's invasion of Ukraine, voted in favor of European Union sanctions against Russia, and has already accepted more than 90,000 Ukrainian refugees. However, Bulgaria refused to send weapons and ammunition to Kyiv. Next week, it is expected that the Bulgarian parliament will discuss how to support Ukraine further.
Support UBN team