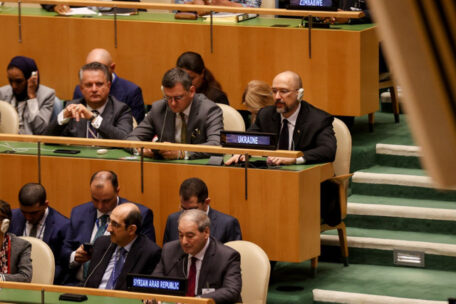 Wednesday, September 21, 2022
The Ukrainian delegation's objective at the UN General Assembly is to strengthen international support for Ukraine.
The Ukrainian delegation at the UN General Assembly faces the task of strengthening the international coalition in support of Ukraine – in particular, increasing the supply of weapons and financial aid. "Global hunger, nuclear terrorism, unprecedented violence – these are the associations that Russia evokes among world leaders today. All their speeches begin with the situation in Ukraine and the global consequences that the war has already caused and will cause in the future. Such significant interest from the world's leaders demonstrates their desire to unite in the face of these terrible threats from the aggressor," said PM Denys Shmyhal. The Ukrainian delegation is also working on the sidelines to launch a mechanism to force the aggressor country to pay for damages it has caused and holding Russia's top leadership personally responsible for humanitarian crimes against Ukrainians in Bucha, Izyum, and other cities.