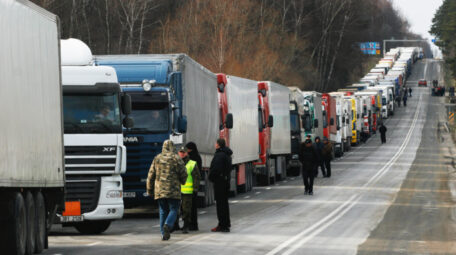 Wednesday, September 21, 2022
The queue situation at the Ukrainian-Polish border has improved.
At the Dorogusk-Yagodin checkpoint, trucks are being processed at an accelerated pace. Therefore, according to information from the Ambassador of Ukraine to Poland, Vasyl Zvarych, for the first time in many months, there are fewer than a thousand cars in the queue. He specified that on September 19, there were 930 cars on the Ukrainian side of the border at the Dorogusk-Yagodin checkpoint, compared to 1,550 on September 15. Every day, the queue decreases by an average of 200 cars. According to Deputy Minister of Infrastructure Mustafa Nayem, since the opening of the Yagodin-Dorogusk point, the number of trucks in the queue waiting to leave Ukraine has decreased from 2,200 to 321. The line at the checkpoint was reduced from 50 to 6 km. Currently, the drivers' waiting time to cross the border is 1-2 days compared to 7-10 days a month ago.