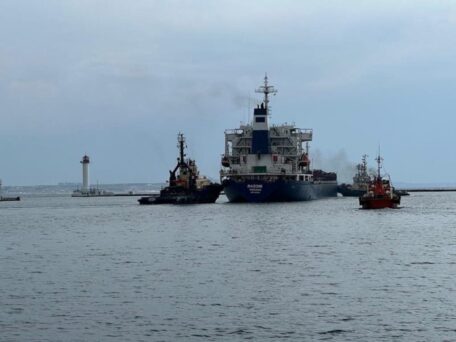 Tuesday, August 2, 2022
The first ship with Ukrainian corn has left Odesa.
On August 1, The RAZONI cargo vessel under the flag of Sierra Leone headed to the port of Tripoli in Lebanon with 26,000 tons of Ukrainian corn, announced Minister of Infrastructure Oleksandr Kubrakov. The ship will move along a corridor whose safety has been confirmed by the UN and Turkey. Moreover, 16 more ships are already waiting for their turn in the ports of Odessa. These vessels have been blocked since the beginning of the full-scale Russian invasion. Ukraine expects to receive applications for the arrival of new ships to load agricultural products." In the coming weeks, we plan to reach the full capacity of transshipment of farm products," Kubrakov noted. Under the auspices of the UN, the monitoring center said that the RAZONI will undergo an inspection in Istanbul on August 2 before going to Tripoli in Lebanon. The center asked all parties to communicate with the military to ensure its safe passage.