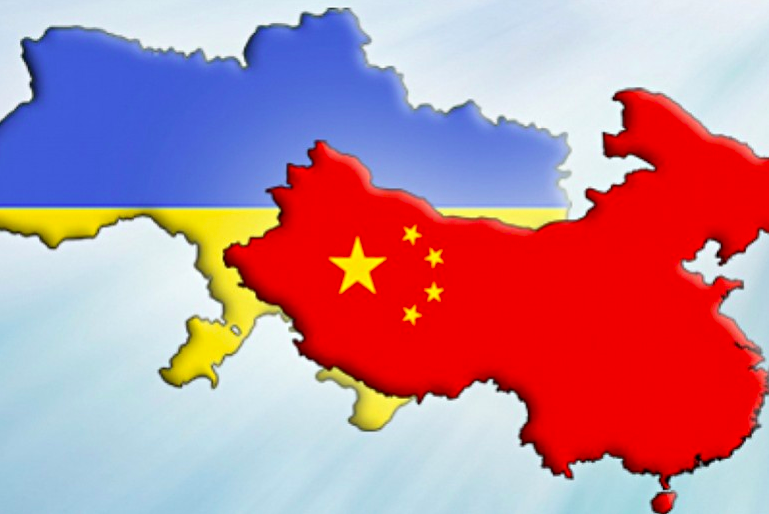 Tuesday, December 1
China's Trade With Ukraine Soars to Double Russia's Trade...US Press Detail Ukraine's DC Lobby Against Nord Stream 2, Hunt for Mushrooms at Home...Ze's Deputy Chief of Staff Sings Way Off Key as President Courts IMF...$200 Million Rebuild Moves Ahead for Dnipro Airport
China has roared ahead of Russia to account for twice as much of Ukraine's trade this year, reports the State Statistics Service. For this year through August, China-Ukraine two-way trade totaled $9.4 billion. Russia trade totaled $4.8 billion. Germany was just behind, with $4.6 billion. The next four were: Poland — $4.5 billion; Turkey — $2.9 billion; Belarus — $2.5 billion; and United States — $2.5 billion.
DHL will create "a powerful logistics center" in Kyiv's left bank Liski rail hub for container trains going to and from China, Ukrzaliznytsia CEO Volodomyr Zhmak writes of a memorandum of cooperation signed Friday between the state railroad and DHL Global Forwarding. To open up new east-west routes, UZ is finalizing similar agreements with BTLC Germany and Poland's PKP Cargo Connect. To promote the rail hub near the Darnytsia rail station, Zhmak appointed last month Edvins Berzins, former chairman of Latvian Railways, to be executive director of what is formally called the Liski Transport Service Center. After starting last June, container trains now run almost weekly from China to Liski. Around Ukraine, there are now 36 routes regularly plied by container trains.
In "U.S., Russia Race to Outflank Each Other on Russian Pipeline," Wall Street Journal reporter Brett Forrest recounts the down to the wire race to stop the Nord Stream 2 trans-Baltic gas pipeline, a line seen as rendering Ukraine defenseless against full-fledged Russian intervention. In the 1,800-word story, one villain emerges: US Treasury Secretary Stephen Mnuchin. Forrest writes: "Mr. Mnuchin, whose department enforces sanctions, was opposed, these former officials said. 'He was a big hang-up at every turning point,' said one." Two Washington lobbyist heroes emerge: Vadym Glamazdin, a government-relations official with Naftogaz, and Oleksandr Kharchenko, an official at Ukraine's National Security and Defense Council.
A bounty of mushrooms flowed out of Ukraine's forests this fall, reports The New York Times, citing unusual weather: "a dry summer followed by an unusually warm fall and late first frost." In "I Have Never Seen So Many Toadstools.' A Bumper Crop of Mushrooms in Ukraine," Times reporters interviewed Emilia Koleda, a grandmother selling mushrooms on the Kyiv-Chernihiv highway. Noting that her mushroom sales earned her money for firewood and school supplies for her grandchildren, said says: "Mushrooms saved so many people this year…Nature helped us through the quarantine." Befitting the secrecy of mushroom hunters, the reporters chose as their dateline a Chernihiv settlement so tiny it does not appear on google maps.
With the Democrats returning to power in the White House, David Arakhamia, head of the Servant of the People Rada faction, hopes that Joe Biden will resume an Obama era practice of extending US guarantees to $1 billion in Ukrainian 5-year Eurobonds. The Obama Administration did this three times at the height of Ukraine's post-Maidan financial crisis – in May, 2014, in May, 2015 and on Sept. 23, 2016, just before the election that brought in Donald Trump. With the US guarantee, the last bond carried the lowest rate in Ukraine's history — 1.471%. With Ukraine's reserves recovering the Trump Administration refused to refinance the first two issues. They were repaid in full.
Ukraine's faces a bulge in repayments next fall, and Arakhamia tells Interfax-Ukraine that he hopes a Biden Administration will roll over the $1 billion bond coming due in September. "We hope that with the arrival of the new White House administration, we will be able to agree with our strategic partners on refinancing this loan," Arakhamia tells the news agency. Ukraine's international reserves are $24.5 billion.
"No IMF funding for Ukraine until Zelenskiy earns trust," headlines a stinging critique of the Zelenskiy government by Anders Aslund, the Swedish-American economist who has been watching Ukraine for 30 years. "If the Ukrainian government does not fundamentally revise its current economic policy and political trajectory, it is unlikely to receive any IMF, World Bank, or European Union funds for as long as Volodymyr Zelenskiy remains president," Aslund writes in an Atlantic Council Ukraine blog. "Zelenskiy does not appear to grasp that the IMF takes its conditions seriously and does not want to be treated as just a source of cheap credits. Unlike the Ukrainian government, it is focused on structural reforms so that the Ukrainian economy can start growing at five to eight percent a year, rather than at minimal rates."
The Zelenskiy administration's effort to get back on track with the IMF hit an unexpected bump when Oleg Tatarov, deputy head of the administration, said Saturday that the National Anti-Corruption Bureau does not serve Ukraine's interests and that its head Artem Sytnyk doesn't have "the moral right" to run the agency and should be replaced. The next day, the Zelenskiy administration hurried out a statement saying Tatarov's statement was: "His personal opinion that does not reflect the administration's official position."
The Anti-Corruption Bureau was created with Western advice and financing. Ukrainian officials have repeatedly assured the IMF that it will be retained. Two weeks ago, Zelenskiy met with G7 ambassadors and assured them that Sytnyk would stay on the job. Next week, the Rada is to vote on a bill that would guarantee the Bureau's survival and Sytnyk's role as head. In Washington, analysts predict that the Biden administration will use 'tough love' on Ukraine — conditioning support on free market, EU-standard reforms.
Ten Turkish and Ukrainian construction companies have applied to take part in the $200 million rebuild of Dnipro airport, reports Kyrill Khomyakov, head of Ukrinfraproekt, the State Agency for Infrastructure Projects. Qualified companies are to take part in a competitive tender. Expected to take several years, the project involves building a new concrete runway, jet taxiing aprons, lighting, navigational aids and a perimeter fence. Next year's budget has allocated $50 million, or one quarter of the money.
Controlled by the Ihor Kolmoisky group, Dnipro airport has languished, recording Ukraine's 7th largest volume of passengers last year. In 2019, Dnipro handled 338,888 passengers, sandwiched between Zaporizhia, at 434,000, and Kherson at 154,046. Separately, Infrastructure Minister Vladyslav Krykliy reported Sunday from Istanbul that a Turkish construction company wants to modernize Kherson airport, which is served by Turkish Airlines.
In Switzerland, airplane pilots who are unable to fly during the coronavirus pandemic may soon retrain to become train drivers.  With the support of Aeropers, the nation's main union for cockpit employees, Swiss Federal Railways and Edelweiss Air are studying a pilot retraining. While dozens of jets are grounded in Switzerland this winter, the state-owned railroad is cancelling trains due to lack of staff. Converting a jet pilot into a locomotive engineer is expected to take less than one year.
In Berlin, DHL has painted its trademark yellow and red colors on 10 idle tour buses and converted them into 'paketbussen.' The parcel buses, including six double deckers, will receive and deliver packages to customers standing outside, minimizing contagion. Logistik Watchblog quotes Berlin's Governing Mayor, Michael Müller, saying: "The parcel business, which will reach a new dimension due to the corona Christmas, is specifically facilitated with the paketbussen. It helps us to further reduce contacts."
Editor's Note: Drawing on 10 years covering news in South America, I believe Latins are often better skilled than Ukrainians at conflict avoidance. A South American president would know how to handle a troublemaker like Tatarov. An annoying writer or opposition politician would be called into the Italianate foreign ministry. With grave ceremony, he would be handed freshly penned credentials, appointing him ambassador to…India. Adios! Over the winter holidays, Zelenskiy could create a Ukrainian consulate in Vladivostok, an area once majority Ukrainian. To jazz up the job, it could be called a 'Consulate General' — responsible for an area larger than Western Europe, from Sakha to Sakhalin. To get in the mood on the loooong train ride across snowbound Siberia, Tatarov could read Chekhov's 1893 "Sakhalin Island" — Остров Сахалин — a classic report on exile. With best regards, Jim Brooke.