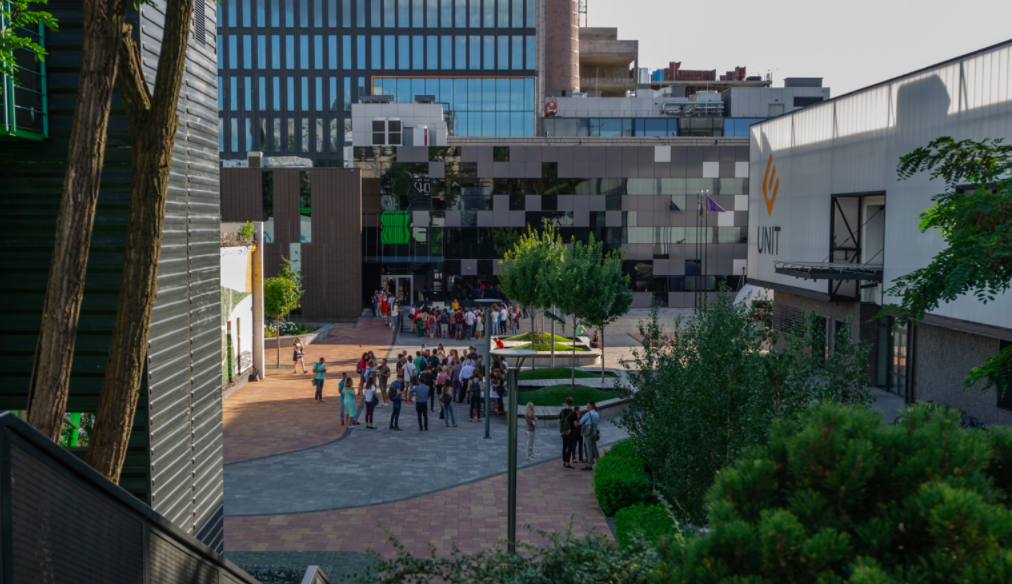 Tuesday, September 22
Count the Cranes: Kyiv's Unit.City is Ukraine's Biggest Construction Site...Restream and Reface Draw Money and Fame to Kyiv IT...As Ze Affirms Ukraine's 5% Income Tax Rate, Belarus It Workers Look South...Women Move into Ukraine's IT Jobs
With five buildings under construction, Kyiv's Unit.City is the largest building site in Ukraine today, Dominique Piotet, CEO of the tech hub, tells the UBN. Within 18 months, 20,000 square meters are to be completed, doubling the size of the western Kyiv IT park. Financing construction, the European Investment Bank approved last July a €50 million loan. That money is being leveraged to win additional, commercial financing.
Demonstrating the strength of IT in Ukraine, Piotet says that of Unit.City's 2,500 work spaces, only 21 are available for rent. "We are full," said Piotet, a French transplant from Silicon Valley. "We sold the first 300 apartments in three weeks." At present, Unit.City has four R&D labs, 120 companies, 1,000 coding students and 3,000 workers. Inter-company synergy is key, he says, noting: "86% of residents tell us they are doing business with each other."
Vasyl Khmelnytsky, developer of Unit.City, is expanding the innovation park concept to Ukraine's two other big IT cities. Unit.City Kharkiv now has 600 students at its 5,000 square meter campus. Another 600 students are at LvivTech.City, an IT park that is to open a residential complex next year.
The amount of new office space occupied in Kyiv during the first half of the year fell by 42%, compared to the first half of last year, CBRE Ukraine says in a new study. New office supply totaled 69,000 square meters, slightly more than double the amount for the first half of 2019. Caught between shrunken demand and a jump in vacancy rates to 12.4%, developers may delay the release of some of the 146,000 new square meters planned for the second half of this year. CBRE writes: "Since most new projects in the early stages of construction have been suspended or canceled, the new supply is likely to decrease significantly between 2023-2024." IT accounts for 29% of new rentals, the largest sector in Kyiv.
Kyiv startup Restream has attracted $50 million in Series A financing from U.S. investment firms Sapphire Ventures and Insight Partners to accelerate its video streaming business. "Today, live streaming is more important than ever – this pandemic has uprooted every type of in-person event—concerts, conferences, classes," says Alex Khuda, co-founder & CEO of Restream.  "Today, our community of over 2 million creators broadcasts over 8 million monthly live streams to over 750 million monthly viewers around the world."
Reface, a separate Kyiv startup, recently became the most popular American app downloaded on iOS, the operating system for Apple mobile devices. The app allows users to use a selfie photo to place their face in a video with stars. On Aug. 26, Reface became the most popular app in the entertainment category in the US and 17 other countries, ahead of TikTok and Netflix. Then, on Aug. 31, it become the most popular app in America overall. "A startup from Ukraine has never been # 1 in the US," Roman Mogilny, CEO of Reface, tells Interfax-Ukraine. "It's cool to understand that the application has gone viral and popular not only in America, but also in more than 100 countries around the world."
Investments in Ukrainian IT startups totaled $510 million last year, according to the annual report of the Ukrainian Venture Capital and Private Equity Association. The sum of 111 deals, this figure was 50% higher than 2018. This year has been slower, but volumes often rise in the fourth quarter.
President Zelenskiy strongly backs the 5% tax rate for 'autonomous' IT employees, a fraction of Ukraine's standard 18% tax rate. "This industry is developing in the country not due to the state support, but due to the intelligence of Ukrainians," he told IT executives in Lviv on Friday. "One of the steps that the state can take is not to increase the tax burden on this [IT] industry." He said he sees IT as key to modernizing Ukraine: "Everyone is saying: 'we need honest customs, honest law enforcement agencies, we need to overcome corruption.' We all understand that the human factor is very difficult to fix. But digital and IT industry can do it."
"Tech Workers Flee Belarus as IT Haven Takes Authoritarian Turn," headlines a Bloomberg story about IT companies starting to move out of Minsk after a month of internet shutoffs and police raids on such IT companies as PandaDoc, Yandex NV, Uber, and Wargaming.net. Since opening 15 years ago, Hi-Tech Park on the eastern edge of Minsk has grown to nearly 700 companies, employing 60,000 people and earning $2 billion annually in exports.
A bus ride to the south, Ukraine offers an easy move for fence-sitting IT workers: a lower income tax, easy work permits, higher average salaries, and a working environment where Russian is widely understood. These advantages are listed in a 112.ua article "Why Belarus IT Specialists Move to Ukraine on Massive Scale." Ukraine's IT industry employs 180,000 programmers, three times the number in Belarus. With reports of Belarus IT technicians barred from boarding outbound planes in Minsk, the article says IT workers may choose to leave their options open by quietly coming to Ukraine for extended 'vacations.'
Ukraine's IT workers are older, increasingly female and more fluent in JavaScript, according to a new study by GlobalLogic. Compared to five years ago, the female portion of the workforce has grown to 25% today, for 14% in 2015. The average IT specialist is now 28 years old – one year older than five years ago. And 41% are now married. The portion of surveyed engineers using JavaScript is now 18%, ten times the 2010 level of 1.9%. Since 2015, jobs have changed — the share of testers is up 45%, and the share of developers is down 16%. "The second half of this year will be more optimistic for the entire industry," predicts Andrey Yavorskiy, GlobalLogic's vice president for strategy and technologies. "Digital transformation creates a demand for developers and testers, new IT specialties."
The World Bank sets ambitious highspeed wireless internet goals for 2025: 4G coverage for 95% of the population; full 5G coverage along major road and rail routes. If integrated with traffic control and emergency services, the World Bank says smart technology can reduce road deaths by 8-10%, reduce travel time by 15-20%, and speed up the response time of ambulances by 25-30%. The targets are posted on the website of the Digital Transformation Ministry. Today, 5G is only in the testing phase in Ukraine.
From the Editor — Ukraine's $5 billion IT industry is one area where the Zelenskiy government is doing things right. Aside from the Digital Transformation Ministry trying to cut bureaucratic red tape and the President affirming the 5% income tax rate, the government's attitude is: hands off. IT executives don't report hearing that chilling phrase: "We're from Bankova…and we are here to help." With best regards, Jim Brooke