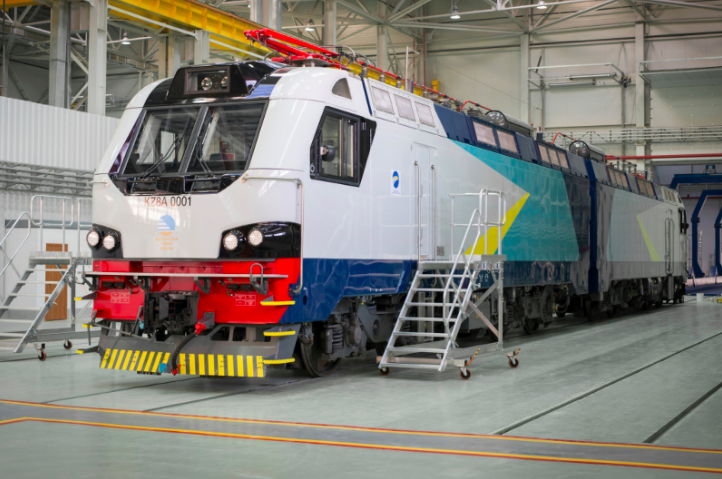 French Treasury financing may push Alstom over the top in the race to provide Ukrzaliznytsia with 205 electric locomotives for the 2020s, according to reports from a meeting Tuesday in Kyiv between Ukrainian officials and executives of the French rolling stock manufacturer. After meeting with Henri Poupart-Lafarge, CEO of Alstom, Arsen Avakov, Ukraine's Internal Affairs Minister, said: "We have been working on the details of a common project with the French side for a long time and in the near future we can reach the signing of an intergovernmental agreement that will fully meet the needs of Ukraine."
Both sides are to meet again next month to discuss what could be a €1 billion contract. President Zelenskiy stressed to the visiting Alstom executives the need to localize in Ukraine some of the locomotive production.
Ukraine starts the winter heating season this week with natural gas reserves at a record 28.4 billion cubic meters. And today's level is 30% above the level of this time last year, also a record, reports Naftogaz. With a total storage capacity of 31 million BCM, Ukraine's underground reservoirs are 92% full, also a record. In the seven months since Naftogaz started storing gas last spring, the state company increased stocks by 80%.
Europe's gas glut this summer benefitted Ukraine as 79 EU traders used Ukraine's new duty free warehouse regime to store gas in 12 underground reservoirs. This fall, gas stored in this customs regime hit 11 bcm, triple the level of 2017. With the five largest reservoirs within 160 km of  Hungary, Ukraine supplied Hungary with a record 9 bcm  this year. "Thanks to market reform, Ukraine became Europe's indisputable storage hub in 2020 as markets were facing suppressed demand linked to the pandemic and an underlying supply overhang," writes Aura Sabadus, a senior energy journalistfor London's  Independent Commodity Intelligence Services, or ICIS.
Prime Minister Denis Shmygal met yesterday in Kyiv with Alfred Kammer, the IMF's new European Director. "We are rapidly converging positions with the IMF," Shmygal wrote on his Telegram channel. "We just had a productive meeting with our international partners from the Fund. Ukraine has made significant progress in fulfilling its obligations. Many thanks to Alfred Kammer and the IMF for the dialogue. Strong partnership with the IMF is a guarantee of Ukraine's long-term stability." There was no comment from the IMF side.
In one concession to the IMF, the Cabinet of Ministers yesterday removed restrictions on salaries to government officials and members of supervisory boards. Last April, the government placed a $1,700 a month cap on remuneration. This move prompted some officials to leave public service over the summer and others to seek under the table cash payments from the Presidential Administration.
The online registry of officials' asset declarations was closed yesterday, due to a Constitutional Court ruling, said the National Agency for Preventing Corruption, the agency that maintained the registry. The Court ruled unconstitutional public access to officials' declarations and the agency's authority check officials' declarations and lifestyle. The ruling also cancels penalties for officials who lie in their asset declarations.
In protest, Oleksandr Novikov, head of the anti-corruption agency, told reporters yesterday: "The Constitutional Court returns Ukraine not even to 2013, but to 1991, when there was no anti-corruption legislation at all…The court has canceled all anti-corruption tools developed since Ukraine became independent."
In response, President Zelenskiy's office said: "There are still corrupt politicians who cannot tolerate the fact that their lifestyle, property and income can be under control."  The president assured: "Relevant tools in Ukrainian legislation will be kept or at least reinstated."
The EU delegation to Ukraine reminded UNIAN news agency of the "huge EU assistance, including financial, in various fields, respectively is directly related to anti-corruption bodies, which work independently, effectively and free from political or other pressure." Addressing the 'unconstitutionality' of Ukraine's anti-corruption institutions, the EU Mission said it "will be ready to provide assistance in choosing ways to restore the necessary legal certainty."
The Rada's Freedom of Speech Committee was forced yesterday to restore the accreditation of reporters who work with Slidstvo.info, Anna Babinets, editor-in-chief of the investigative project, writes on Facebook.  Over the last year, the group has produced a series of reports alleging corruption by Rada members, prompting the Committee to pull the press credentials of its reporters. Public outcry forced a reversal by the committee which is chaired by Nestor Shufrych, from the pro-Russian Opposition Platform party.
Two new checkpoints between the Russia-controlled and Ukraine-controlled portions of Luhansk Region will open Nov. 10, according to a decision of the Trilateral Contact Group  — Ukraine, Russsia and the Organization for Security and Co-operation in Europe, or OSCE. For the last six years, there has only been one crossing in Luhansk, at Stanytsia Luhansk. Ukraine banned trade between the two sections of the Donbas in 2017.
UIA is closing its offices in Austria, Germany, Italy, Spain and Switzerland to save money. Last month, the airline, based in Boryspil, closed its offices in Belarus, Turkmenistan and Uzbekistan.
Pavel Ryabkin, general director Boryspil Airport, is to become Ukraine's third Customs Service director in a year, according to reports from yesterday's Cabinet of Ministers meeting. Later Finance Minister Sergei Marchenko told Interfax-Ukraine that he expects to quickly raise more money to help cover the government's budget deficit and to continue the work of his predecessors to transform "Customs into a modern, transparent, efficient European standard service."
Anatoly Fedorchuk, mayor of Boryspil, the Kyiv Region city that is home to Boryspil International Airport, died from Covid-19 on Wednesday three days after winning re-election. A new election will have to be held. Fedorchuk death came after a record 165 Covid-related deaths were announced for the 24 hour period ending Wednesday morning.
After almost 7,500 new cases were announced Wednesday morning, the Cabinet of Ministers decided to extend until Dec. 31 the emergency regime adopted last March to fight Covid. Prime Minister Shmyhal asked companies to switch to remote work to prevent the spread of the virus. He said: "I call on Ukrainian companies to switch to online meetings as much as possible so that we can create conditions for breaking the epidemiological chain."
4G mobile service now covers 98% of Kyiv's metro, according to a press release by the three participating cellphone companies – Kyivstar, Vodaphone Ukraine and lifecell. Yesterday, the fast service was extended to 23 stations. In December, Teremky, the southern Terminus of the Blue line, is to be last of the rail system's 52 stations to connect to 4G. Already about one third of the system's 800,000 daily riders are using the service, which averages 40 Mb/s. After starting in March, work is ahead of schedule in part due to the 2-month shutdown of the system last spring in an effort to block the spread of coronavirus.
Editor's Note:  Turkeys don't vote for Christmas. It's entirely understandable why some judges don't want anti-corruption bodies and some Rada members don't want investigative reporters allowed into the Rada. But maybe Ukraine has been a little too understanding in recent years. After flying into Kherson Friday night, I was greeted by a large billboard outside the airport: "Work in Poland." In one generation, Ukraine has lost 28% of its population. At Independence, Ukraine had 52 million people. Today, it has 37.3 million. That is a failing grade for post-Independence political leaders. Maybe it is time to give Ukrainians – and foreign investors — what they want: the rule of law. With Best Regards, Jim Brooke