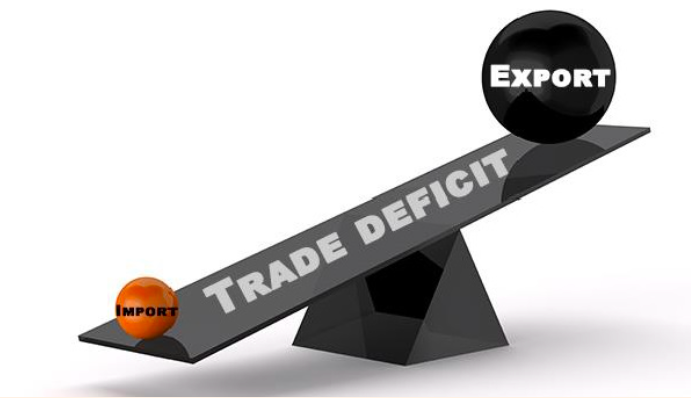 Tuesday, February 2
Foreign Trade Deficit Plummets…Central Bank: Ukraine's Economy Recovering Faster than Expected…Firefly Seeks to Raise $350 million For Bigger Rockets…Hungary Loans €50 million for Cross Border Roads and Bridges… Vinnytsia airport: Built to Handle Half a Million Passengers
Ukraine deficit in foreign trade in goods and services plummeted by 86%, to $1.7 billion last year, down from $12.1 billion in 2019, reports the National Bank of Ukraine. Ukraine's deficit of foreign trade in goods dropped by more than half last year, to $6.1 billion, from $14.7 billion. By contrast, Ukraine's surplus of foreign trade in services more than doubled, to $4.6 billion, from $1.75 billion.
"Ukraine's economy also is recovering faster than anticipated," according to official notes of the January 20 meeting of the central bank's Monetary Policy Committee. The 10-member committee predicted: "The economy this year is expected to regain almost all of the ground it has lost to the coronavirus crisis." With foreign investment flows returning to Ukraine's bond market, one committee member predicted: "The 2019 scenario where foreign capital flooded the Ukrainian economy is likely to repeat itself."
Firefly Aerospace Inc, a US rocket and space company, with deep Ukrainian roots, plans to raise $350 million to scale up production and work on a medium-class launch vehicle, Space News reports from Washington. "In the next five years we want to take Firefly from a $1 billion company when we go out and fly Alpha," Firefly's CEO Tom Markusic, told an IPO webinar on Thursday. By developing Beta, a medium-class launch vehicle, Firefly aims in five years to become "a $10 billion company." Owned by Ukrainian-American entrepreneur Max Polyakov and his investment fund, Noosphere Ventures, Firefly hopes to launch its Alpha rocket this spring from Vandenberg Air Force Base in California.
President Zelenskiy flatly rules out allowing Chinese companies to buy Motor Sich, Ukraine's giant aircraft engine manufacturer. "We do not have the right to sell a controlling stake in the management of strategic defense enterprises of Ukraine to any country," he told an Axios interviewer in Kyiv on Jan. 23. Asked if China would be allowed to buy the company, he responded: "Never, at least under my presidency…During my presidency, this will not be the case."
Hungary has confirmed that it will loan €50 million to Ukravtodor to rebuild two bridges over the river border with Ukraine and a 10 km stretch of highway to better connect Hungarian and Ukrainian highway systems. While Hungary builds the last 26 km of a 307 km four lane divided highway from Budapest to the Ukrainian border, Hungarian money will finance a northern prolongation over the Tisa River and around Berehove to connect with Ukraine's M-24. Traffic planners predict this extension could handle 12,000 cars and trucks a day.
About 50 km upriver, to the west, Hungarian money will finance a rebuilding of the road bridge over the Tisa at Chop, currently the busiest crossing point. Hungary first offered the loan to Ukraine's state highway agency several years ago. The money was unlocked by last week's visit to Kyiv of Péter Szijjártó, Hungary's Minister of Foreign Affairs and Trade. Zakarpattia is the homeland of Ukraine's Hungarian-speaking minority.
Private international construction companies will be invited to participate shortly in tenders to rebuild and maintain six highway segments in Ukraine, the Infrastructure Ministry reports. These first 'public private' highway partnerships were selected to have a maximum impact, Minister Vladyslav Krikliy noted, adding: "These highways connect 10 regions of Ukraine, where more than 12 million people live."
The highways will not have tolls. The state will gradually repay private road companies for the work and maintenance through 20- or 30-year contracts. The forecast amount of total investment is around $1.7 billion. Experts from the World Bank and the International Finance Corporation drew on international experience to help design the PPP program.
Lemtrans, Ukraine's largest freight wagon operator, increased its cargo last year by 23% yoy, Vladimir Mezentsev, the company's general director, tells Interfax-Ukraine. With world iron prices jumping, Lemtrans carried 25 million tons of iron ore, 49% more than last year. The company, ranked by Forbes as one of Ukraine's top 100 by size, wants to run private freight trains to the Black Sea ports. In a pilot program, Ukzaliznytsia has granted a provisional license last fall to a small Lviv freight hauler.
With Russia easing its maritime restrictions of Ukraine's Sea of Azov ports, Mariupol increased its grain exports by 20% yoy, to 623,000 tons. This year, tonnage could hit 1 million tons, if a new grain handling complex is completed, says Igor Barskiy, port director. Through October, the port had handled 5 million tons of cargo, a 9% yoy increase. Located 25 km west of the front line, Mariupol is the main port for Donetsk Region.
A second IKEA store in Kyiv will open this fall with the opening of Ocean Mall, developer Vagiv Aliyev said yesterday on the occasion of the opening the Ukraine's first IKEA in his Blockbuster Mall. Due to coronavirus controls, visitors enter the new IKEA through a reservation system that sends an SMS to a mobile phone. Only 500 customers are allowed at one time at the new 5,000 square meter store. Mayor Klitschko welcomed yesterday's opening saying: "This is the positive signal needed to attract other international investors."
As work starts this month on a 3-year, $57 million rebuilding of Vinnytsia airport and runway, designers expect it will become a major airport for central Ukraine, handling 500,000 passengers a year, 10 times the 2019 volume. "The service area of ​​Vinnytsia airport is more than 6 million residents of the regions," Kirill Khomyakov, head of Ukrinfraproekt, the state infrastructure construction agency. "Modernization of the airport will create new jobs, increase tourism potential and contribute to the region's economy." Wizz Air has talked to city authorities about launching flights from Vinnytsia to Berlin, Budapest, Vienna and Warsaw.
To draw factories to Vinnytsia's 35-hectare Industrial Park, the park managers are offering free electricity hookups. This is made possible by Kness Group, a Vinnytsia-based company that is investing $10 million to building a dedicated energy supply system for the park.
Editor's Note – It is great that the World Bank drew on experiences the world over to draw private companies into the business of building roads. There is fly in the ointment: a host of foreign solar and wind producers were lured to Ukraine on the promise of high tariffs, then the Zelenskiy government said the green tariffs were "Poroshenko tariffs." (Actually, they were Yanukovych tariffs). It is no more possible to put a 100-meter high wind turbine on rollers and push it to the western border than it is to roll up 100 km of asphalt and take it back to France. If foreigners are going to invest in unmovable assets, contracts have to be respected. With Best Regards Jim Brooke