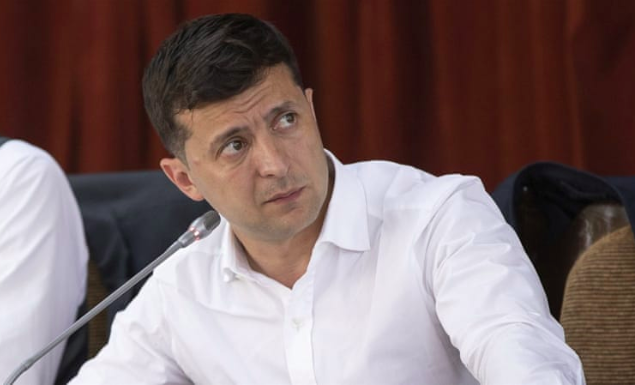 Rada members must prepare new bills marked 'urgent' to restore anti-corruption legislation invalidated Tuesday by the Constitutional Court, President Zelenskiy said yesterday in an emergency National Security and Defense Council meeting. "The electronic [asset] declaration system in Ukraine will work," he said, ordering its restoration. "Draft laws for its renewal should be prepared and sent to the Verkhovna Rada as urgent." The Rada reconvenes next week. After the ruling party's poor showing in last Sunday's local elections, it is not clear if the President still has a working majority.
If the National Security Council identifies the Constitutional Court's actions as a threat to Ukraine's security, "Zelenskiy might propose a draft law that would reboot the court and fire all of its 15 judges," writes the Kyiv Post. Hinting at this, Zelenskiy said yesterday: "The devastating blows inflicted on the country's achievements in the fight against corruption and in corruption prevention in Ukraine cannot be ignored. The decisions of individuals whose actions are becoming increasingly socially dangerous have to be assessed immediately and rigorously."
Court actions dismantling anti-corruption bodies drew fire yesterday from the EU and G-7 ambassadors in Kyiv. Analysts say at risk are: visa-free access to the EU and the IMF Stand-by Agreement.
Foreign and national construction companies will be able to participate in up to $2 billion worth of contracts to rebuild 1,500 km of highways in Ukraine through 2023, government officials announced yesterday at a webinar on Public-Private Partnerships in the Road Sector. Tenders are to be drawn up next year for six sections of 'M' or international highways, said Infrastructure Minister Vladyslav Krykliy. The six sections are the first phase of a $9 billion, 4,500 km project that is to stretch through the decade.
The first phase focuses on 'brownfields' – upgrading existing roads. These highway sections will be become Ukraine's first toll roads, but will be "installment roads," Krykliy said. Under this system investors first pay for construction, then recoup their investments through highway infrastructure, largely gas stations, restaurants and billboards. Ukraine is one of a few major countries in the world without toll roads. The online information session drew 310 participants from 43 countries and 38 companies, Krykliy later wrote on his Telegram channel.
Ukraine's PPP system is being developed with the advice of the World Bank's IFC Group. Since 2014, IFC has advised governments on 147 public-private partnerships, an effort expected to draw $33 billion in private financing. In Ukraine, IFC advised on the recently completed concession contracts for Kherson and Olvia ports, contracts that are to bring in investments totaling $137 million.  Now, IFC is advising preparation of a tender for the concession of a container terminal in Ukraine's Chornomorsk port and is analyzing concessions at rail stations. This project that could bring in over $150 million, says Jason Brett Pellmar, the IFC's regional manager.
Ukravtodor plans to repair 6,800 km of roads next year, almost 30% more than the target for 2020, Alexander Kubrakov, head of the state highway agency, said yesterday at the presentation of the public private partnership plan for roads. Funding sources are: the Road Fund, funds raised under state guarantees, loans from international financials institutions, such as the World Bank, and possibly the first public private partnership.
Two months into the job as head of Ukraine's state railroad, Volodymyr Zhmak announced yesterday he will drop a $1 billion framework agreement signed in 2018 to buy as many as 200 diesel locomotives from Wabtec Corporation, formerly GE Transportation. "As for cooperation with General Electric, today I do not see the need for further purchase of General Electric locomotives," he said at a press conference in Kyiv. "Our goal is to switch to electric locomotives, because it is much more economical." Of Ukrzaliznytsia's 23,300 km of track, only 44% is electrified.
Through late July, Ukrainian officials repeatedly said they are negotiating to sign a contract by the end of this year to buy another 40 locomotives from Wabtec – a purchase that would carry a $185 million price tag. This would build on an initial purchase of 30 Wabtec diesel locomotives in 2018-2019. Last January, President Zelenskiy told visiting US Secretary of State Mike Pompeo: "The Ministry of Infrastructure and Ukrzaliznytsia are already negotiating the purchase of a new batch of American-made locomotives."
Most of UZ's rolling stock have passed their intended life expectancies, Zhmak gave these 'depreciation rates: UZ's 958 electric locomotives and 227 diesel locomotives — 96%; 41,138 freight cars – 89%; and 2,040 passenger cars – 88%. To accelerate renewal of the fleet, he said UZ will spend $250 million next year to produce 4,200 new freight cars and to overhaul up to 20,000. The railroad plans to spend $145 to overhaul locomotives. Ukraine has six locomotive repair plants. The nation's sole locomotive production plant is in the part of Luhansk Region now under Russian control.
Austria's Rail Cargo Group is launching a new weekly container freight train from central China to Vienna, through Ukraine. Separately, Rail Cargo, a unit of Austrian Federal Railways (ÖBB), recently announced that it is doubling – to twice a week — the frequency of its freight trains from Xian, China to Budapest, also through Ukraine. Previously, some China-Central Europe trains passed through Belarus. The China-Kazakhstan-Russia-Ukraine route provides "the best geopolitically, the fastest and most stable solution for the transportation of small goods between Xi'an and Vienna on a stable rail route," the Austrian company told Ukraine's Center for Transportation Strategies.
In the latest move to remove big trucks from Odesa's residential areas, Euroterminal has started to build a rail spur to the Odesa-Peresyp rail cargo sorting yard, about five kilometers north of the historic port. As present, 80% of containers enter and leave Odesa Port by truck.
4G mobile telephone usage by Kyivstar subscribers was up 50% yoy in the third quarter, reports Ukrinform. The 4G network of Kyivstar, the nation's largest mobile company, now reaches 84% of Ukraine's population, the company reports. Of Kyivstar's 25.8 million sim card holders, 65% use their phones for data. Due to the quarantine, "subscribers are using more digital products," said Kyivstar President Oleksandr Komarov.
Belarus closed its borders yesterday afternoon with Lithuania, Poland and Ukraine, reported Belarus' State Border Committee, citing "the existing epidemiological situation in neighboring countries." Although Russia's coronavirus infection rate is 50% higher than Belarus, the Russian border was not closed. This leads some analysts to conclude that Alexander Lukashenko, the self-proclaimed president of Belarus, is preparing a crackdown before next Tuesday's US presidential election. Belarus is not blocking trucks from Ukraine, a major trading partner.
Editor's Note: I watched the Public-Private Partnership webinar, just after a major foreign investor in wind energy bent my ear at length about the government's $1 billion overdue electricity debt to renewable investors. Then, I caught up with the news and saw that UZ is backing out of the $1 billion Wabtec (GE) locomotive deal. Oh, yes, these were all Poroshenko deals. But, what if, in 2027, a foreign construction company finds Ukraine's new government is slashing highway tolls to win votes. Will that next government say: 'But those were Zelenskiy deals"? With Best Regards, Jim Brooke