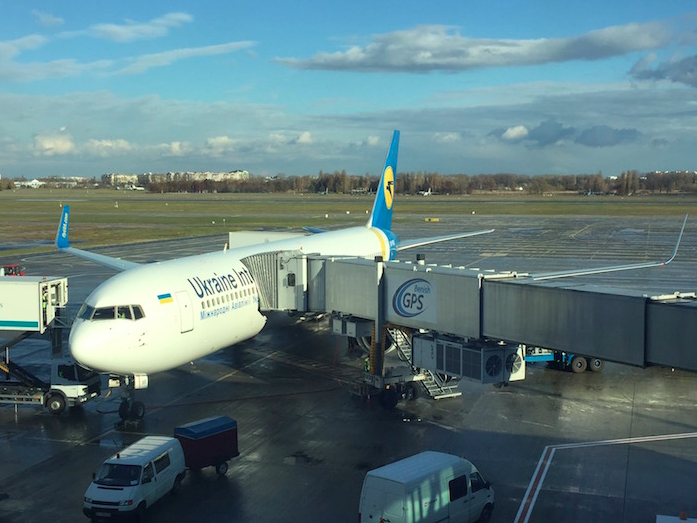 UIA restores flights from Kyiv to New York, Toronto, Delhi, Cairo and London-Heathrow, according to a new summer schedule that starts in time for the May holidays. The new schedule also restores a host of EU cities and increases frequencies to existing EU destinations.
Ukraine hopes to sign its long-delayed Open Skies agreement with the EU in 10 days, when Charles Michel, president of the European Council, visits Kyiv, Prime Minister Shmyhal tells Ukrinform. Fresh from a 2-day visit to Brussels, Shmyhal says: "At a face-to-face meeting, [EU Foreign Minister Josep] Borrell confirmed there were no issues with Ukraine."
Dnipro airport, Ukraine's largest airport construction project of the year, will be rebuilt by Kyiv's Altis-Construction LLC. With a $141 million bid for the three-year project, Altis beat six other companies in an open tender by the Infrastructure Ministry. The government has budgeted $50 million this year, almost 60% of all government airport work for the year. Altis is to build a new, 3.2 km runway, long enough for Boeing 777s. Separately, Oleksandr Yaroslavsky's DCH group is building a new terminal. While work continues, Dnipro airport will keep operating, using the old Soviet-era terminal and concrete runway.
In a survey of 172 hotels across Ukraine, 23% predict business will return this year to 2019 levels and 57% predict a full return in 2022, reports the Ukrainian Hotel & Resort Association. Horwath HTL Hungary. Last year, two thirds of hotels cut room rates and hotel staff. More than 60% of hotel managers said their revenues shrank by more than 40%. To increase revenue, one quarter rented rooms as temporary offices and one third invested in digital marketing. Revenues grew at seven hotels – all rural retreats.
In January, hotel occupancies were: Lviv – 35%; Kharkiv – 31%; Kyiv – 23%; and Odessa – 19%. The average room rate in Kyiv was $57, according to Hotel Matrix, a web-based analytics program connected to 150 hotels nationwide.
Due to controls surrounding coronavirus, the world tourism industry lost $935 billion during the first 10 months of 2020, reports United Nations World Tourism Organization. To allow safe travel, the EU and Israel are working to introduce 'vaccination passports.'
Despite corona controls, Ukraine's Border Service registered 11.2 million exits by Ukrainians last year, potentially one quarter of the nation's adult population. Top destinations were: Poland – 4 million; Hungary – 1.6 million; Russia – 1 million; Turkey — 965,000; Egypt – 730,000, Romania – 626,000; and Belarus – 496,000.
Ukraine received 3.4 million visits by foreigners. The top countries were Ukraine's land neighbors: Moldova – 933,000; Belarus – 463,500; Russia – 390,000; Poland – 272,000; Romania – 229,000; and Hungary – 217,000. By air, the top countries were: Turkey – 149,000; Germany — 74,000; Israel – 57,000; and the United States – 42,000.
The number of Kyivstar subscribers who traveled abroad during the Dec. 24-Jan. 10 holiday season was down 81% yoy, reports Ilya Polshakov, New Business Director for Kyivstar, Ukraine's largest mobile phone company. According to the company, the top five destinations were: Egypt, Turkey, Poland, Moldova and Romania. Dropped from the 2019 top five were two EU countries largely closed this winter to Ukrainian tourists: Germany and the Czech Republic and Germany. Polshakov studied the domestic and international travel patterns of 300,000 Kyivstar SIM card holders during the holiday period.
One year after coronavirus controls shut down air travel, the Infrastructure Ministry wants to give $18 million in tax and airport rent relief to the four Ukrainian airlines that carried evacuation flights last year. With jets flying largely empty one-way, a total of 170 evacuation flights were carried out by: Azur Air Ukraine, SkyUp, UIA and Windrose. are involved in.
On March 28, Mykolaiv airport wins back its lone scheduled flight, a Windrose Airlines flight to Kyiv. On March 1, Windrose resumes its charter flights from Mykolaiv to Sharm el Sheikh, Egypt.
For summer travel, Pegasus Airlines will launch six routes from Ukrainian cities to Turkish resort towns. With flights starting as early as April, the Turkish discount airline will fly from Kyiv Boryspil to Bodrum, Dalaman and Izmir. Pegasus also will fly to Bodrum from Kharkiv, Lviv and Zaporizhia.
SkyUp, Ukraine's largest discount airline, started last year with double the fleet – all Boeing 737s – but carried only 1.2 million passengers, half its forecast. Despite a bad year, the airline retained most of its staff and is holding to its 5-year plan: add 5 to 7 new jets, open new bases and win 50% of Ukraine's air passenger market.
This spring, SkyUp starts service from Kyiv Boryspil to two Polish cities popular with Ukrainian workers: Katowice and Lodz. At the end of May, as the tourism season starts, SkyUp plans to start service from Kyiv to Hannover, Marseille, Malta and Nuremburg. Adding new cities and new countries in June, the airline announces: "We are preparing to start flying from Kyiv and the regions to Poland, Germany, Denmark, Jordan, Sweden, Serbia and the Netherlands."
Airlines are betting on Ukraine's enduring love affair with Italy. Starting in late May, SkyUp will expand its Kyiv flight network to nine Italian cities: Bari, Bergamo, Bologna, Catania, Lamezia Terme, Naples, Rome and Rimini. In June, Lumiwings, a Greek company, plans to start flights between Odesa and two Italian cities – Forli and Perugia. At the end of April, UIA starts daily flights from Kyiv to Milan, Rome and Venice.
A sign of summer travel: people who want to visit Italy's Sardinia island will have to present a coronavirus vaccination certificate, Governor Christian Solinas tells L'Unione newspaper, according to ANSA. Prior to boarding a plane or ferry, travelers will have to show a certificate of having received the two shots – and having tested negative.
The start date of vaccinations against Covid-19 in Ukraine is slipping by 2-3 weeks, Andriy Slavutsky, head of UNICEF health programs said yesterday at a vaccination training event. Due to paperwork delays, "the Pfizer should arrive in late February or early March," he said. Moldova also hopes to start vaccinating in early March, By contrast, Ukraine's EU neighbors –Poland, Slovakia, Hungary and Romania – already have vaccinated 5-6% of their populations, according to the Financial Times vaccine tracker. Russia has vaccinated 2.7%. Belarus started vaccinating last month with the Russian-made Sputnik V vaccine.
Miss flying? For $95, UIA offers on Sunday, March 7 a "Flight over Kyiv". This 70-minute excursion features a view of Chornobyl nuclear plant from 900 meters and an overflight of Antonov's airport at Gostomel, home of the world's largest airplane, the An-225 Mriya. Off duty UIA pilots will mingle in the passenger cabin of the 100-seat Embraer 195, answering questions about flying over Kyiv. (Two on duty pilots are to stay in the cockpit). UIA proposes some sample questions: "Is it possible to fly without engines? What is turbulence and is it worth it to be afraid?"
Editor's Note: After European governments shoveled billions of Euros into their airlines last year, it is a touching that Ukraine may mark the one-year anniversary of the Covid shutdown by coming up with $18 million four Ukraine's four main airlines to divvy up among themselves. Meanwhile, airlines are betting that mass vaccinations this spring will re-open air travel for the summer. One problemo. Vaccines have yet to arrive in Ukraine. Vaccination training drills may make for good TV, but they are like soldiers drilling with wooden rifles. With Best Regards Jim Brooke