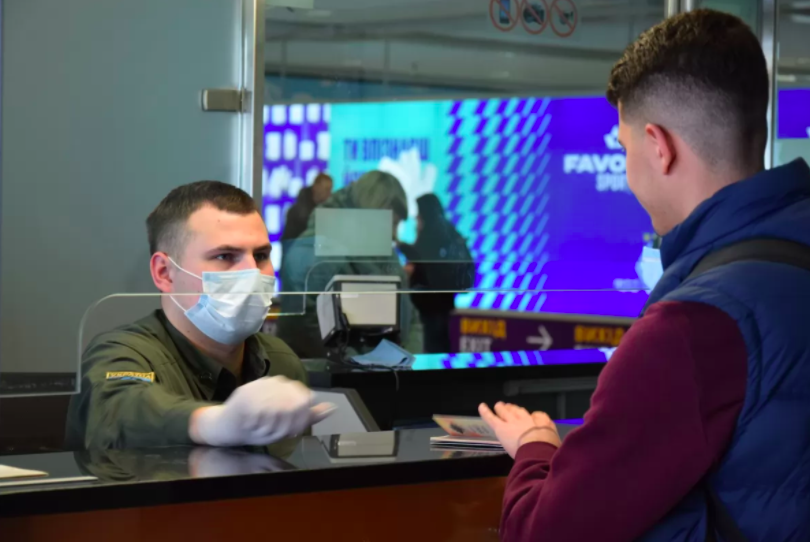 Monday, September 28
Ukraine to Re-Open Doors to Foreigners...Aslund Quits UZ, Charging Ze Does Not Believe in Corporate Governance...Budget Deficit Could Crowd Out Money for Growth...Only Half of Road Paving Goal Met...All Antonov AN-26s Grounded After Crash
The one-month ban on foreigners entering Ukraine will not be renewed after it expires tonight, reports Interfax-Ukraine. "We don't plan to extend it," a government official told the agency Friday. The ban hit hotels heavily and prompted the cancellation of numerous business visits.
Anders Aslund, the eminent Swedish-American economist, has resigned after two years as an independent member of the Supervisory Board of Ukrzaliznytsia, the state railway. Aslund said board members have not been paid since April 1, never received directors' liability insurance, and have watched railroad managers ignore recommendations.
"The fundamental problem is that the President and his loud MPs don't believe in good corporate governance," Aslund wrote in a stinging rebuke posted Saturday in the Kyiv Post. "From the president (the only Ukrainian president that I have never met), we only receive insults and obstacles."
Aslund said the UAH 47,000 — $1,700 – monthly salary cap imposed last April is damaging Ukraine's civil service.  "The management boards of the big state-owned enterprises are quickly losing their most talented staff," he wrote, referring to a policy that the IMF sees as one obstacle to extending new low interest loans to Ukraine.
Ukrzaliznytsia is the nation's largest employer – 250,000 people – and the transportation workhorse that moves most of the Ukraine's grain and metals to the Black Sea ports. Despite this key economic role, Aslund writes: "The government [does not] give Ukrzaliznytsia reasonable regulatory or financial conditions to modernize and become efficient (unjustified land tax, tariffs set far under cost level, insistence on massive overstaffing, etc.). These circumstances leave the company in a precarious financial situation."
With the budget deficit looming as a problem, the government has started negotiating with the IMF to reduce it from next year's forecast level of 6%, Prime Minister Shmyhal said Friday at a meeting in Lviv with students of Lviv Polytechnic National University. Due to heavy spending on coronavirus and road construction, the deficit is doubling this year, to 7.5% of GDP or $10 billion.
The budget deficit should be cut in half year – to 3% — in order to allow growth, Maria Repko, deputy director of the Center for Economic Strategy told reporters at Interfax-Ukraine Friday. "Relations with the IMF are complicated, and the Ministry of Finance proposes to finance the deficit in the domestic market, where the necessary funds may simply not be available," she said. While investors today hold $10 billion worth of government hryvnia bonds, the Finance Ministry wants to double those holdings, to $20 billion, by the end of next year, she said.
Next year's big budget deficit will "crowd out" money that should go to the private sector at low interest rates for development, Dmitry Sologub, deputy head of the National Bank of Ukraine, warns in an interview with Interfax-Ukraine. Y"ou have such a large budget deficit," he said. "You don't allow the private sector and private lending to develop with such a large amount of borrowing."
EU companies account for 70% or more of foreign investments in 20 of Ukraine's 24 regions, Olga Stefanishyna, deputy prime minister for European and Euro-Atlantic Integration, said Friday an online conference on EU-Ukraine. She said: "This means that our economy and the country as a whole are already moving in the direction of the Western world." The annual Ukraine-EU Summit is to take place Thursday in Brussels.
Contractors have completed half of the 4,200 km of roads planned for this year, President Zelenskiy reported while on a visit to Zakarpattia Friday. Of the 24 oblasts, Zakarpattia is the leader, with 223 km completed. With the season for laying asphalt expected to end at the end of October, it is unclear how many more kilometers will be completed this year.
On Dec. 17, UIA will resume flying between Kyiv Boryspil and London Heathrow, a route dropped in 2007. UIA will fly three times a week to Heathrow, using an Embraer E190, a jet that usually does not have business class. Also this winter, UIA will fly five times a week between Boryspil and London Gatwick, using a Boeing 737.
Windrose Airlines plans to start daily fights between Kyiv Boryspil and Uzhgorod in November, Infrastructure Minister Vladyslav Krikliy announced Friday. Krikliy signed a Slovakiia-Ukraine treaty allowing normal functioning of Zakarpattia's lone commercial airport. Through the end of next year, $3 million of investments are planned, notably a new runway lighting system. On a visit to the aiport on Friday, President Zelenskiy said: "Uzhgorod can be 100% sure that everything will be done here as it should." Windrose is expected to use on the route one of its four new ATR 72-600 regional turboprops, planes capable of doing the 630 km flight in 90 minutes. By road or rail, the trip takes 12 hours
The new $200 million runway for Dnipro airport is to be finished by the end of 2022, Kirill Khomyakov,  head of Ukrinfraproekt, the State Agency for Infrastructure Projects, tells the Center for Transportation Strategies. The agency plans to start earthworks in coming weeks on the 3,200 meter runway, a replacement for the current 30-year-old landing strip. Separately, Oleksandr Yaroslavsky's DCH Group is designing a terminal capable of handling 3 million passengers a year, 10 times the volume of 2018.
President Zelenskiy has grounded all Antonov An-26 turboprops after Friday's crash near Kharkiv that killed 19 air force cadets and seven officers. The pilot reported the left engine had failed in the 43-year-old military trainer transport and tried to land at Chuhuiv Air Force base. The black boxes have been recovered. One cadet survived by either jumping out or falling clear of the burning wreckage. Fabricated in Kyiv from 1969 to 1986, An-26s are no longer used by passenger airlines in Ukraine. About 26 are in use by Ukraine's Air Force and Navy. According to the Geneva-based Bureau of Aircraft Accidents Archives at least 10 Antonov An-26 are believed to have crashed since 2017.
 From the Editor – I like antiques — but not flying at 1,000 meters above the ground in an antique airplane. I once had a pleasant flight in an An-26 from Simferopol to Tbilisi Georgia, but that was over a decade ago. Ukraine's Air Force should stop flying Soviet-era antiques. Otherwise, Ukraine will look like Africa where cargo planes are flown until they crash. With best regards, Jim Brooke