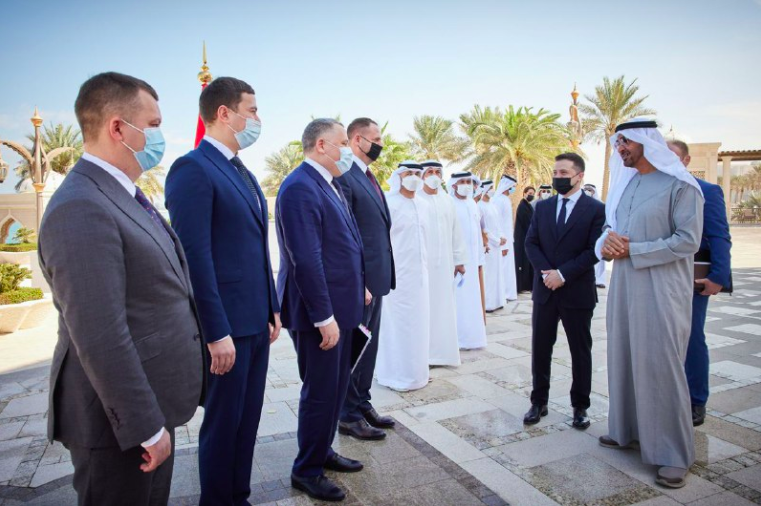 A total of $3 billion worth of deals and memorandums were signed over the last two days by Ukrainian company executives and officials in the United Arab Emirates, the third largest economy in the Middle East, after Turkey and Saudi Arabia. President Zelenskiy led a delegation of executives from 18 Ukrainian blue chip companies, including: BGV, DTEK, Dragon Capital, Epicenter, EastOne, Fortior, Horizon Capital, Interpipe, Mais, Metinvest, Oschadbank, OdesaGas, TAS Group, UMG, and Unit.City.
After Sunday's defense production deals, most of yesterday's contracts were signed with Mubadala Investment Fund, the oil-rich nation's sovereign wealth fund. With $232 billion in assets under management, Mubadala aims to double in size in this decade to half a trillion dollars, Bloomberg reported last month. "[This] plan will vault it into the top ranks of the world's sovereign wealth funds," Bloomberg reported in a story headlined: "Abu Dhabi's $232 Billion Mubadala Wants to Take Crack at Top 10." To start, Mubadala last year increased its new investments by 51%, to $11.5 billion in 2020.
"Ukraine has very promising potential for foreign investment, and the signing of memorandums with leading entities of Ukraine represents a commitment to explore potential investments and areas of cooperation on a case-by-case basis," Faris Al Mazrui, head of the fund's investment program for post-Soviet countries, told WAM, the Emirates' news agency. "We are impressed by the quality and caliber of Ukrainian businesses."
Deal highlights are:
DTEK CEO Maksym Tymchenko signed a memorandum of understanding with Masdar, Mubadala's renewable energy company. Masdar CEO Mohamed Jameel Al Ramahi noted that Masdar has projects in 30 countries and added: "Our business model is based on forging strong partnerships in the sectors and geographies in which we operate, and we look forward to exploring potential areas of collaboration with DTEK in Ukraine."
Oschadbank, or State Savings Bank of Ukraine, signed an agreement with Mudabala "to identify potential initiatives for joint investment in Ukraine," reports the bank's press service.
Abu Dhabi is setting a goal of "increasing trade and investment in agro with Ukraine 10 times over several years, that is, to bring it to $2 billion a year," Zelenskiy economic advisor Timofei Milovanov wrote on Facebook after meeting Sunday with Sheikh Mohammed bin Zayed Al Nahyan, Crown Prince of the UAE. To implement this, Roman Leschenko, Ukraine's new Agriculture Minister, signed a bilateral food trade and 'agro hub' memorandum with UAE's Ministry for Food and Water Security.
Abu Dhabi's INTELMAX Management Consulting will set up a Kyiv office to work with Ukraine's Finance Ministry to create a platform for the exchange of intellectual property based on Fantom blockchain and to introduce blockchain technologies in state processes and public services.
Dubai Ports World showed President Zelenskiy their proposal to create several new terminals in Yuzhny, Ukraine's busiest port. DP World has drawn up plans to build terminals for general grains, minerals, timber, liquid and roll-on/roll-off. Last June, DP World bought a majority stake in Yuzhny's TIS Container Terminal.  At yesterday's meeting  at Dubai Maritime City, Zelenskiy invited DP World to build a hotel/marina in Odesa and to participate in upcoming concession tenders for four state-owned ports.
Dmytro Sennychenko, chairman of Ukraine's State Property Fund, and Sergiy Tsivkach, executive director of UkraineInvest signed memorandums with Mubadala to create possibilities for large scale investments in Ukrainian state companies that are coming up for privatization.
Ukraine's trade deficit in goods and services shriveled last year to $255 million –  93% below the level of 2019, reports the State Statistics Service. The most dynamic factor was the 12.5% drop in imports of goods, to $59.3 billion. Exports of good fell by a smaller amount, by 7.8%, to $59.04 billion.
For services, Ukraine's traditional surplus shrank by 31%, to $6 billion. Exports declined by 28.5%, to $11.2 billion. Imports fell by 25%, to $5.2 billion.
Asia was Ukraine's fast growing export market, the Economy Ministry reports on its website. "The most important indicators are the phenomenal growth of exports of Ukrainian products to Vietnam and China – by 93% and 98%, respectively," Economy Minister Igor Petrashko. For the first time in several years, exports to the EU decreased, dropping by 10%. Ukraine trade deficit with the EU grew to $4.8 billion.
Ukraine's economy returned to normal at the end of last year with fourth quarter GDP down only 0.7% below the fourth quarter of 2019. Despite the weekend lockdowns in November, consumer demand was a major force in pulling economic activity back to normal, the Economy Ministry reported on Facebook. Real wages were up 9.6% yoy.
No IMF tranches "will not be a catastrophe" for Ukraine, Danylo Hetmantsev, chairman of the Rada's Committee on Tax and Customs Policy, told reporters yesterday. On Saturday, the IMF announced that it would take a break in reviewing Ukraine's Standby Arrangement, after six weeks of remote conversations. "It will be much harder for us to pass 2021 without the next tranche of the IMF, but it will not be a catastrophe in any case," he said. "We have the right resources. We have the right opportunities to do it. There will be no catastrophe. Budget commitments will be fulfilled. There will be financial stability in the country. There will be currency stability."
The Cabinet of Ministers submitted a bill to the Rada yesterday to fire Artem Sytnyk, head of the National Anti-Corruption Bureau of Ukraine, or NABU. Funded largely by the EU and the US, the bureau is key to Ukraine continuing to receive foreign aid. The Kyiv Post reports anti-corruption activists charge that Sytnyk is to be fired because he angered President Zelenskiy by pursuing a bribery case against the president's deputy chief of staff, Oleh Tatarov, and for investigating possible embezzlement by the Health Ministry in the purchase of Covid-19 vaccines from China.
Editor's Note: Wow! This is faster than last summer's purge of the central bank. Last June 11, the IMF extended a $2.1 billion soft loan to Ukraine. IMF Managing Director Kristalina Georgieva said a key condition was to respect the independence of the National Bank of Ukraine. Three weeks later, the central bank's governor, Yakiv Smoliy, was pushed out. This time around, as Prime Minister Shmygal posed for photos last Thursday with EU leaders in Brussels, the European Parliament overwhelmingly approved a road map for Ukraine to stay on the path to Europe. In the resolution, the EuroParl praises NABU and "regrets attempts to attack and undermine anti-corruption institutions by members of the Verkhovna Rada, in particular attempts to dismiss the Director of NABU." The resolution also calls on Ukraine "to effectively investigate any corrupt activities, in particular attempts to procure medical equipment and COVID-19 vaccines at disproportionately high costs in the midst of the pandemic." Four days later, Ukraine's Cabinet of Minister approves a measure to fire the NABU Director and apparently end the vaccine investigation. Either someone in the government is politically tone deaf — or is deliberately trying to sabotage the EU path. With Best Regards Jim Brooke