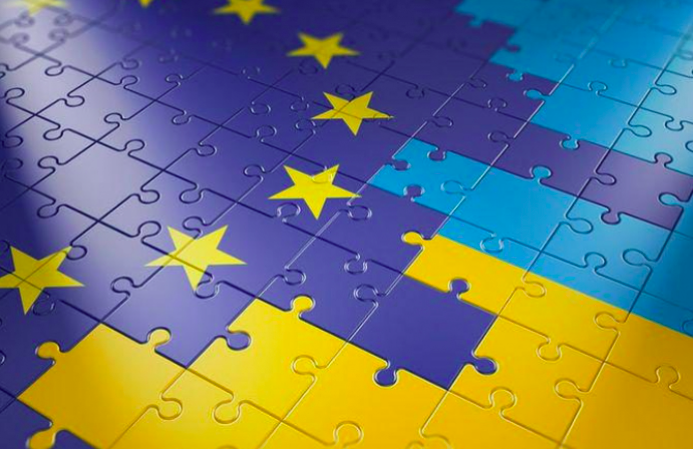 Monday, February 8
Covid Supply Chain Cuts Could Bring Investment to Ukraine…Covid Vaccinations Start Next Week…Covid Cases Dropped by Half…One Third of Nation to be Vaccinated by Year End…NASA Awards $93 million Contract to Ukrainian-American Company to Send Rocket to the Moon
'Near-shoring' – or bringing production capacity closer to the EU may boost investment into Ukrainian from European manufacturers hurt last year when supply lines were cut by coronavirus restrictions, Sergiy Tsivkach, head of the state's UkraineInvest, told Bloomberg in a story headlined: "Supply Chain Shakeup After Virus has Ukraine Eyeing Investments." Starting this year, Tsivkach aims to attract $7.7 billion. Last year, for the first time in five years, Ukraine had a net outflow of foreign investment — $420 million, according to the National Bank of Ukraine.
Projects in the pipeline include $1.1 billion of investments in mining and processing by Canada's Black Iron Inc. and a €200 million wood products facility to be built by Austria's Kronospan. Tsivkach said Belgian mattress-fabric maker Monks International and Danish furniture producer Hjort Knudsen also are building plants in Ukraine.
Coronavirus vaccinations start next week in Ukraine, Health Minister Maksym Stepanov tells Ukraina 24 TV. Initially, the Ministry to draw on a small initial shipment of 117,000 doses of U.S.-made Pfizer-BioNTec obtained under the global COVAX initiative.
In the pipeline are 25 million doses, enough for one third of Ukraine's 37 million people to get the requisite two shots by the end of this year:
12 million doses of the vaccine developed by AstraZeneca and Novavax are to come from the Serum Institute of India, President Zelenskiy announced Friday.
8 million more doses under the United Nations Covax program
5 million doses of the Chinese CoronaVac
This month, the first 50 of 500 mobile vaccination teams are to start working, Prime Minister Shmyhal told the Cabinet last week. In addition, he said, health workers are preparing 1,500 vaccination rooms across the nation and 50 vaccination centers in big cities.
"The sooner we get the vaccines, the faster we will overcome the pandemic in Ukraine," President Zelenskiy said Friday on announcing the 12 million Indian-made vaccines. "I know that the Cabinet of Ministers is working thoroughly to develop a website that will help Ukrainians register for vaccination easily and conveniently."
Ukraine's daily rate of detected cases dropped roughly in half over the last month – from 6-9,000 at the start January, to 3-5,000 cases a day last week. To date, 1.2 million Ukrainians, or 3% of the population are known to have contracted the virus. To date, 23,597 have died, making for a fatality rate of 2%. People aged 60 and over accounted for 84% of fatalities, the Health Ministry reports. In the year since the pandemic hit Ukraine, almost 10 million tests have been performed.
Vaccinations of soldiers start at the end of this month, says Serhiy Khalik, acting commander of Medical Forces of the Armed Forces. To date, 15,005 members of the military are known to have contracted the virus, or 6% of the 250,000 in total. Only 43 have died.
Almost half of Ukrainians have antibodies to Covid-19, Natalia Vinohrad, head of Epidemiology at Lviv National Medical University, told Savik Shuster's 'Freedom of Speech' TV program. "Despite the fact that a lot of people say that they have not been sick with coronavirus and have not experienced any similar symptoms, 43% of the population of Ukraine has antibodies," she said Jan. 29.
Only 43% of respondents to a poll in mid-January said they would take the vaccine, even if free. If they had to pay, only 39% told Rating Group that they would buy the vaccine. Commercial sales of vaccines are expected to only start this summer.
About one third of $2.8 billion Covid-19 Fighting Fund went to build roads last year, the Finance Ministry reports. About 23% went to the Health Ministry. The rest went to unemployment benefits, insurance payments and aid to small businesses.
Concorde Capital's Evgeniya Akhtyrko noted that the Finance Ministry report was a requirement for the IMF program that started last June. She writes: "It was obvious that the Zelenskiy administration used the project of big road building as a tool for maintaining its popularity. This misuse of public funds also undermines the trust of Ukraine's Western partners, which were involved in disbursing substantial funds for COVID-related needs in Ukraine…the reported information will be taken into account in the IMF's decision-making on financial assistance to Ukraine."
NASA has awarded a $93 million contract to Firefly Aerospace Inc. to deliver 10 payloads to the Moon's Mare Crisium in 2023, the Ukraine-originated company reports from its headquarters near Austin, Texas. Founded by Ukrainian-American Max Polyakov, Firefly has almost half of its workforce of 330 in Dnipro. Under the contract, a Firefly rocket and its Blue Ghost Lunar Lander will deliver NASA and 50 kg of commercial cargo to the Crisium basin. Data gathered from this mission is to pave the way for a 2024 manned mission to the area. Firefly also is participating in this mission, called Artemis.
Firefly has several other contracts with the US space agency. In December, NASA reported that Firefly signed a $9.8 million contract to launch satellites for space research. In addition, Firefly is developing its BETA rocket to launch satellites into low Earth orbits.
With snow and sub-freezing temperatures expected through this weekend, 15 power units in Ukraine are shut down for lack of fuel or for emergency repairs, warned Andriy Gerus, Chair of the Rada Committee on Energy and Housing and Communal Services. As of noon, nine were under repair and six were out of fuel, he posted on Telegram. He wrote: "Despite the difficulties caused by the inoperative condition of some power units, Ukrenergo's dispatchers balance the power system, all consumers have a stable and uninterrupted supply of electricity."
January's average gas price was 23.5% higher than December's price, according to State Customs Service numbers. In face of the price hike, the government has capped prices through March 31 at the January average price — $250 per 1,000 cubic meters. The December price was 11% higher than the November price.
Ukraine's coffee imports increased by 63% in the last five years, hitting almost 50,000 tons in 2020, reports the Ukrainian Agribusiness Club. Of the $166 million business, Ukraine imports only 16% from producer countries – Vietnam and Brazil. The rest comes from intermediary countries, notably Poland, Italy and Germany. According to the UN's Food and Agriculture Organization, coffee consumption in Ukraine increased six-fold since 2000, hitting 1.2 kilo per person in 2018.
Editor's Note: In the era of just in time manufacturing, the Covid pandemic showed the vulnerability of Europe's long supply chains to Asia. Cargo from Shanghai to Hamburg takes six weeks by sea. Cargo from Kyiv to Hamburg takes 17 hours by truck or 24 hours by train. Ideally, UkraineInvest can successfully make the pitch to European manufacturers to make Ukraine a manufacturing alternative. With Best Regards Jim Brooke