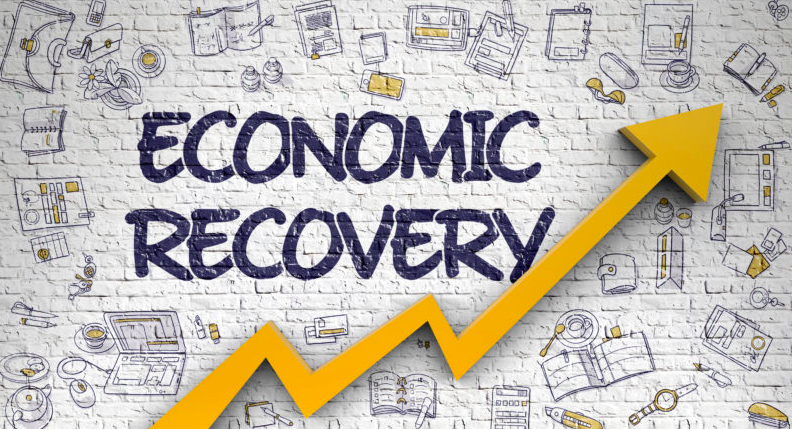 Signs indicate that Ukraine's economy is climbing out of the corona-recession:
Rail freight volumes were up 10.3% last month over the level of August 2019. Ukrzaliznytsia moved 28.3 million tons of cargo last month, reports RAIL.insider, drawing on statistics from the portal Data.gov.ua. August was the fourth month of rail cargo growth and the first month that cargo levels surpassed those of one year earlier. The state railroad moves the bulk of the nation's exports and cargo subsidizes passenger service. Since January, UZ has carried almost 200 million tons of cargo.
Electricity consumption in August 2020 returned last year's level, reports Ukrenergo, the state-owned power grid operator. Compared to August 2019, household power consumption was up last month by 5.7%. Industry was down 2.9%. Within the industrial grouping, downturns in consumption were: machine-building industry -12%; metallurgy -6%; and fuel -3%. At the same time, electricity consumption grew by an average of 5% in food processing, chemicals and petrochemicals, and building materials.
Deflation, a sign of collapsed consumer demand, fell to -0.2% in August, the State Statistics service reported yesterday. In annual terms, inflation in August 2020 was 2.5%. With buying power returning, inflation is expected to grow gradually in coming months.
The ICU investment group has improved its forecast for Ukraine's GDP this year, lowering its estimate of the fall to minus 5.7%, from its earlier forecast of minus 6.7%. This year's drop will be cancelled out by next year's growth of 5.6, Sergiy Nikolaychuk, the head of ICU's macroeconomic research tells Interfax-Ukraine. He said the softening of this year's fall "was facilitated by the rapid 'turn on' of the economy in the summer, and by the improvement of the terms of trade due to high prices for iron ore."
Iron ore exports were up 13% through August, compared to the tonnage for the first eight months of last year, reports the State Customs Service. Companies exported 31 million tons, earning $2.5 billion. The top three importers of Ukrainian iron ore are: China – 34%; Poland – 12%; and the Czech Republic – 10%.
By the end of this year, the government plans to privatize: Kyiv's President Hotel, the Odessa Port Plant, the Electrotyazhmash plant, the Krasnolimanskaya Coal company and the United Mining and Chemical Company. Yesterday, the Cabinet of Ministers approved this list. A Rada vote will be needed to lift the freeze on privatisations, approved last spring, at the start of the coronavirus quarantine, Svetlana Panaiotidi, deputy economy minister, wrote on Facebook.
Capital investment in Ukraine's economy shrank by 35% in the first half of the year, compared to  January-June 2019, according to the State Statistics Service. The new level of investment was $5.9 billion. All sectors recorded declines, with the biggest in: art, sports, entertainment and recreation – 74%; hotels and restaurants – 58%; and transportation – 54.5%.
Justifying Ukraine's recent stealth re-purchase of 10% of its $3.2 billion in GDP-linked warrants, Finance Minister Sergiy Marchenko confirmed that the 2015 warrants are a financial time bomb that could cost the nation up to $22 billion by 2040. With current GDP growth forecasts, Ukraine will have to make its first pay out – $40 million – next year. By 2023, payments could balloon to $600 million. Speaking to the Rada Committee on Finance, Tax and Customs Policy, he justified the stealth operation saying: "After the end of the operation, we removed the "secret" stamp and, as a result of the publication of this information, the prices for GDP warrants jumped by 8%."
Timothy Ash writes from London: "[I am] not sure it's a great idea to go out saying payments on these instruments could be $22 billion through 2040. That's just going to bid up their price and increase buy back costs."
Ukraine's Supreme Court has frozen a lower court decision that would have forced state-owned PrivatBank to pay $350 million to Ihor and Hryhoriy Surkis, two brothers seen as 'related parties' to the owners who looted the bank until its nationalization in 2016. Last week, a lower court ruled the brothers' six British companies can start withdrawing the first portion of the $350 million. That ruling drew widespread condemnation and seemed to raise a red flag to continued cooperation with the IMF. At the same time, the Rada registered a bill that would prohibit payments on court cases that have not been considered on their merits. The bill is already called the "anti-Surkis law."
Concorde Capital's Alexander Paraschiy writes: "A solid reaction from the government to an apparently ill-grounded court ruling that costs about UAH 10 billion [$360 million] to the state bank is a good signal. Such a reaction significantly decreases the chances that the Surkises will be able to withdraw money from the bank, though it does not completely rule out such an event."
China's Skyrizon, and Kharkiv's DCH Group will submit an updated application to the Antimonopoly Committee of Ukraine for the purchase of Motor Sich, the Zaporizhia-based aircraft engine maker, Interfax-Ukraine reports. It cites a notice sent to the Shanghai Stock Exchange by Beijing Xinwei Technology Group, parent company of Skyrizon. Interfax reports that Chinese accumulated 75% of Motor Sich shares before Ukraine's State Security Service intervened to stop the sale. Skyrizon threatens to sue Ukraine, demanding compensation for $3.5 billion in losses, Unian reports.
Concorde Capital's Alexander Paraschiy writes: "The stakes are rising for Ukraine in the Motor Sich story. If this case shifts to a geopolitical battle between China and the U.S., Ukraine will have to choose between the two sides, which could lead to significant losses for the country. But what it can lose for sure is Motor Sich itself."
Kyiv registered a record 310 new coronavirus infections yesterday, announced Mayor Klitschko. To publicize the problem, he was later filmed visiting a Covid treatment hospital in the capital. Of the 310 new cases, 43 are hospitalized. The rest are undergoing medical treatment at home. Separately, the Ukrainian Armed Forces confirmed 68 new coronavirus cases yesterday. Currently 534 soldiers are in isolation after testing positive for the virus.
European airlines are testing the waters with announcements of expanded schedules to Ukraine. Starting Oct. 25, Air France will fly between Paris Charles de Gaulle and Kyiv Boryspil three times a week. Starting Oct. 27, Ryanair will fly daily between Kyiv Boryspil and Berlin Schönefeld. Last week, Poland's LOT increased the frequency of its flights between Lviv and Warsaw-Chopin, from daily to 12 times a week.
From the Editor: A friend of mine tells me she had translated the UBN from English to Ukrainian for the last 1,000 days, so her husband could read it easily. While I applaud such loyalty to UBN and husband, it does spur me to remind readers that the UBN is quinti-lingual. If you visit the website, tap the little 'ladder' icon on the left. A drop down menu will show five little flags – English, Ukrainian, Russian, French and German. Presto! The weekday morning email now goes out in English, French and German (weekly). We are working on emails in Ukrainian and Russian. Stay tuned! Cтежте за оновленнями! Cледите за обновлениями! With best regards, Jim Brooke