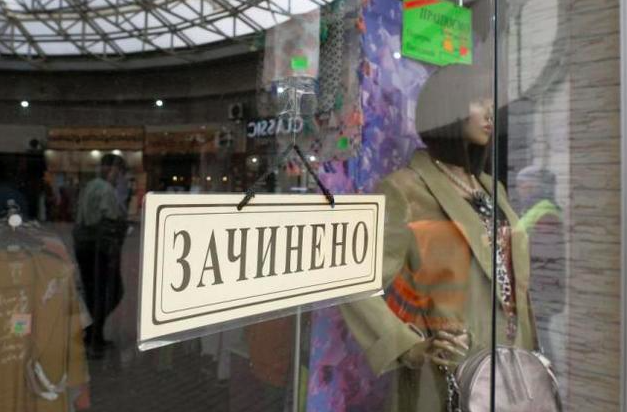 Starting at midnight tomorrow night, Ukraine embarks on the first of three 'weekend lockdowns' – partial shutdowns where restaurants, shopping centers and fitness centers will be closed through Sunday nights. The goal is to break chain of transmission of coronavirus without a fulltime 'hard' lockdown and to do it before the Christmas shopping season starts in December. During these nationwide lockdowns, food stores, pharmacies, gas stations and banks will remain open. Mass transit will carry only seated passengers.
With 10 of Ukraine's 24 regions reporting 70% or higher occupancy rates in their Covid wards, Prime Minister Shmyhal warned yesterday at a televised government meeting: "Given the current situation, by Dec. 10-15, if nothing is done, there will be no places in hospitals even in the corridors." Earlier, he warned that Ukraine's infection rate could double from the current level of 10,000 new cases a day  to 20,000 by the end of December.
Although the Health Ministry is increasing Ukraine's Covid hospital beds by 50%, to 80,000, the Prime Minister warned last week: "We have arrived at the point of no return and are close to catastrophe." He told the Rada: "The situation is critical not only in Ukraine, but in the whole world. England, France, Austria, Germany, Spain are returning severe quarantine restrictions."
Denmark has donated 50 ventilators to Ukraine, the Foreign Ministry reported Tuesday. DTEK and the Rinat Akhmetov Foundation have donated 62 ventilators since the start of the pandemic.
Health Minister Maksym Stepanov said yesterday: "We would like to do a complete lockdown for three weeks, but our economy won't survive." To ease economic pain, Prime Minister Shmyhal promised to give government aid to workers impacted by the partial shutdown. But the weekend quarantine plan drew a big protest in front of his office yesterday.
"Our main message is: 'Let people work,'" Olena Obukhovska, spokesman for the Arricano shopping mall group, told Interfax-Ukraine. Drawing 300 people, the protest was supported by the Ukrainian Restaurant Association, the Association of Retailers of Ukraine, and the Ukrainian Council of Shopping Centers. Signs read: "Weekend Quarantine Means Millions of People Without Work," "My Work is my Life," and "Without Business, There is No Economy."
Andriy Piontkovksy, founder of the Cherry Berry chain of candies and natural drinks shops, wrote on Facebook that half of his turnover takes place in shopping centers on weekends. He asked: "How can we reduce the rent and back-office wages by 50% in proportion to the 50% shortfall?"
Alexander Savilov, co-owner of the Salateira restaurant chain, wrote on Facebook that many entrepreneurs say a short, hard lockdown would be more effective. He said: "Many are in favor of a complete lockdown. Some owners of large service businesses say that such a measure can allow for high-quality negotiations with banks."
Lviv, a city with a big tourism economy, is preparing a lawsuit against the weekend lockdown decision, Mayor Andriy Sadovyi wrote last night on Facebook. "Lockdown for the weekend is absurd," said Sadovyi, who faces a second round of voting in a mayoral runoff on Nov. 22. Despite the weekend lockdowns, mayoral votes are expected to be held on Nov. 15 and 22.
The most recent political notables testing positive for coronavirus are: Dmytro Razumkov, speaker of the Rada, and Oleksiy Reznikov, deputy Prime Minister and minister for Reintegration of Temporarily Occupied Territories. From Germany, a political ally of Kharkiv Mayor Henndiy Kernes posted a photo of the 61-year-old Covid sufferer in a Berlin hospital bed — breathing tubes up his nose and a dazed look on his face. In Kyiv, Olena Zelenska, wife of the President, reported Tuesday: "On the President's health: everything is fine. He feels well. He has isolated, but continues to work."
On President-elect Joe Biden, Serhiy Sydorenko writes in an analysis in Evropeiska Pravda:  "Implementation of reforms in Ukraine is going to be the main indicator on which the US would premise building relations with Ukraine. This was stated in Biden's statements, it was a major requirement by American diplomacy, and, finally, this was what Biden himself made a priority in the last years in office as VP…Biden's presidency is very good news for the reform-minded political players in Ukraine, especially those focusing on anti-corruption. And Washington will respond firmly to attempts of undermining anti-corruption infrastructure in Ukraine."
With Joe Biden's political emergence, perceived Ukraine risk has dropped and yields are down on Ukraine's benchmark Eurobonds. Since Oct. 12, yields on the bond maturing in 2025 have dropped 90 basis points, to 6.04%. Yields on the 2032 bond have dropped 65 basis points, to 7.06%
Ukreximbank, the nation's third largest bank, is repurchasing its Eurobonds maturing in 2022 and 2025 for a total of $300 million. The state-owned bank reports that the redemption price of bonds maturing in 2025 was 104.5% of face value and of bonds maturing in 2022 was10 3.75%. Goldman Sachs International was the dealer-manager of the debt reduction exercise. Eugene Metzger, the new board chairman of Ukreximbank said: "The market situation contributed to the successful completion of the book of applications for redemption."
Timothy Ash writes from London: "With Ukrainian Eurobonds ignoring the local constitutional crisis and taking their lead from global beta, I would be amazed if the Ministry of Finance does not tap the Eurobond market very soon…It must be mega tempting to come to market – and especially as it's hard to see any more IMF money this year."
On the hryvnia bond market, the Finance Ministry raised rates and quadrupled government bond sales Tuesday, compared to the week prior. The Finance Ministry reports that it raised the equivalent of $280 million, largely on the strength of 3-month hryvnia bonds which went for 9%, up from 7.5% last month. The auction sold $10 million worth of 1-year bonds at 10.42%, virtually the same rate as two weeks ago. The Ministry rejected as too high all bids for its 2-year bonds. For dollar denominated bonds, the ministry sold a total of $82.3 million to 35 bidders with a weighted average yield of 3.62%.
Central bank governor Kyrylo Shevchenko is in Washington this week, trying to revive the stalled IMF deal. Against that background, Concorde Capital's Evgeniya Akhtyrko writes: "A significant increase of interest rates for 3-month bonds helped to raise more auction receipts. However, the limited number of bidders for these bonds implies that most of the hryvnia receipts at the auction are still being generated by state-owned banks."
Editor's Note: Ukraine's government hopes to avoid the economic pain of a full bore 'hard' lockdown of the type we endured last Spring. Hopefully, we will not get the worst of all outcomes: economic pain in November, and then, a surge of coronavirus in December, during the shopping and socializing season. Either way, tradition will intervene forcefully and provide the two-week lockdown everyone loves. From late December to mid-January  Ukraine celebrates two New Years and, now, three Christmases. With Best Regards, Jim Brooke