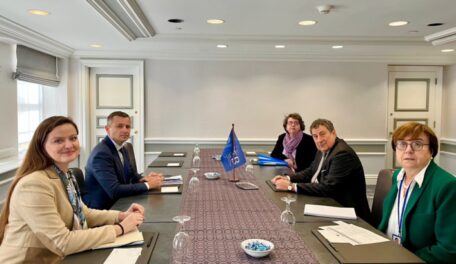 Tuesday, October 18, 2022
Minister of Finance of Ukraine Serhiy Marchenko meets with the Head of the Development Bank of the Council of Europe, Carlo Monticelli, to discuss the procedure for Ukraine joining the CEB,
the Ministry of Finance reported. In particular, further procedural steps that the Ukrainian side must take to become a member of the Bank were discussed. Ukraine has already created an Interdepartmental Group on Ukraine's membership in the CEB. Because of the CEB's experience in the implementation of socially important projects, the purpose of membership would be to provide housing for citizens of Ukraine, including internally displaced persons, and to promote the implementation of state housing policy. Cooperation also covers the development of new financial and credit programs and implementing international investment projects, including further lending to internally displaced persons.