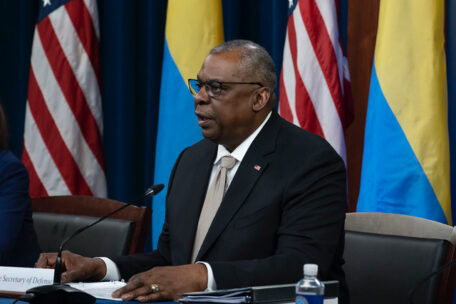 Thursday, November 17, 2022
Lloyd Austin calls Ramstein 7 a success.
US Secretary of Defense Lloyd Austin called the seventh meeting of the Contact Group on Defense of Ukraine very successful and listed the contributions to defensive support for the Armed Forces announced on November 16 by the countries participating in this consortium. According to Austin, Sweden has announced an assistance package of air defense components totaling $287M. Spain has promised to send two additional HAWK systems and missiles to Ukraine. Canada will provide a defense support package worth $500M and confirmed that it remains the leading donor of winter uniforms and equipment for the Armed Forces. In addition, Austin noted Germany's contribution to strengthening Ukraine's artillery capabilities and the provision of rockets for multiple-launch missile systems. Moreover, Greece announced the transfer of 155 mm shells, and Poland announced the delivery of additional ammunition for artillery, tanks, and short-range air defense systems.