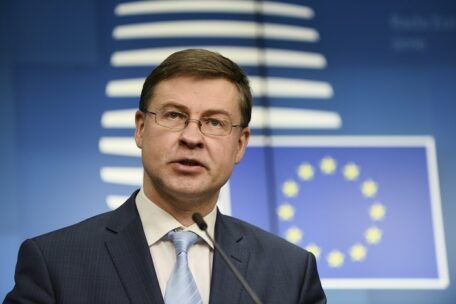 Thursday, November 10, 2022
Ukraine has been left without €3B worth of macro-financial aid this year but will receive €2.5B by the end of the month.
According to European Commission, the EU will not be able to allocate €3B to Ukraine, the last third of the funds provided by the €9B macro-financial assistance program. According to the Deputy Chairman of the European Commission, Valdis Dombrovskis, the €2.5B tranche, which Ukraine will receive by the end of November, will be the last this year. "Regarding €3B, unfortunately, it is impossible to decide how to move forward on the issue this year," the EU official said. Dombrovskis added that a significant distribution is planned for early next year for the announced 2023 aid. Dombrovskis believes that this payment should be provided in January, given Ukraine's needs. Thus, if the EU pays Ukraine €2.5B by the end of November, instead of the promised €9B, Ukraine will receive only €6B from the EU this year.