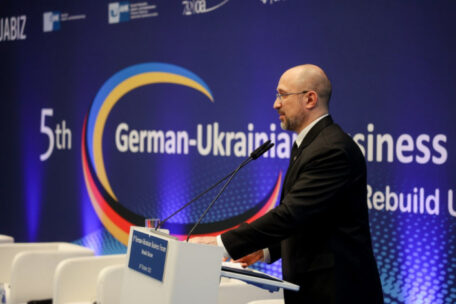 Tuesday, October 25, 2022
Currently, Ukraine's investment portfolio is worth $400B.
Ukraine has formed a broad investment menu with more than 500 investment projects and opportunities in 10 sectors of the economy with a total potential of more than $400B, Prime Minister of Ukraine Denys Shmyhal said at the opening of the V Ukrainian-German economic forum in Berlin on October 24. "Ukraine needs investments for growth. But European business also needs Ukraine to implement bold and forward-looking ideas," the Ukrainian Prime Minister emphasized. Shmyhal noted that Ukraine has resumed privatization, deepened deregulation, and created conditions for rapid investments. The government also submitted amendments to the so-called investment nanny law, which expands the circle of potential investors. Ukraine is also working on minimizing military risks for investors. In particular, cooperation with the Multilateral Investment Guarantee Agency (MIGA) has already been established.