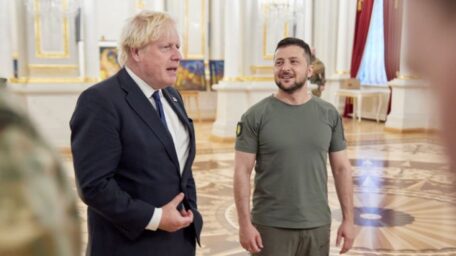 Thursday, August 25, 2022
Boris Johnson visited Kyiv to underline the UK's unwavering support and announced more aid.
 The UK will provide Ukraine with a new package of defense aid worth £54M, the British government's website reported. The military assistance includes unmanned surveillance systems and anti-tank ammunition. This package  consists of 850 hand-held Black Hornet micro-drones, specially designed for use in cities and villages and are used to detect approaching enemy forces. Training with such drones takes about 20 minutes. Moreover, the new military aid package complements Britain's training of Ukrainian military on the use of vehicles to search for mines in the waters off its coast. In the coming weeks, Ukrainian personnel will be trained to use them in British waters.