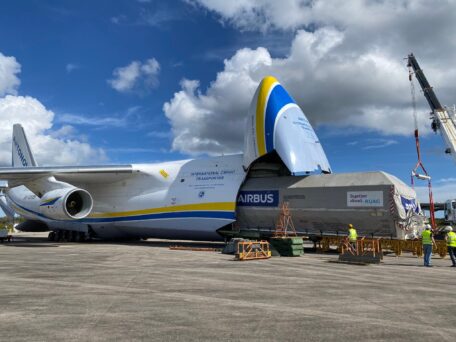 Monday, January 10, 2022
Antonov Aircraft Carried Turkish Satellite to Launch by SpaceX.
In the last few months of 2021, three shipments of satellite components have been carried out by Antonov. Antonov, which is formerly known as the Aeronautical Scientific-Technical Complex, and earlier as the Antonov Design Bureau, is a Ukrainian manufacturing and services aircraft company whose particular expertise is in the fields of very large aeroplanes using unprepared runways. Towards the end of 2021, its AN-124-100 (Ruslan) aircraft has carried the new Turksat 5B, a Turkish telecommunications satellite, from Toulouse, France, which it is to be launched by the US aerospace company SpaceX. Ruslan, on the other hand, is the only aircraft capable of transposing unique containers, as Airbus Defense and Space developed them specifically for transportation by the AN-124-100 aircraft. SpaceX, at the request of Turkey, launched the Turksat 5B on December the 18th, 2021, from Cape Canaveral, which is where the spacecraft launch site is located.