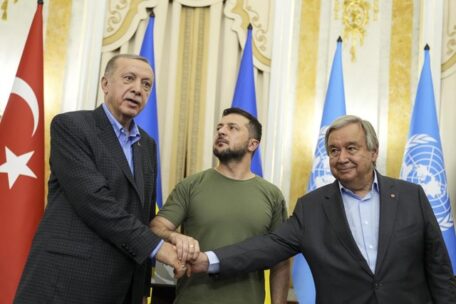 Friday, August 19, 2022
Zelenskyy has met with the UN chief and the Turkish President in Lviv.
During the meeting with President Zelenskyy, Turkish president Recep Tayyip Erdoğan said he was ready to support peace talks between Kyiv and Moscow. "The main focus of the meeting was how to conclude the war," Erdoğan said. The presidents also discussed the issue of Russia's large-scale theft of grain in the temporarily occupied territory of Ukraine. Also, the Ukrainian president positively assessed the implementation of the grain export initiative. Volodymyr Zelenskyy noted the leading role of Türkiye, and Recep Tayyip Erdoğan personally, in the launch and implementation of this initiative. The leaders also discussed the situation around the Zaporizhzhia NPP and the ongoing nuclear blackmail by the Russian Federation, whose actions threaten Ukraine and the entire world with nuclear catastrophe. As well, during the meetings in Lviv the UN secretary-general, Antonio Guterres, announced a mission to investigate the tragedy in occupied Olenivka.