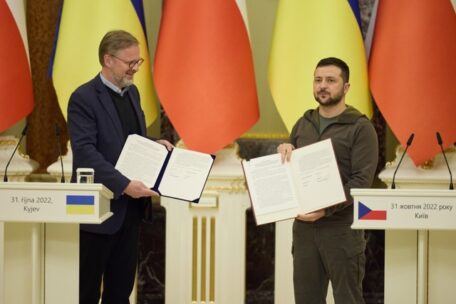 Tuesday, November 1, 2022
Zelenskyy and Fiala signed a declaration supporting Ukraine's accession to NATO.
 During the meeting in Kyiv, President Volodymyr Zelenskyy and Prime Minister of the Czech Republic Petr Fiala signed the Joint Declaration on Ukraine's Euro-Atlantic perspective. The document defines the prioritized areas of cooperation between Ukraine and the Czech Republic within Ukraine's strategic framework to acquire full NATO membership. The declaration supports Ukraine's independence, sovereignty, and territorial integrity within its internationally recognized borders and confirms its commitment to NATO's open door policy. With the signing of the document by the President of Ukraine and the Prime Minister of the Czech Republic, the support of the Czech contingent in support of the prospect of Ukraine becoming a member of NATO has been recorded and will take effect as soon as conditions allow.